Sunderland defender Lamine Kone has signed a new deal with the North-East club, with his contract now due to expire in 2021. The player's original deal was set to end in 2020, meaning that his contract has now been extended by one year, although how much his wages have changed remains unknown.
Kone's situation has been well publicised in recent weeks, as reports emerged that he had been promised a new contract by previous boss Sam Allardyce upon helping the club avoid relegation, but that the offer had not been forthcoming under David Moyes.
This sparked interest from several clubs, although Everton were the only side to formally register their interest in the form of a £18 million bid, which was rejected by Sunderland. The aforementioned contract was offered to Kone by the club, and it appears that after weeks of radio silence the Ivorian has finally decided to commit his future to the Black Cats.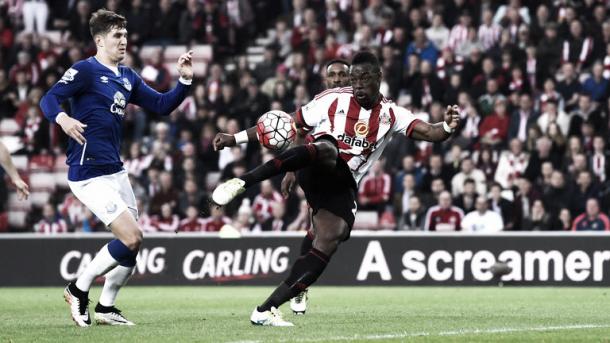 Relief for the fans
Speaking to the club's official website after confirming the deal, Moyes said that Kone is "an important player for this club" and that he had "made that clear to him from the outset."
The Sunderland boss also touched on what has been a "very positive" start in English football for the defender, who was one of the club's key players during their revival in the second half of last season, adding that he hopes Kone will "continue to improve and grow" in the future.
Kone has made three appearances so far this season against Manchester City, Southampton, and most recently in the 3-0 home defeat to Everton. The central defender missed the fixtures against Middlesbrough and Shrewsbury due to a self-diagnosed back injury, although that problem now seems to have cleared up and fans should expect Kone to be a regular starter for the near future at least.