All the action from the last three games of Group 3 as Romania ruffled a few feathers to book their spot in the play-offs for Euro 2017.
Ukraine's qualifying comes to an unhappy end – Romania 2-1 Ukraine
In their last group game, Ukraine needed at least a draw to keep their hopes of qualification alive, away to a Romania team ranked 13 places below them. Already having proved tricky opponents in the reverse fixture, Tricolorii got off to a dream start when Lidia Havristiuc converted from Olivia Oprea neat corner.
With hopes of a spot in Holland fading, Ukraine responded well and restored parity just four minutes later Kharkiv's Olha Ovdiychuk bested Andrea Părăluţă. The goals were coming thick and fast in Cluj-Napoca, the home fans roaring in appreciation when tricky forward Cosmina Dușa blasted the hosts ahead again.
After three goals in 11 minutes things suddenly calmed down as both teams battled for possession, Ukraine's finishing wayward as they hunted for an equaliser. Iryna Zvarich the busier of the two keepers, kept her side in the contest until the very end but with the final ball something to be desired, Zhinky failed to trouble Părăluţă again and the hosts saw our the victory for a confirmed play-off place, the visitors eliminated.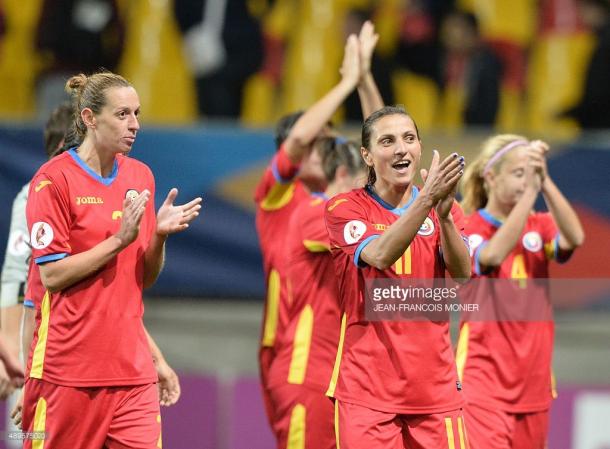 Romania run riot - Romania 4-0 Greece
Having all but secured a runner-up spot, Romania had just to avoid losing by three or more goals at home to a Greek team ranked 29 spots below them. Not leaving anything to chance, the hosts took an early lead through 21 year-old Alexandra Lunca.
With the game wide open, Romania were doing all they could to work Eleni Peletidou but it only took another ten minutes before the experienced keeper was beaten for the second time as Maria Ficzay doubled the advantage at a Ioana Bortan's corner. Pushing themselves to the front-foot, barely giving the visitors a sniff of possession, Peletidou's goal was under constant threat but the visitors held out to only go in at half-time two goals down.
Greece showed more attacking impetus in the second-half but rarely troubled Andrea Părăluţă, half of their efforts wide of the mark. With the game wearing down, the outcome already a foregone conclusion, the hosts picked up their second wind, penning their opposition in, forcing the Greeks to throw everything in front of the ball to guard their goal.
Two goals three minutes apart sealed Romania's play-off place as first Ştefania Vătafu grabbed her fourth goal of qualifying before Olimpia Cluj's Mara Bâtea rounded things off eight minutes after coming on.
The result sees Romania finish as the seventh best runner up – tied for points and goal difference with Russia, only having scored one less than the Golden Eagles – and will face Portugal twice over the second-half of next month.
Dominant from the off, Olivier Echouafni's youthful squad set the tempo from the game and Albania laboured to keep up. Set pieces most profitable for the hosts, Élise Bussaglia the start of the first-half, her first corner of the game the catalyst. Bussaglia's whipped delivery fell to Kadidiatou Diani who volleyed against the up-right from point blank range before the visitors attempted to work the ball clear only to have it fall to Clarisse Le Bihan, the Montpellier striker's first time shot arrowed into the far corner.
Doubling the advantage just three minutes later again at a corner as Kheira Hamraoui met Bussaglia's ball in the air before nodding over the defence and keeper to bury the ball under the bar. Completely over-run in their own half, it wasn't long before Albania once more made for the centre circle and a restart.
After a deft one-two with Sandie Toletti, Eugénie Le Sommer broke into the box with the ball at her toe, unmoved by the advancing Marigona Zani, the no.9 pulled the ball across goal to finish into the far corner just as Le Bihan had.
The second-half saw an improvement from the visitors, who were throwing all they could in front of the ball to provide much needed protection for Zani. But of course, with the pressure came more corners and more dead ball opportunities, the fourth goal coming on the hour through Hamraoui.
The pick of the bunch, the distinctive Lyon midfielder unleashing a superb volley into the top corner, unfussed by the crowd of white shirts closing her down, Zani beaten once more, Parisians filling the Stade Charléty with raucous noise. Following an questionable handball decision, Le Sommer completed her brace from the spot, Zani with two good hands to the ball could only parry it upwards for it to crash against the underside of the bar and bounce behind her into the waiting net.
With Albania getting more and more leggy, France were free to attack at will, with fresh legs on the pitch, Gaëtane Thiney first time effort well saved by Zani. Fresh off the bench, Marie-Laure Delie added a sixth a final goal, powering between the pair of centre backs to latch onto a loose ball. One-on-one with the keeper, Delie did as her teammates had before her and finished low and clinically into the corner.
However the 20 year-old goalkeeper had the last laugh, first watching Thiney's penalty skew wide before saving Delie's point-blank header and denying the same opposition from close range in stoppage time.
The final picture
Starting at the top, it was always set to be routine for France, Les Bleues currently ranked third in the world with all the quality and ability to be world champions, a lack of finish still hindering France from claiming all the silverware they deserve. Eight wins from eight, 27 goals scored and not one conceded with Sarah Bouhaddi's goal never really under threat, France will undoubtedly travel to the Netherlands as one of the favourites (only behind Germany).
If France finishing top wasn't a surprise, Romania taking four points off of Ukraine to finish above Zhinky was somewhat unexpected. Starting their campaign with a loss to France, Tricolorii did well to respond and hold Ukraine to a 2-2 in Lviv before putting three past Albania in Mogoșoaia five days later. A 3-1 over Greece in Katerini at the end of November set them up for a strong 2016, taking a credible loss at home to France, conceding just one through an Élise Bussaglia penalty.
With the finals in their sights, Ștefania Vătafu's hat trick in Elbasan kept them well on course before dealing a body-blow to Ukraine this month. Not letting nerves get the best of them, Romania were clinical in their win over Greece and will face a tricky Portugal team in the play-offs.
Currently ranked 23 in the world, many were expecting Volodymyr Reva's Ukraine to seal a comfortable runner-up spot in Group 3 with easy wins over Albania, Greece and Romania but their campaign got off to a shaky start with a draw against Romania in their opening game – ultimately paying the price for a lack of finish when they were on top.
Their 2015 wrapped up with a routine loss to France, most of their games still to play in 2016, their year started well with three wins on the bounce against Albania, Greece and Albania again. Another loss to France followed before a less than comfortable home win over Greece.
Qualifying hopes still alive but needing to beat Romania in Cluj-Napoca, always second best to Tricolorii, Ukraine's dreams of Euro 2017 put to bed after Cosmina Dușa 11th minute strike. A less than perfect qualification campaign from Zhinky, a second successive European Championships missed out on since their debut in Finland in 2009.
Ranked 65 in the world, Greece are far from being a European power in women's football their only success in qualifying coming from home and away wins over Albania, the Hellenic Football Federation should be asking themselves where they go from here and how to grow the sport in the country.
Starting the group stages well with a 4-1 over Albania, Greece struggled against Romania and France registering 3-1 and 3-0 respective losses. A tight 3-2 in Trikala saw them take all six points from lowly Red and Blacks at the start of the year before they lost all four of their remaining games – 3-1 and 2-0 to the Ukraine either side of a surprisingly close 1-0 against France in Rennes before they ended qualifying with a 4-0 loss to Romania.
Just five years old, the Albanian national team have been crawling up the rankings since in their inception up to 59 from 136 in 2013 but have dropped down and are once again climbing back up, having gained 5 placed this year, they currently sit 76 in the world. Always set to be massively under the cosh in qualifying, Altin Rraklli will be left frustrated that his side failed to earn even a point across the eight games.
Having conceded 31 times, Rraklli will at least be happy to see his team having scored three times against Greece over the two games. Consistently porous, his defence has shown fight but gets undone at set pieces, forgetting the basics in the heat of the moment, recent success for the men at Euro 2016 will hopefully spill over and inspire more young girls to take up the sport in a country not known for its' footballing prowess.