Jose Mourinho was very unhappy after Manchester United's loss to Feyenoord in the UEFA Europa League on Thursday night due to the fact he felt the winning goal was clearly offside.
Mourinho 'unhappy' that Feyenoord's winner was allowed to stand
United fell to a disappointing 1-0 loss away at Feyenoord in their opening Group A match in the Europa League. The problem, however, was that the winning goal shouldn't have been allowed to stand after replays showed that Nicolai Jorgensen was offside when he broke down the wing before setting up the only goal of the game.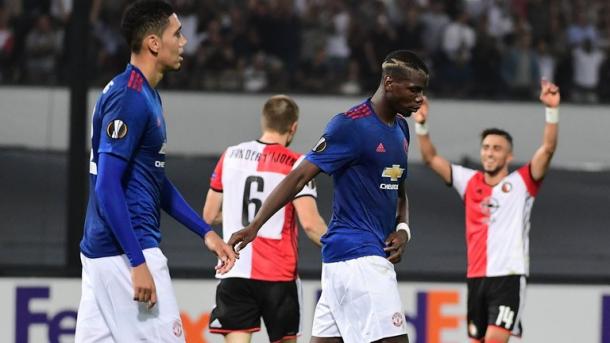 Due to this reason, Mourinho felt they did not deserve to lose their second game in five days, even though his side were lacklustre going forward in the game
Speaking to United's official website, Mourinho says that "of course I'm not happy with the start" as the team just couldn't get going in the first half of the game at all. The boss, though, continued to say that he thought "in the second [half] of the game" that his team "was always in control" without managing to create many goalscoring opportunities.
Mourinho said that his team "were trying to win and they were not trying to lose" and as the game went on he admitted that the Feyenoord players "were collapsing a bit physically" and he felt his team could take advantage. United couldn't though, which Mourinho thought was unlucky but he went on to say that it was "double unlucky because it was a clear offside" for Feyenoord's winner that wasn't given which incensed the United manager.
United must bounce back quickly after two successive defeats
The problem is that there is no way now to reverse the decision and now the team must accept it and move on as the team are back in action on Sunday lunchtime when they face a vibrant Watford side away from home in the Premier League looking to get back to winning ways.