In what was thought of ending as a dominant win for Germany against Russia did nothing to dispel the pre-match predictions as the Olympic Gold medalists came away from the Arena Khimki in Russia with dominant 4-0 performance.
Head coach Steffi Jones had shown that she was not afraid to make changes when her final roster for the international break was announced and her starting line up and substitutions tonight showed that she was determined to forge her own path after being Silvia Neid's number two for such a long period.
Germany take control early
Germany wasted no time in taking the lead soon after kick-off and after 25 minutes, were fully in control of the match. Verena Faißt, who had an excellent game overall, found the head of Lena Goeßling in the seventh minute and the midfielder put it away to get Germany's first of the night and her eleventh international goal. Seven minutes later and Faißt was the instigator again when she angled in a cross to an on-rushing Leonie Maier who volleyed her effort towards goal. Russia's goalkeeper Elvira Todua, got a touch to the shot but could only watch as it deflected in, giving Germany a 2-0 lead.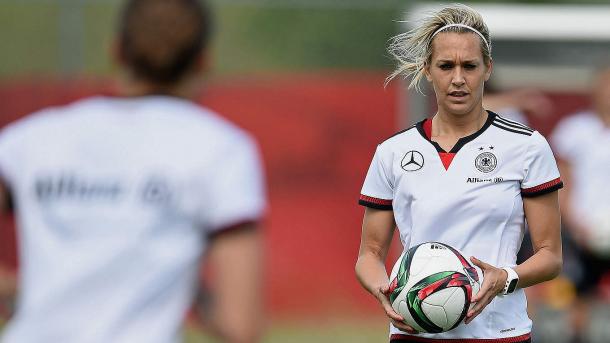 The next goal, Germany's third, came in the 25th minute after a strong run by Isabel Kerschowski led to a great delivery into the box that found the head of Kathrin-Julia Hendrich. The full-back got her head to the ball and again Todua was able to geta touch on the shot but not enough to stop the goal. Germany were well on top and it showed as they continued to get forward and combine well but only missing the final touch to make the score line even bigger than it was.
A slower tempo in the second half still provides a goal
Germany were on top and decided to not only slow things down in the second half but they introduced a substitute right at the start of the second half. Lena Petermann replaced Josephine Henning and a slight formation change happened to allow the young forward to play in her natural position.
Russia tried to push forward more to get a goal but their chances were few and far between and it left them vulnerable to counter attacks by Germany. Todua was required on more than one occasion to make some good saves after Germany had managed to breach her defense, in particular a double-save from Svenja Huth and Petermann midway through the second half that kept the score at 3-0. The goalkeeper could not hold off the Germans forever and in the 78th minute, Petermann got in the act as well. the ball found Huth in the box who turned well and found Maier near her. Maier then proceeded to square the ball to an unmarked Petermann and she made no mistake in front of goal.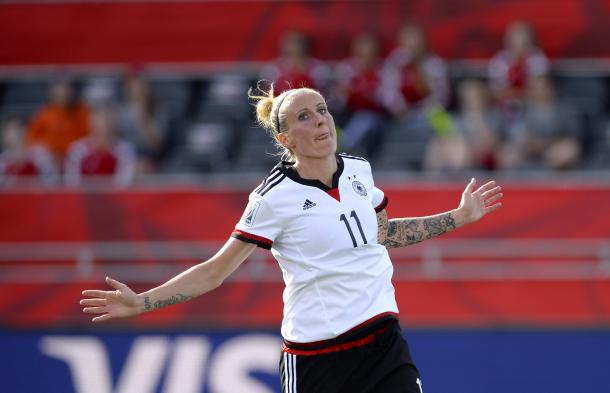 Qualification status of both teams
Germany have already qualified for Euro 2017 so Jones can afford to experiment in these last few qualifying group matches, which she has done so. Russia are second in Group 5, behind Germany, and are three points ahead of third-placed Hungary. Russia will need to win their last group game against Croatia to qualify for next year's competition or hope that Hungary drop points against Germany next week.