Manchester United looked incredibly poor at Vicarage Road and rightly took no points back up North with them on a sunny Sunday afternoon against opposition they were expected to turn over quite easily.
Despite Watford's inspirational comeback at the London Stadium last Saturday, the Hornets hadn't particulary enjoyed the start of their season after failing to record a single win in their opening three games.
Doubters were well and truly proved wrong, however, after goals from Etienne Capoue, Juan Camilo Zuniga and Troy Deeney summoned United to a second consecutive league defeat under Jose Mourinho meaning that this seasons start has been worse than last season under Louis van Gaal.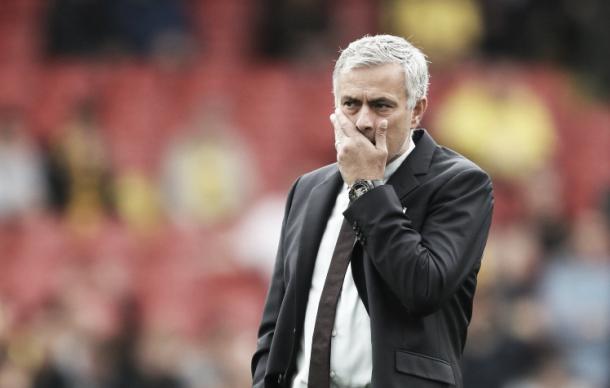 De Gea looked nervous while Shaw was bright
David De Gea - 5: The Spaniard looked like he'd be continuing business as usual when he pulled off a fantastic save to deny Troy Deeney after the big striker fired a powerful header across goal on 17 minutes. However, there was a real lack of communication shown at times, the most costly incident was when a collision with Chris Smalling forced the ball to be dropped and Odion Ighalo had an open goal, thankfull for the Reds he produced the miss of the season so far. You could say De Gea should've done better with Capoue's effort which led to the opening goal as well after using his feet instead of hands for the in-form midfielders' low effort.
Antonio Valencia - 6: Antonio Valencia unfortunately showed signs of his old unimpressive self today, the right-winger converted full-back hit the first man with his crosses far too regularly which really affected Ibrahimovic's game. The Ecuadorian did actually put a hardworking defensive shift in but if you compare his overall performance withhow he was playing at the start of the season there was simply too many signs of regression.
Chris Smalling - 5: Today was his first league start of the season and you could see why, never really got going and the early mishap with De Gea seemed to take quite a heavy affect on his confidence. Only got picked over Blind because of his height however didn't justify Mourinho's choice at all, Daley Blind might have been a better pick for this game seen as though Bailly and Fellaini were doing all of the physical work anyway.
Eric Bailly - 5: Lets be honest, if you're part of a centre-half pairing that concedes three goals in a single game regardless of the opponent you aren't going to get much praise and after being pretty much flawless in the games he's featured in so far for United we didn't see enough from him today. Didn't play a part in United's set pieces due to Smalling's involvement and got embarrased by substitute Isaac Success in the build up to Watford's late penalty so much improvement is needed in the next game that's for sure.
Luke Shaw - 7: Judging by what most United fans have been saying on social media it seems that Luke Shaw was the only bright spark in the team today and those claims can be easily agreed with. The young English left-back showed great threat when going forward and didn't make any memorable mistakes at the back, he wasn't anything special by all means but a lot more impressive than his teammates.
Marouane Fellaini - 6: Pundits weren't wasting any time to rip into Fellaini at the end of the match however some would admit that the big Belgian actually displayed a respectable performance like he has been doing all season. He wasn't exactly 'good' due to a lack of control and leadership which also didn't help Paul Pogba but after dominating the United area on opposition set pieces and also achieving a 97% pass accuracy rate he was one of the better players on the field.
Paul Pogba - 5: The world's most expensive player failed the shine in a United shirt once again today, there was a brief moment in the first half where the Frenchman rattled the bar from 30-yards out which excited the away faithful however no impact was made whatsoever and he was lucky not to get substituted off. He showed immaturity when the Reds were chasing the lead and struggled to take control of the game when he was needed most, a name that comes to mind when you think about how Paul is settling in is Angel Di Maria.
Wayne Rooney - 4: Mourinho started him in a midfield three where his ball control was as disappointing as ever and his short range passing often wasn't good enough. The captain was then moved into the number 10 role where he showed a few signs of decent long range passing however overall he was by far the worst player on the pitch and it remains a mystery how he is still a regular starter for the first team, not good enough.
Marcus Rashford - 7: Dull possession-based football, behind against teams like Watford and being saved by teenage sensation Marcus Rashford. Today's match was looking like a resemblance of the week in week out displays under van Gaal last season until Marcus Rashford stepped up and scored an equaliser which supposedly gave Manchester United all the momentum. Despite playing out of position the young forward still showed more desire to take players on than any other man on the pitch so on the whole it was a good performance in most eyes.
Anthony Martial - 4: Last seasons' top goalscorer hasn't looked himself at all so far under Jose Mourinho and after a heavy head collision with Daryl Janmaat early in the first half it was unlikely he'd set the game alight today. And that was the case, he was seemingly fouled in the build-up of Watford's opener when he lost the ball and was taken off shortly after for Ashley Young.
Zlatan Ibrahimovic - 5: Zlatan Ibrahimovic wasn't given enough service today however he can't put all the blame on that because he didn't try and win the ball for himself once during todays' fixture. Hardly any movement was shown throughout game and was isolated too many times to make a proper impact. The Swedish veteran nearly won the game for United with 10 minutes to go, however, when he forced Gomes to make a very good save from a strong header but he needs to work harder in future games if he wants to win more trophies.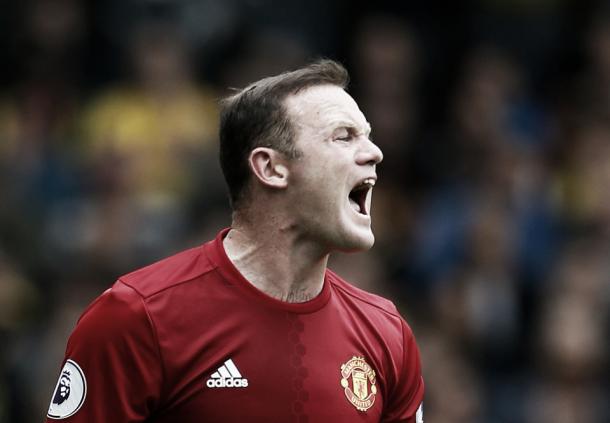 Substitutes
Ashley Young - 5: The former Watford player was brought on to replace Anthony Martial mid-way through the first half however didn't show enough to make an impact. This was a big chance for Ashley to state a claim for a place in the first team due to Martial's underwhelming start however poor crossing and wasteful passes didn't help United at all going forward and it's likely he'll have to wait for another chance.
Juan Mata - 6: Mata looked bright when he came on just past the hour mark and certainly picked up the tempo of the match, this led to Rashford firing in Manchester United's equaliser less than a minute after his introduction. It wouldn't be suprising if the Spanish midfielder was brought in against Northampton Town on Wednesday seen as though he was a regular starter for Mourinho at the beginning of the season and showed great passion today.
Memphis - 4: This has been the story of Memphis' Manchester United career so far, either not even being included in the squad or given a few minutes at the end of a match. You have to sympathise with the Dutch winger, how can he impress when he's thrown on with five minutes to go? We will never see the Memphis Louis van Gaal signed unless he's given a good run of games, hopefully he can start against Northampton Town to show Jose Mourinho what he's really capable of.