Arsenal have put off talks with right back Hector Bellerin over a new contract despite interest from rival clubs.
The young Spaniard's current contract ends in three years' time, and Arsenal are keen to fend off any offers for the him in January, as clubs at home and abroad have made Bellerin one of their top targets.
Although it has been suggested that a meeting to talk about the full-back's contract has been arranged to take place at some point in the next two months, some believe that Arsenal are more focused on tying down Mesut Ozil and Alexis Sanchez, with both player's current deals ending in 2018.
The vultures are circling
Arsenal fans will be worried by the news that Bellerin is gathering interest from some of the biggest clubs in Europe, including two that have been involved in many transfer dealings with the North London club during Arsene Wenger's reign.
One of these clubs are Manchester City, who hae signed players such as Emmanuel Adebayor, Gael Clichy, Samir Nasri and Kolo Toure from Arsenal in the last seven years.
There's no doubt City would be able to offer Bellerin a large increase on his current reported £50,000-a-week, meaning Arsenal might have to make the right-back one of their biggest earners to fend off their Premier League rivals.
Another appealing factor of Manchester City is their new manager Pep Guardiola and assistant former Arsenal captain Mikel Arteta. Bellerin has said in the past that Guardiola had an influence on him while he was developing at Barcelona in his early years at La Masia, while fellow Spaniard Arteta was a big help to the young full-back when he first moved to the Emirates as a teenager.
Speaking of Barcelona, the Catalans are the other club being linked with Bellerin, as not only did he start his footballing career there, its also the place of his birth.
Despite his links with Barcelona, it is understood there is no buy-back clause in Bellerin's current contract.
A rapid rise to first team regular
Bellerin, who is believed to be happy at Arsenal, moved to the club in 2011 and became a regular in the first team two years ago.
After a number of impressive performances, he was rewarded with an improved deal last year, and he went on to make 36 league appearances in the 2015/16 season.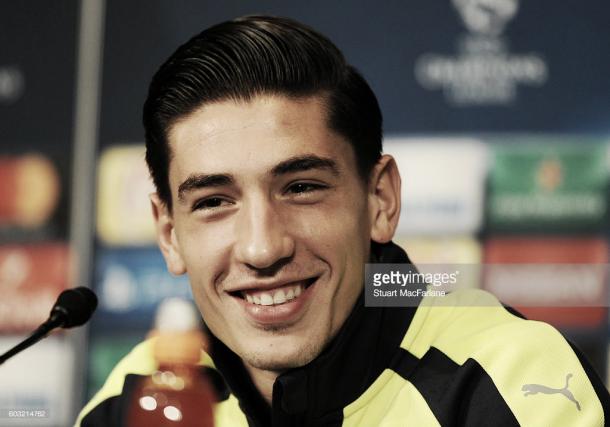 He also made his first international appearance last May, and impressed to such an extent he was then called up for the Spain's Euro 2016.