After overseeing his side's 3-1 victory away to Northampton Town F.C. on Wednesday evening in the third round of the EFL Cup, Jose Mourinho praised his Manchester United team for their positive performance in a tricky fixture against the League One team.
Mourinho praises his team for getting the job done
United didn't have it all their own way during the game as they went in at half-time with the score at 1-1. It wasn't until midway through the second half that they secured their passage to the next round thanks to goals from Ander Herrera and Marcus Rashford.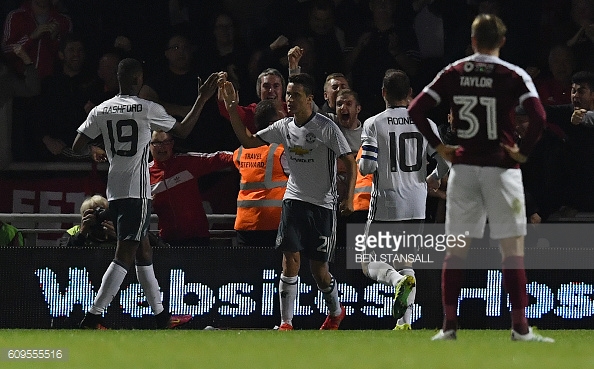 It was a key victory for the team after they had lost three on the bounce and Mourinho believes his changes coped mentally with the risk that comes with a Premier League team playing a lower league team in the cup competitions.
Mourinho said "teams from lower divisions, when they reach this level" against the bigger teams in England makes for a "great occasion" but it is very difficult as they "raise the level of their game" which makes the game even harder.
The United boss continued on to say that it was also "difficult because we arrived at half-time level at 1-1" as that gives them confidence as he felt his team should have been winning "two or 3-0" then that would mean the "game would be over."
Mourinho pleased with how his team coped mentally in the second half
Mourinho says however that the "reality was, though, that at the end of the first it was 1-1" which meant the game was open for both teams to win. The good thing for him to see though was that his team "coped well mentally with the risky situation" and that he felt in the "second half, we didn't stop until we scored" which pleased him the most.
The win against Northampton now means that United will play against Manchester City in the fourth round at Old Trafford looking to avenge the loss to them a couple of weeks ago.