Division 1 Féminine kicked off last weekend with routine wins for most of the teams and an interesting result which saw FCF Juvisy looking above them from near the bottom of the table. Elsewhere, Olympique Lyonnais and Paris Saint-Germain will want to build on their good starts.
Juvisy look to restart their season against Metz
After losing in Week One to EA Guingamp, Juvisy will want to win in front of their home fans and get their season started as they aim to finish in the European places. The home side have a Saturday kick-off against newly promoted FC Metz and will hope to pile on the misery on Metz. Head coach Emmanuel Beauchet will be hoping that his key players, such as Gaëtane Thiney and Kadidiatou Diani will find their way in front of goal against a likely weak defense and push the team up the table.
FC Metz, after a 5-0 demolishing at the hands of their previous opponents, know that their fixture list does not get any easier. Another tough match against Juvisy is what they will be up against and you fear for the newcomers as Juvisy will be looking to win and to win big. Many of the Metz players are unknowns and if there is ever a chance for them to make a name for themselves, this match up against Juvisy will be a good place to start.
Bordeaux entertain Saint-Étienne in Week Two
Girondins de Bordeaux started their season with a draw and they know that they face another tough side in Week Two when AS Saint-Étienne visit the promoted team on Sunday. Bordeaux are currently in seventh and they know that if they can put in another solid performance against Saint-Étienne, they will give their chances of survival a good boost.
Saint-Étienne also started off their season with a home draw. It may not have been what head coach Hervé Didier wanted but it did place them in fifth after the first round of matches. Clara Noiran got the goal in the previous round but midfielder Aude Moreau could be the difference for the away side this weekend.
Injury riddled Lyon should still win against Albi
​Lyon came into the season with long-term injuries to notable players and during the international break, that list on the injury table got longer. Caroline Seger and Kenza Dali look set to miss a few matches already and will definitely be out of this weekend's match against ASPTT Albi.
Griedge Mbock-Bathy also picked up a knock away on international duty but she may not miss as many games as the afore mentioned two players. In their previous match, Lyon dealt with the injured quite well and dispatched their opponents in a 9-0 route. Ada Hegerberg, who continues to shine for both Lyon and Norway, along with Eugénie Le Sommer and Claire Lavogez should be more than enough to see Lyon past Albi.
Albi, coming off a 4-0 humbling at home, travel to Lyon with not many backing the away side to get anything from the match. Their defense has proved porous, although this may be down to the teams they have faced so far. If they want to have any hope of getting at least a point on Sunday, they will need to essentially bunker and hope that their defense can hold off the barrage that usually is Lyon's front line.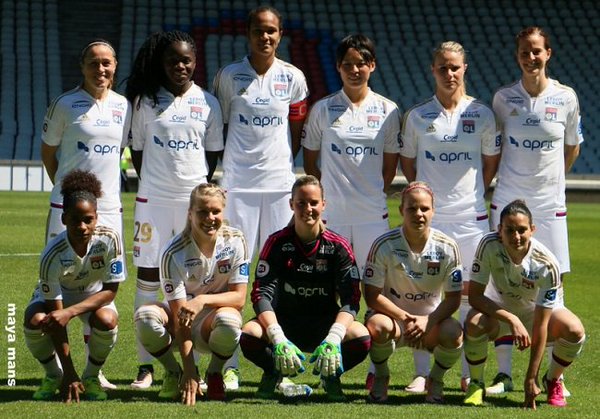 Montpellier are right on the heels of Lyon as they meet Guingamp
After thumping Metz in the last round of matches, Montpellier are only second to Lyon on goal difference. Guingamp are a much more difficult prospect that Metz were and Montpellier will have to be at their best if they want to keep pace with the current champions. Sofia Jakbosson and Laëtitia Tonazzi have already kicked-off their seasons in fine fashion and will want to do so again this weekend to give their side their first home in of the campaign.
Guingamp will not be phased by their away trip. Their confidence will be buoyed after getting all three points against Juvisy. Desire Oparanozie has started right where she left off last season and got the only goal that got the win for Guingamp last time out. The Nigerian will be a thorn in Montpellier's side and will be key to Guingamp's hopes of getting points from their match this weekend.
PSG face newcomers Marseille
With all the questions that faced PSG at the start of the season, the Parisiennes conducted themselves well last time out and picked up a big 4-0 win over Albi. The league runner-ups had to almost completely overhaul their team after the en masse departures of key players and they managed to dispel any fears from their fans with that win against Albi, at least for now. As they look to try and pip Lyon to the title this season, another big win against Marseille would strengthen their cause. Mainstays Shirley Cruz and Marie-Laure Delie have been joined by the creative talent of Veronica Boquete and if they fulfill the talent they clearly have, they will make short work of Marseille.
Olympique de Marseille did themselves no harm in the last round of matches when they picked a good one-all draw against Bourdeaux. Bourdeaux are clearly not the same challenge that PSG will present but the newly promoted side seem to have something about them and could cause a potential upset if things fall their way this weekend. Kelly Gadea is a useful pick up and if she, and her teammates, are on their game against PSG, there could be a chance for them to pick up some points.
Rodez battles Soyaux in the last match of the weekend
Rodez was the fairytale story of last season and they will look to repeat that feat this season as well. They started their season away to Saint-Étienne and picked up a draw there so a home win against AS Soyaux will be exactly what head coach Sébastien Joseph will want from his team. Namnata Traore has started off her season quickly with the equalizer for Rodez in their previous match. Another goal from her against Soyaux and a helping hand from the likes of Anaïs Ribeyra and Flavie Lemaître should be enough for Rodez to win at home.
Soyaux have not started well. A 9-0 defeat against Lyon leaves them bottom of the table and they now travel away to Rodez hoping to get something out of a team that has proven to be a solid side in the Division 1. Head coach Jean Parédès knows that the task ahead of his side will be a difficult one but if they can get a point out of this match after the drubbing at the hands of Lyon, it will lift his team's self belief and possibly help them push up the table for the rest of the season.