Mamadou Sakho's chances of a Liverpool repreive are looking slimmer, following comments made by the defender on social media regarding his current situation on Friday evening.
The Frenchman posted a number of comments on his snapchat story, referring to 'a lie' regarding his current situation, news that manager Jürgen Klopp wasn't happy with upon waking up on Saturday morning.
Defender speaks out
Sakho hasn't played for Liverpool since April, banned for a failed drugs test which he was eventually cleared of, but one that saw him miss the Europa League final and Euro 2016.
He then fell out with manager Klopp in pre-season, sent home from Liverpool's US Tour and told that the German wished to loan him out as he continued to build up fitness following some injury trouble.
Having rejected a handful of loan offers on the final day of the transfer window, it was understood that Sakho was slowly building his way back into the first team picture, with some disciplined training.
However, an outburst on Friday has left his position in a worse state than ever. In a series of updates, the Frenchman said things such as "Still happy to live in my Liverpool country", "Now it's three weeks I am fit to play games" and most importantly "I accept[e] my situation but I can't accept[e] the lie", possibly referring to the way his issue has been spun to the media.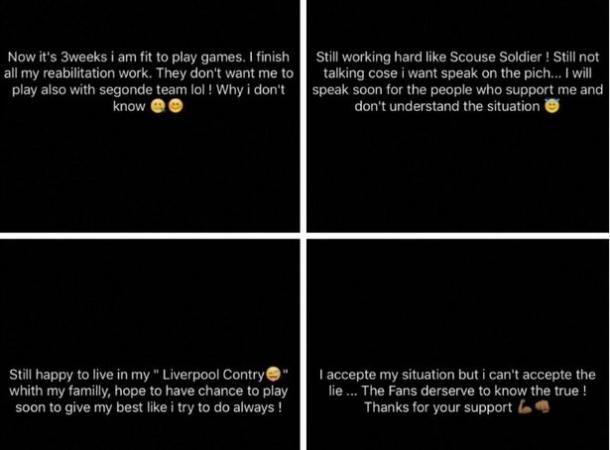 Whether or not Sakho is right on the matter, his boss certainly wasn't happy about it, giving his view on the situation to the media after the Reds hammered Hull City 5-1 at Anfield.
Klopp not happy with Sakho
The timing didn't help, Klopp revealing; "Somebody told me this morning there was something I should know about. Actually on a match day I'm really in a completely wrong mood to think about things like this."
Adding to that, the German admitted that "it's not positive", going on to say that he'll "adress the situation when I think it's the right moment".
Klopp hasn't decided when the right moment is yet, but told the press "it's not Christmas", indicating that he's looking to resolve the matter quickly.