Manchester City captain and defensive stalwart Steph Houghton was among the jubilant players yesterday as her side beat Chelsea 2-0 at the Academy Stadium to seal the team's first ever WSL title.
Jill Scott, via the back of Chelsea's Katie Chapman, opened the scoring from a corner in the first half before Toni Duggan made sure from the penalty spot shortly into the second 45 minutes. Once again Houghton and co kept a clean-sheet as they reigned victorious, and after the game she spoke to VAVEL UK.
A special feeling
For Houghton, coming to Manchester City in 2014 may have been a bit of a gamble. She was moving from a hugely successful Arsenal side into a team that had only just established itself in the WSL. Nonetheless, two years down the line and she has the league trophy in her hands as a Manchester City player.
The central defender won the league twice whilst at the Gunners but this victory was the most satisfying for her; "It tops them two [Arsenal title wins], because I feel as though I've been involved in every single game. I've captained the club, I've been here since day one and it's a special feeling," Houghton said.
The England international was quick to give praise to the rest of her team mates after what has been an exceptional season, not just for herself but the whole of Man City; "I'm delighted for all the girls and all the staff because I see how hard everybody works behind the scenes every single day and how much sacrifice you make, so to come here and win it in our home ground in front of 4000 fans is unbelievable," she explained.
The attendance of 4,096 people inside the ground was hugely impressive, especially for a women's football game which is continuing to grow in this country.
During the increased interest in the women's game Manchester City have become a force to be reckoned with after a brilliant few years, as Houghton said; "the first year the Continental Cup was a fantastic achievement for us and we were so close to winning the league last year but to get Champions League qualification and now to go one more better, we're heading in the right direction and we've just got to make sure we maintain it."
Houghton's former club Arsenal used to be the dominant side in women's football, and now the talk is all about whether her current team can do the same. When asked if they could she replied, "I'd like to think so," before saying "it's got the foundations to be like that and we can attract players from abroad and we can grow our squad."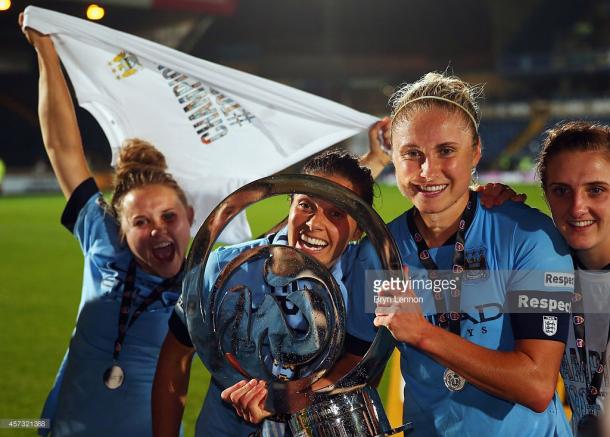 Praise for the boss
After Manchester City's last fixture, a 1-0 win over Arsenal, Nick Cushing was full of praise for his players as at the time they were on the verge of winning the league. However after their most recent victory, Houghton returned the favour as she was quick to compliment the work of her manager saying: "we've got a top class manager in Nick Cushing, and his coaching staff and the amount of detail they have to help us be the best."
Cushing has been excellent as Man City boss, now leading them to two major trophies in his relatively brief spell at the helm in the north of England. The City skipper also said the following; "He's the main man, he makes the club tick and he's a fantastic coach and one of the best I've played under."
It hasn't always been a walk in the park for City though, "I think beginning of last season we had a lot of injuries and suspensions and we couldn't really find our rhythm," Houghton said.
Last season the Citizens were just pipped to the post by Sunday's opponents Chelsea but they've bounced back brilliantly, and that's been mainly down to the football Cushing has his side consistently playing. "We don't change the way we play. That's probably been the most pleasing thing since day one. We've still played the same way but added better players, we've added good people and that's why we've got the squad that we've got." Houghton explained.
Man City's defensive record has been talked about regularly this season, and they've only conceded a remarkable three goals in the WSL in 2016, something which Houghton was extremely satisfied at, saying; "as a back four and a goalkeeper we're delighted we've only conceded three goals this season in the league. We want to still try and go unbeaten and we want to try and keep that clean-sheet record that we've worked very hard at."
Looking ahead
The fun doesn't stop at just a WSL title for the Man City players, as going forward they have much to stay ready for with the Continental Cup final next weekend, and then their debut season in the Champions League, something Houghton picked up on; "For us as a club it's all about now and the Continental Cup final, and the Champions League of course. We've got some very exciting things to look forward too.
We've just got to keep going and get our heads down and make sure that we get the best out of each other coming over the next few weeks." she said.
As City ready themselves for their first ever Women's Champions League match with Russian club Zvezda Perm, Houghton hopes that the team can take their form from the WSL into European competition too, saying; "goals and away goals count so much and they mean so much, so for us to keep as many clean-sheets as we can in the Champions League is something we'll definitely try to do."
Houghton has been an inspirational figure, not just at Man City, but also for England in recent years, and at 28 years of age she'll be hoping that she's involved in many more trophy wins for City in the years to come. This could just well be the start of something very special for the club in women's football.