After their comprehensive win over WSL 2 side the London Bees in the Continental Tyres Cup semi-final VAVEL spoke to Birmingham City defender Jess Carter and manager David Parker about the upcoming final against Manchester City at the CFA.
Carter keen to keep improving
The semi-final came just one week after a spuriously heavy league loss to Chelsea and the Blues were keen to change them approach to ensure passage to the final, "We did our analysis on them and we changed our game plan and I don't think they were set up to handle that, and we stuck with our plan from the first goal to the last, we executed it well and it seemed to work for us."
Carter went on to explain, "After the Chelsea game we went back and looked at our performance, obviously it wasn't good enough. So we watched the game back, saw where it was we were going wrong and how to remedy that and that's been our main focus in training, how to strengthen where we were weaker so we'd be ready for the Bees. And as you can see, it's worked perfectly."
Thrilled with the win and having plenty of fun getting forward herself, Carter is well aware that for the Blues to succeed everyone has to stick to their guns and work together as any mistake could be costly, "We did well but there's always stuff we've got to be aware of, if we had switched off for a minute it easily could have resulted in conceding a goal so we did well to keep our focus throughout. We were good going forward and that's something we've been working on, going forward together to create more chances and hopefully hit the target."
Can Birmingham get firing?
Not known for big score-lines, Birmingham have often come under fire for a lack of punch in front of goal but Carter is confident that the nature of the win will only make the Blues more competitive throughout the rest of the season and is sure she'll see her side finding the back of the net more frequently, "We want to be scoring more goals anyway and this is really going to help us push on, we're always looking at how to get forward and score more goals, with our strikers playing and scoring goals that's going to be a massive confidence boost for them and the whole team."
[A/N: Since the interview Birmingham won their next game by two goals to one, marking only the second time they've scored more than one goal in a league game this year – the other occasion in April when they came from behind to beat the Belles 2-1 at home]
Already looking forward to a hard-fought final, Carter is unmoved by the opponents, going into the Bees game the Blues were aware that a win would see them facing either Arsenal – a side who've twice beaten them in the final of this completion – or Manchester City, the only team other than the Gunners to have ever lifted the trophy,
"Even it had been Arsenal it's always going to be a tough game, both teams are really hard to beat and we know we're going to have to turn up on the day and give it everything we've got."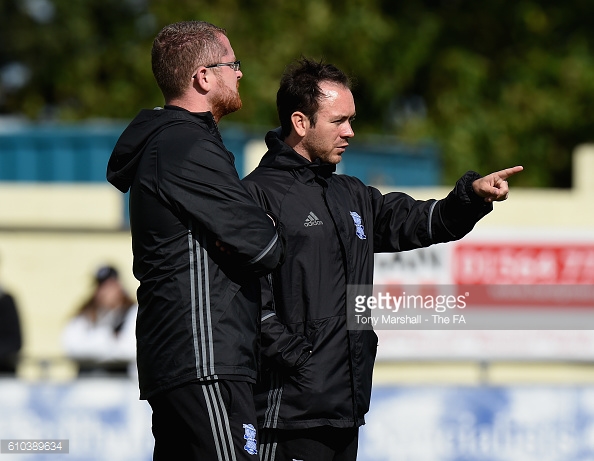 Parker hoping to upset the Citizens
After the win our reporter at The Hive also spoke to David Parker about the Blue Girls reaching the Conti Cup final for a third time since the competition's inception in 2011.
Just like with Carter we asked about how well Parker thought his team responded from the loss to Chelsea and the Birmingham boss couldn't speak highly enough of his team, lauding their professional nature in the win, "They were top draw today, I couldn't have asked for a better response following the Chelsea game. They were professional and disciplined, and you could see the desire they had to get to a cup final.
He added, "Honestly we were left shocked after the Chelsea game, I don't think anyone expected anything like it, to concede more goals in 27 minutes of football than we have all season. But those things happen in football, you get kicked when you least expect it and it's a shock to the system. However, we got it sorted early on in the next week so we could put it to bed and move on with our preparations to for the semi-final."
With a healthy sized squad and more players returning to fitness Parker will have increased options in attack but even with key players out injured the manager has never doubted the strength of his squad, always happy with the frequency of their attacks, "It's not for a lack of throwing players forward and trying. Game in game out we always have players committing in attack, so it's not as if it's a major concern that we don't have the players trying to get forward and get goals. If we weren't creating I'd be worried but we're consistently creating chances, even when we played Chelsea no matter what else was happening we were still creating good chances."
Set-pieces could be key
Particularly profitable off of set plays in the semi-final, Parker admitted that that was an area the Blues had been working on in recent times, "We identify things early in the week and set-pieces are certainly something we've been working on recently and did extensive work on them the day before the match. We always try to pay close attention to set pieces anyway because that's a third of your goals and I'm delighted that we worked them so well against the Bees."
Much like Carter, Parker was looking at the best way to set the team up against their opponents in the final, whether Arsenal, Manchester City or whoever else, the Blues would be focusing on playing their own game and not bending to the whim on the opposition, "I honestly don't care. Either game was going to be difficult, the only difference is that City are going to be at their home ground and they'll have thousands of home supporters screaming for them. That's the only difference for me. But we'll go away and prepare as best we can to take sure we can give it our all and no matter what it's going to be a top quality game for the fans in the stadium and everyone watching on TV."