The FAI have today announced that current head coach of the Republic of Ireland women's senior team, Sue Ronan, has stepped down to concentrate fully on her role as Head of Women's Football in the FAI.
Ireland still awaiting their first major tournament
After having spent six years as manager of the Republic of Ireland women's national team, a job she graduated to after ten years in charge of the U19s, Ronan will take charge one last time in November before stepping down to devote her time to her new role. Only introduced in 2015 as part of wholesale changes made to women's football in Ireland, the current coach will be solely focused on completing all the objectives outlined in the FAI Women's Strategic Plan.
Although unsuccessful in qualification for Euro 2013, 2015 World Cup and most recently Euro 2017, Ronan has worked on building the RoI squad into a competitive unit, ready to fight until the last. Despite failing to qualify for either of the two major tournaments, Ireland boasted fine results in qualification, standing up well to most teams and only played off the park against the very best in the world, but consistently falling short of the mark.
Most recently drawn in a banana skin Group 2 for qualification for Euro 2017. There was little surprise when Spain steamrollered the competition to make it through qualification unscathed but with three teams all vying for the second place it was Ireland who fell shortest.
Out of contention after a 4-1 loss to Finland in Valkeakoski, a 9-0 trouncing of lowly Montenegro was a consolatory confidence boost before Portugal secured a narrow 1-0 win over the Girls in Green in Dublin to leapfrog RoI and Finland and finish in the coveted runner-up spot. Had Ireland held on for the draw they would have finished in a respectable third place in the group of five, but were undone twelve minutes from time by Linköping's Cláudia Neto.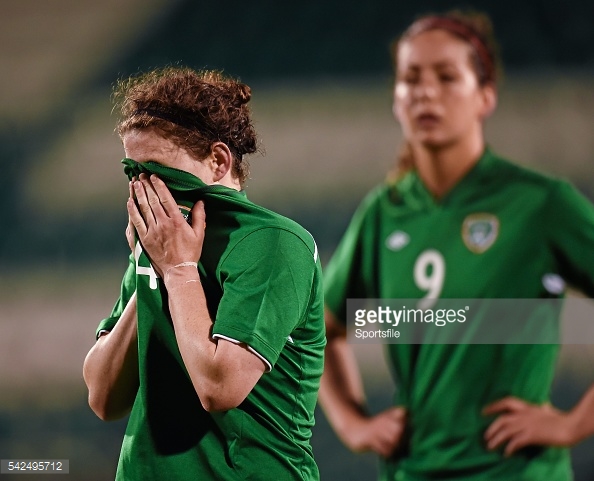 Honoured
Arguably in one of the best positions they've ever been in, with a number of players playing in the bigger leagues around the world, notably Eskilstuna's captain Louise Quinn or emerging Houston Dash talent Denise O'Sullivan, the future has never looked brighter for Ireland.
When speaking to the FAI about her decision Ronan was keen to express her gratitude to all the staff and players who'd consistently given all they could for the iconic green shirt.
She spoke of the "honour" it had been to coach and manage the side for over half a decade, and although disappointed not have achieved the initial goal of "qualifying for a final tournament" Ronan could only see sunshine in the future. With the current crop of internationals as well as the youth players coming through Ronan is certain that it won't be long until Ireland finally make it to a major tournament where they can play alongside the "elite" teams of the game.
Ronan's colleagues in the FAI were keen to give the credit where they saw it due. High Performance Director, Ruud Dokter lauded Ronan as the woman who'd developed the senior team and got them delivering a consistent, professional standard. Dokter cited his enthusiasm to continue to work with Ronan in her new role to achieve the goals set out in the Strategic Plan.
Whilst John Delaney, CEO of the FAI, spoke about Ronan as a driving force in the game, her role pivotal in making Ireland "one of the most improved nations in Europe". And Niamh O'Donoghue – chairperson of the Women's football Committee – praised Ronan's understanding and expertise to the job, already looking forward to utilising her talents to continue to develop football in Ireland.
Ronan's last game in charge is set to be a friendly against Basque Country at the Tallaght Stadium, 26 November.