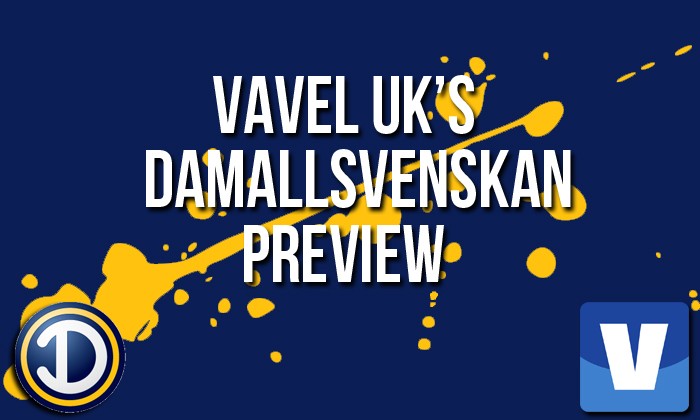 Five games remain in the 2016 Damallsvenskan sees several well-matched battles. Linköping and Rosengård are separated by four points at the top, whilst the bottom three have just two points between them.
Second meets last on Friday
Title-chasing FC Rosengård hosts the bottom-placed side Umeå IK FF with both sides needing the win.
Rosengård's title challenge has been dented by a couple of recent draws and is now four points behind the leaders Linköpings FC. And compared to the leaders, Rosengård has a busier schedule ahead with Champions League action to contend with.
Last week's win against Kristiandstads DFF was critical, especially with their potential title decider coming up against Linköpings next Sunday. With just four games remaining, a loss against Umeå could see them seven points behind.
Umeå too is needing a win as they battle against the drop. They are two points off safety, and their point against KIF Örebro DFF saw them end a run of five defeats. With two of their last four games seeing Umeå playing two of the bottom three clubs, this is maybe not the critical match in their relegation battle – however, the confidence they would gain from a positive result against one of the best sides in the league would be crucial.
Regardless of the result, Rosengård will stay in second place whereas Umeå could climb up to tenth place with a win.
Saturday's mid-table battles
In a clash between two mid-table sides, Vittsjö GIK host Kvarnsvedens IK with two points separating the sides.
Ngozi Okobi's late goal saw Vittsjö pick up a 2-1 win over Mallbackens Sunne IF, building upon their impressive goalless draw against Rosengård, and they will look to continue their form. They don't have much chance of being dragged into the relegation battle, nor gaining a top four position – so like their opponents, their aim will be to finish as high up the table as they possibly can.
Kvarnsvedens have been in better form than their opponents, only losing one out of their past five games (including drawing with third-placed Eskilstuna United) – and like their opponents, their aim has to be about finishing as high up as they can. In their last match, they fought back from 2-0 down to draw 2-2 with Piteå.
The winners will end the day in seventh place but with a win, Vittsjö could jump up one spot to sixth.
Sixth-placed Kopparbergs/Göteborg FC host Kristianstads DFF, a side just two points ahead of the relegation zone. Earlier in the season, these two sides drew 1-1.
Kopparbergs/Göteborg are currently in a three-game losing run, and if they want to finish in the top half of the Damallsvenskan, that is a run which will need to end. However, that run did see them play two of the top three sides.
Kristianstads have lost three of their past four games, drawing their other as they try and escape from relegation – with the only positive from that run being that they've now played the top three clubs. Of course, their fate in is their own hands, and they can start with a result today.
A win will see Kopparbergs/Göteborg remain in sixth, whereas a draw or defeat could see them drop a place. Kristianstads will stay in tenth with a win but a defeat could see them fall into the relegation zone.
Sunday's battles between top and bottom
Fifth-placed Djuargårdens IFF takes on third placed Eskilstuna United DFF in the hunt for third place, with neither side having a chance of finishing in the top two.
Djuargårdens will be looking to bounce back from the defeat in their last game which ended a five-game unbeaten run – with that defeat coming against Linköpings. They came close to taking a point from the leaders before two late goals condemned them to a 3-1 defeat.
Eskilstuna United face their debut in the Champions League next week against Scottish champions Glasgow City and are unbeaten in their past six games. They sit in third place but are now just one point ahead of fourth place and if they want to finish in their current position, they can't fail to lose. And they will want to replicate their result in the season's opening fixture against Djuargårdens when a Mimmi Larsson double saw Eskilstuna win 2-1.
Djuargårdens will remain in fifth, regardless of the result although they could close the gap on fourth to two points. Eskilstuna will probably drop down to fourth if they fail to win.
Fourth-placed Piteå IF host a Mallbackens IF Sunne side that is trying to climb out of the relegation zone.
Piteå is unbeaten in five games with their last defeat coming against Linköpings where they could have picked up at least a draw, having been 2-0 up. They could be going into this match in third place having been 2-0 up against Kvarnsvedens who fought back to secure a draw. It means they sit just one point behind Eskilstuna.
Whilst looking at the table, Piteå will be happy to be playing Mallbackens if they want to climb up to third, you only have to look back at the previous game between the sides to know this won't be easy. Back earlier in the season, it was Mallbackens who won comfortably 4-0 after racing to early 3-0 lead. Their form doesn't look good, though, not winning in their past eight matches. But during that run, they have picked up impressive results – including a goalless draw with Eskilstuna United.
Piteå could climb up to third with a victory whereas Mallbackens could move up one spot into tenth if they win.
Ninth-placed KIF Örebro DFF host Linköpings FC who are looking to close on the title.
Örebro isn't completely out of the relegation race, being six points ahead of the bottom two, but that gap should just be enough. However, they won't want to take things for granted yet. They haven't won in their past five matches but have drawn against Umeå and Kristianstads which has kept them further away from danger.
They will be up against it playing the unbeaten Linköpings who could virtually wrap up the title if they win their next two games, as they play Rosengård next. Linköpings have won their past ten matches and have only dropped points on one occasion – in a draw against Rosengård.
Earlier in the season, the leaders comfortably beat Örebro 4-1 and will be wanting to replicate that result.
If Örebro wins, it is possible they could climb up to seventh whilst Linköpings will stay in first place regardless of what happens – but they will want to win to keep their four point lead.