Jose Mourinho, speaking after overseeing his Manchester United side defeat FC Zorya Luhansk 1-0 in the Uefa Europa League, has described the Monday night Premier League match against Liverpool next month as a "poisoned gift."
The United boss was satisfied with his side's victory over Zorya Luhansk but he already had the next Europa League game in mind against Fenerbache next month after the international break.
Mourinho unhappy with fixture scheduling after International break
Mourinho isn't happy that his side have to travel to Anfield on Monday, October 17th and then face Fenerbache three days later and then three days after that they travel to Chelsea, a seemingly unfair week in Mourinho's eyes.
The Portuguese boss, though, knows that it is impossible to change the Liverpool game now at this late stage but feels it should have been on the Saturday or Sunday.
Mourinho feels that his side could play "Liverpool on the Saturday, we could play Liverpool on the Sunday" but unfortunately the fixture must be played on the Monday so Mourinho feels that his side "don't have the best conditions."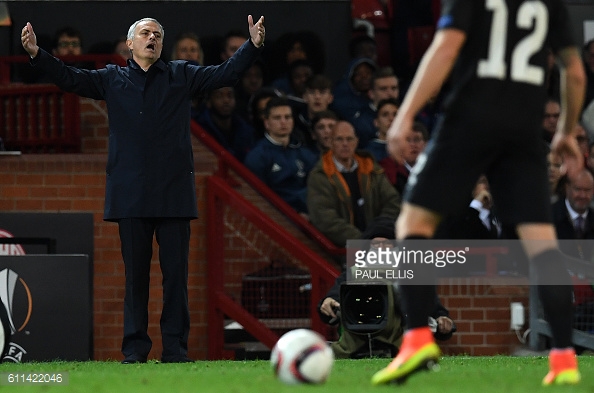 The United boss, therefore, feels United "have had this kind of poisoned gift" with playing on the Monday which "creates a very difficult situation."
Mourinho continued to say that he still wants to try to "qualify for the next round" of the Europa League despite the fixture congestion. Mourinho went on to say that he thinks it's "impossible to move the Liverpool game" and that the "positioned gift is already there" so he knows his team just have to get on with it.
Mourinho looking for a fourth straight win against Stoke
Before the international break, though, United face Stoke City at Old Trafford on Sunday and Mourinho was quick to divert the attention to that game as he wants his side to go into the international break with a fourth straight win.
Mourinho says that Stoke is "another poisoned gift" because at the minute "Stoke is not what the table sees" as they sit 19th in the Premier League table after six games.
The United boss went on to say that "the manager is very good, the players are good" so it's a game that is not to be taken lightly as the team look to make it four wins in a row in all competitions.