Sunderland have their second point of the season, having played very well in the first half, but then Nacer Chadli scored his goal, and they found it very hard to get back into it.
Full Time: Sunderland will take the point considering the circumstances. The injury list is picking up and the squad certainly isn't deep enough to withstand many more. WBA were happy to take the draw in the end.
90 + 5 Denayer goes down with a head injury, the referee stops play immediately. Free kick for Sunderland in a dangerous area now, unrelated to Denayers injury. Seconds left on the clock. Defoe smashes it inches wide. Full time.
90 + 4 Rondon will be replaced by Hal Robson-Kanu.
90 + 2' Pickford launches the ball to Manquillo, who found Ndong, but his cross is cleared. Is there another goal in this? WBA now defending frantically.
90' Sunderland inexplicably launching high 70 yard balls up to Defoe now. At the other end, Rondon misses a good chance by smashing it over the crossbar. Five added minutes of stoppage time - most of that for Kirchhoffs injury.
89' Exhausting stuff! Rondon has another chance bloked by John O'Shea about 4 yards from goal. Great work.
88' Khazri sidefoots one to Ben Foster, after some great work from Jermaine Defoe.
87' West Brom on the attack, Nyom with a great ball to Rondon who heads it aimlessly over the bar.
86' End to end here now, as Watmore attacked down the left hand side, moves into the box but is thwarted by Dawson.
84' The fans are blowing the roof off the place now. Those who were leaving have returned to their seats. West Brom have a chance here, but Phillips cross-shots one across the six-yard box. Close, any touch would have seen that go in.
83' GOAL: Van Aanholt with the strike! Incredible!
Watmore plays a bouncing ball through the penalty area, and Van Aanholt catches it on the bounce and it bobbles past Foster. 1-1!
80' Khazri grounded in the box, as WBA defend incredibly again. Sunderland just do not look like scoring.
78'West Brom have all 11 players behind the ball and are making it very difficult for any attack to get through. However, Khazri makes a terrific run through the middle, only for the linesman to flag, after Foster saves it. He was offside.
77' CHANCE: Chadli plays a terrific defence splitting pass to the dangerous Rondon, Denayer manages to get back to put him off enough to put his shot straight at Pickford. Another let off for Sunderland.
76: Penalty claims turned down by Jermaine Defoe, Manquillo played a good ball in but he was blocked off the ball by the ever impressive defending of WBA.
75' Having changed their formation to a 3-4-3 dimension, it has caused a few openings at the back for SAFC, however Matt Phillips is unable to do anything with his shot.
74' Sunderland just can't get past the WBA defence. Khazri, Watmore and Defoe all trying to get through, but the chances always ending in frustration.
73' Substitutions: Jack Rodwell comes on for Paddy McNair.
For WBA: James McClean off for Craig Gardner - both ex Sunderland players.
71' CHANCE: Jermaine Defoe with the perfect opportunity, and with his head in his hands again as his effort is blocked brilliantly by defenders.
70' Twenty minutes left, plus stoppage time, and the game is still a scrappy mess.
69' BOOKED: McClean on Khazri, poor challenge and a definite yellow card offense.
68' Wahbi Khazri has the ball clattered off him in the box, fortunately for WBA is deflects out for a throw in.
65' This has become comfortable for West Brom, Sunderland not doing anything of any note, with Albion happy to watch the clock tick on.
Watford 2 - 2 Bournemouth: Another equaliser from the Hornets, substitute Success scores.
Watford 1 - 2 Bournemouth: Bournemouth take the lead again, through super sub Josh King.
62' On second viewing, it wasn't too bad a challenge, it was McCleans momentum which took Watmore out, and he won the ball fairly.
61' Sunderland cannot string two dangerous passes together at the minute. Everything is rushed and inaccurate. Watmore is down after a terrible looking challenge from James McClean.
60' CHANCE: Fletcher smashed one against the palms of Pickford, straight back out to Rondon, whose shot is blocked, then played to Chadli, who fires wide. West Brom looking dangerous.
58' Denayer and Van Aanholt will be playing down the left hand side now, with Kirchhoff off.
West Ham 1 - 1 Middlesbrough. Dimitri Payet cancels our Stuani's opener.
55' Kirchhoff is injured. The big German challenges for a head in the centre of the park, but falls to the floor with an obvious injury to his leg. Patrick Van Aanholt will replace him, as Kirchhoff is stretchered off to applause from the red and white contingent.
54' Two poor decisions from Kirchhoff have seen Sunderland attacks amount to nothing. Kirchhoff picked the ball up 25 yards out, and, wish the crowd urging him to shoot, he passes to Watmore, who is obviously offside.
53' Chadli strikes his half chance wide. Sunderland look a much stronger unit at the back.
52' Khazri does well down the left hand side, and finds Kirchhoff, who tries to bend one into the back post, but overhits it to the despair of McNair.
Elsewhere, Watford have equalised. Troy Deeney with the goal.
49' Defoe somehow bundles his way into the box, but its cleared by West Brom. The crowd have lifted themselves again!
Attendance 40'043.
47' CHANCE: Denayer wins a corner, Khazri swings it in a McNair drags it wide. Watmore looked perfectly poised for a pass, was the better option.
45' The second half has kicked off. West Brom now kicking towards the South Stand. Chadli is fine and starts the second half.
I'll be back with more after the break. Grab yourself a coffee, or add me on twitter @anthonygair.
45 + 2' Half Time.
West Brom will feel like they've worked hard defensively, but have countered brilliantly - however, it does appear that Chadli wont continue for the second half.
Sunderland, we'd imagine, will be read the riot act. They have defended irresponsibly for a team asking for a bit of responsibility from their players and have been entirely toothless upfront. Watmore looks their most dangerous threat, but hasn't really broken through. Defoe missing the best chance of the game, seven minutes in and probably wont believe he's missed it.
45 + 1' Goalscorer Chadli looks like he's struggling, and will likely be checked over at halftime.
45' Two minutes will be added on at the end of this half as Watmore tried to strike towards goal, but the linesmans flag goes up. Typical.
44' Tony Pulis will be very happy with his sides first half, although they've had nothing of the ball for the first 30 minutes, they lead 1-0 and have looked very good for it, since. Moyes has his work cut out for him, the Mackems heads have dropped, and they look more like conceding than scoring.
43: BIG CHANCE: James McClean breaks free, charging forward, strikes the ball as he gets around 15 yards out and slices it miles wide. A huge let off for Sunderland.
41' West Brom defending well, namely Jonny Evans on Jermaine Defoe, throw in deep in WBA's half.
40' Lamine Kone's pass has just summed up the way Sunderland have played since the goal. On the halfway line, and sliced straight out of play. Sunderland have to pick it up again before half-time.
39' Ndong clears a Phillips cross, but that goal has deflated the side in red and white.
37' Worrying signs for Sunderland, as their defence begin to play a higher line, leaving huge gaps at the back. Rondon failed to capitalise, but the signs are there, that were there against Crystal Palace.
35' BOOKED: Kirchhoff booked for dissent, regarding the 50:50 challenge leading to the goal, i'd imagine.
34' GOAL: West Brom take the lead! Nacer Chadli with the goal.
50/50 challenge in the middle of the park won by Yakob on Kirchhoff, the ball is played forward to Chadli, whose first touch is terrific, and slides it past the ailing Pickford. 1-0
33' Rondon attacking down the right, appears to be manhandled, but no free kick given. Cleared by Denayer.
32' Sunderland try one of those free kick routines only seen on the training ground - and it really doesn't work. Watmore passing the ball out of play.
In other news, Bournemouth have taken the lead against Watford at Vicarage Road, Callum Wilson with the goal. 0-1
30' Dawson gets the ball about 30 yards out and floats the ball in but Pickford claims it well.
29' Watmore again with the attacking intent, appears to shoulder barge the defender off the ball fairly, but the referee blows up for a free kick. Unlucky there.
28' BOOKED: Yakob loses the ball and upends Khazri, receiving the first yellow card of the game. Poor challenge, smacks of frustration.
27' CHANCE: Corner comes in and Dawson kicks it towards his own keeper, Foster manages to get down in time and gather it up. Sunderland looking impressive, but still haven't put the ball in the net.
26' Passing the ball incredibly well, and spreading the play between both wings, Sunderland win another corner.
25' CHANCE: Great play down the right wing, ball played into the box by Khazri which is cleared close to Fosters goal by McAuley.
24' Kirchhoff clears the ball well from the corner, as it looked dangerous and Sunderland can counter with Defoe. Nyom holds him back - no booking, just a talking too.
23' Poor defending from Sunderland down the left hand side, Phillips and Fletcher causing Denayer all sorts of issues. Corner for WBA.
22' Sunderland definitely not playing like a side bottom of the league.
21' Sunderland break well, and Watmore wins a corner again, down the left. Kone wins a header, which is defended well by Dawson. Goal Kick.
20' The infamous zonal marking will be tested here, McCleans corner found Chadli, back to McClean (who's roundly booed) then plays it to the feet of the defender.
19' Possession is now in favour of Albion, as they win a corner down their right hand side.
18' West Brom break immediately from the corner, but Phillips strikes the ball powerfully, yet straight at Jordan Pickford. Good game this.
18' Corner is very dangerous, Rondon having to take the ball out of his keepers hands to give away another corner. Khazri will also take this one.
17' Watmore appears to have switched wings, and again he terrorises the defence with his directness. Corner won off a deflection from his cross.
15' The game has petered out a little, the ball mostly in WBA's half, but nothing doing with it.
12' Chadli has WBA's first chance of the game, but its saved by Pickford. A great turn there, in the box, but the strike wasn't good enough. Sunderland try to counter, but its defended well.
10' West Brom showing some intent now. Denayer denying a ball into the box first time, but Phillips perseveres and swings one in again, which is cleared by the Black Cats.
8' Watmore looks very impressive so far - and wins another free kick down the right hand side. Khazri floats it in, straight down Fosters throat. WBA breathe again.
6' McNair and Denayer teaming up well down the left hand side.
5' The crowd are fired up now, after that opportunity was spurned.
4' Both sides showing attacking intent and Defoe has missed an absolute sitter.
Defoe breaks the offside trap, all he has to do is put it in the net, but he slides it inches wide of the far post. A massive let off for West Brom. Of all the people that chance could fall too, you'd pray for Defoe to be the man, but he's missed it.
3' Watmore showing his intentions down the right hand side, as he takes the ball forward about 40 yards, and wins possession.
2' Dangerous Free Kick floated in from Evans, but it's well defended.
1' Sunderland have had possession twice, and they've both been long balls deep into WBA's half. Ex Sunderland, James McClean takes the ball from Ndong and wins a free kick half way in Sunderlands half.
0' Kick Off, Jermaine Defoe will take it.
Coming out of the tunnel, John O'Shea appears to be psyching young Jordan Pickford up, preparing him for the game.
The teams are out and warming up, Khazri looks fired up, talking and geeing up his teammates. Good to see a bit of enthusiasm amongst the ranks there on the field.
The Stadium of Light is filling up, with the expectant urge of victory, and wanton from the fans for their side to start their season today. A win will likely get Sunderland off the bottom of the table, juxtaposed with West Brom, who, if they win, will find themselves embedded in the top half of the table.
West Brom will line-up the same way they did against Stoke:
Foster, Dawson, McAuley, Evans, Nyom, Yacob, Phillips, Fletcher, Chadli, McClean, Rondon.
Bench: Myhill, Olsson, Gardner, Robson-Kanu, Berahino, Morrison, Leko
Patrick Van Aanholt and Papy Djilibodji have been dropped, to make way for Jason Denayer and John O'Shea respectively. Sunderland will line-up like this:
Pickford, Manquillo, Kone, O'Shea, Denayer, Ndong, Kirchhoff, McNair, Khazri, Watmore, Defoe
Bench: Djilobodji, Rodwell, Van Aanholt, Mika, Love, Honeyman, Gooch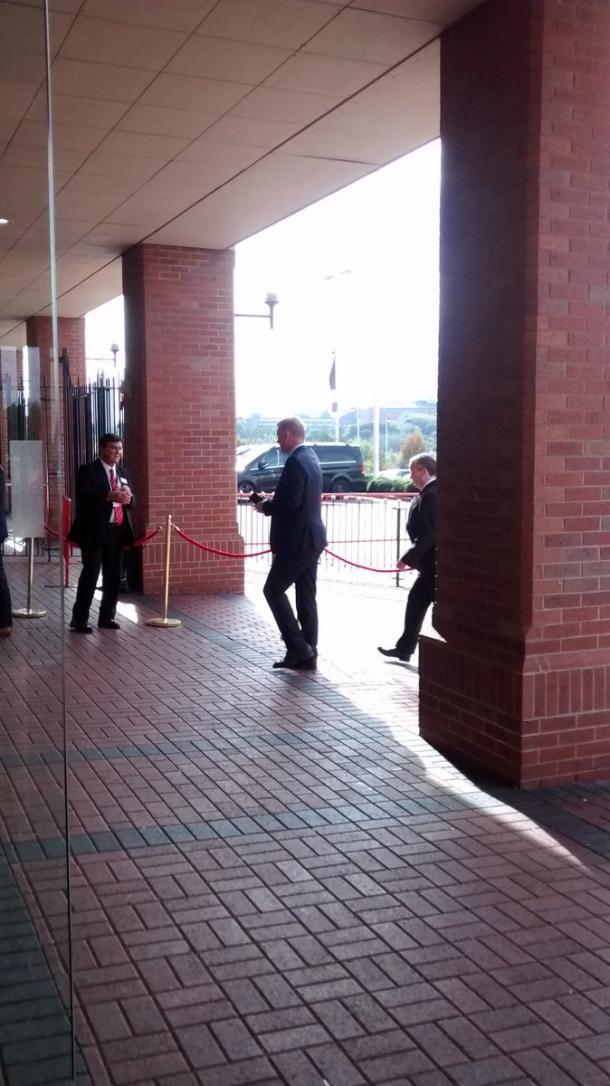 Predicted WBA line-up: Foster, Dawson, McAuley, Evans, Nyom, Yacob, Phillips, Fletcher, Chadli, McClean, Rondon.
Predicted Sunderland line-up: Pickford, Manquillo, Kone, Djilibodji, Van Aanholt, Ndong, Kirchhoff, McNair, Khazri, Watmore, Defoe.
Former Sunderland winger, James McClean, who was brought to the North East for a relative pittance back under the reign of Martin O'Neill, returns to the Stadium of Light again, having blossomed recently in current performances for the Midlands side. Solomon Rondon also finds himself on a hot streak of form, scoring two in his last two Premier League games - and he always looks threatening.
Pulis only has one injury t worry this weekend, with Chris Brunt still unable to feature due to lack of match fitness - as confirmed by the West Brom gaffer through the week.
Other injuries include Lee Cattermole, with a recurrence of his back injury. Steven Pienaar (hamstring) and Victor Anichebe (groin) also join long term injured Vito Mannone, Sebastian Larsson and Fabio Borini on the sidelines. Tunisian winger Wahbi Khazri will be looking to capitalise on
The Black Cats find themselves unable to field six players, who would likely be considered as first team players, with loanee Adnan Januzaj adding to the sides injury woes, ruling himself out for six weeks with an ankle injury sustained in the defeat against Crystal Palace.
The statisticians will tell you today, that Sunderland have not won in August and September for 25 games, but todays the first day of October and statistically Sunderland perennially do better in October.
Sunderlands last game against West Brom was a drab 0-0 draw in April, although, something tells me today, will not be a drab draw.
Today will, again, be tough for the side in Red & White, having only beaten WBA once in thirteen attempts, drawing four and losing the remaining twelve. However, Baggies boss Pulis has never won at the Stadium of Light.
The Wearsiders last game was a rollercoaster in its own right, against Crystal Palace here at the Stadium of Light, having gone two goals up, thanks to Jermaine Defoe, only to capitulate under relentless pressure defensively and concede three goals, one in the 94th minute, to lose the game 3-2.
Tony Pulis' outfit, West Bromwich Albion, find themselves in 10th position, having defeated West Ham United 4-2 and last week a last minute equaliser against Stoke City snatched, what will be no doubt, a priceless point when it comes to the conclusion of the season.
David Moyes' Sunderland side find themselves bottom of the Premier League division, having accrued only one point so far this season. With an expectant Mackem turnout on Monkwearmouth this afternoon, the Black Cats find themselves under immense pressure already, with only six games gone.
Hello and welcome to VAVEL UK's live minute-by-minute coverage of today's clash between Sunderland and West Bromwich Albion. My name is Anthony Gair (@anthonygair on twitter) and I'll be taking you through events as they unfold at the Stadium of Light this afternoon, with kick-off at 3PM BST.