Manchester United will have many regrets off the back of this game, some great football, great link-up play all happened in the first half for them, and yet no goals for them.
The second half was a different story, Stoke had more pressure and were more prepared for the second half. The Potters didn't allow United to create as many clear cut chances as before in the first half and moved forward more themselves. Anthony Martial had looked like putting some life back into the game after his beautiful curling goal, but Joe Allen took advantage of some awful defending from United to smash home the equaliser.
Let's take a look at the Manchester United player ratings for the game.
Goalkeeper and defense
David De Gea - 7/10
De Gea had a largely comfortable first half with very few saves to make, but as the second half grew, Stoke threatened more and more. Eventually, the pressure paid off as De Gea's erratic save helped Joe Allen get the equaliser.
Antonio Valencia - 7/10
Valencia had an average game. He wasn't his usual productive self down on the right hand side. Valencia got into some good positions in the final third, but was also suspect of poor positioning which allowed Marko Arnautovic to threaten off the right hand side.
Eric Bailly- 7.5/10
Bailly's age showed in his defending today, got out of his position on multiple occasions and showed his recklessness which is only natural given his tender age. The Ivorian had a more or less average game as well, dealing with most threats that came his way, except the Allen goal.
Chris Smalling - 7/10
Smalling didn't have a lot to do, but he as well like his partner got drawn out of his position. Xherdan Shaqiri made quite a show out of the centre half, his inability to organise his defence as a leader was one of the factors leading to Stoke's equaliser.
Daley Blind- 6.5/10
As impressive as the Dutchman was in his display against Leicester City, he was below average today, His crossing was just not good enough, his delivery on corners was less than satisfactory and it was his inability to clear the ball properly that led to the throw in, which eventually led to Allen's goal.
Midfield and attack
Paul Pogba - 7/10
Paul Pogba's display left much to be desired. The Frenchman wasn't as sharp as he was against Leicester and while he did take up some good positions and had some bits of good football. His general play still was lacking a lot of output. Tried to test the brilliant Lee Grant from distance whenever he had the chance, but rarely got anything right. Had an amazing header thud against the post after a pinpoint cross from Rashford in the first half.
Ander Herrera- 8/10
The Spaniard was actually one of the better players on the day for United and carried out his work with efficiency and did well in front of the back four and dealt well with the physical threat posed by the midfield of Stoke City. Like Pogba, he tried to test Grant from long range as well.
Jesse Lingard- 7/10
Typical energetic display from Lingard, drifting away from the right side on most occasions and playing a more central role when United attacked and linking up with Pogba and Ibrahimovic well. He setup Pogba with a fantastic pass but the Frenchman failed to capitalise on that.
Juan Mata - 7.5/10
Mata didn't have his best day in terms of his performance. He had a few good moments in the game, early in the game challenging Grant with an audacious chip, his influence all over the pitch wasn't the same as usual and as a result. He and his teammates were frustrated with the result
Marcus Rashford - 8/10
Like Herrera, Rashford was actually one of United's better players on the day, always looked like one to threaten when he got on the ball and ran at Stoke's defence with great pace and movement.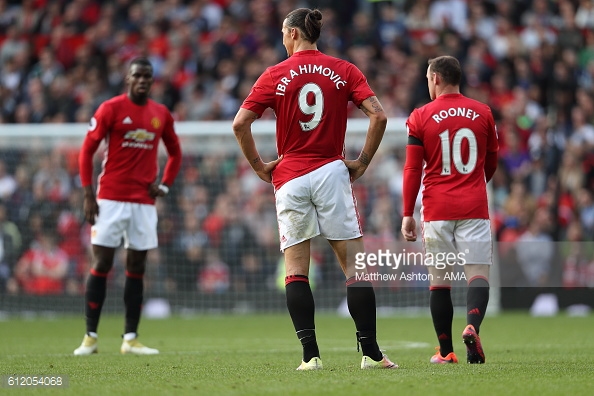 Zlatan Ibrahimovic - 7/10
Ibrahimovic had a less than memorable game, and cut a frustrated figure up top for United as the service he normally got from the midfield and defence, he did not get in today's game. Both fullbacks failed to provide the Swede with the service he needed.
Substitutes
Anthony Martial- 8/10
Martial gave the game just what it needed, some life and some belief back in the team. His goal was a result of his own tradermark Martial run goal, cutting in off the wing and getting in shots away on target. But other than that, the Frenchman couldn't do much.
Wayne Rooney- 6.5/10
Rooney had a very average game, he did nothing too special and bringing him never had the desired effect for Jose.
Memphis Depay- 6/10
Like his captain, Memphis wasn't able to influence the game in a positive manner and was sloppy in his decision making, not one of his brighter games indeed.