Mauricio Pochettino was thrilled with Tottenham Hotspur's performance in their 2-0 win over Manchester City, calling it a "nearly perfect" win and believes the international break is a help rather than a hindrance to his team.
Spurs totally dominated City during the game using their high-intensity pressing game that reaped its rewards. The goals came from an own goal from Alexsander Kolarov and Dele Alli which ended City's 100 percent winning record under Pep Guardiola.
Pochettino praises his team for 'nearly perfect' performance
The result could have been even better if Erik Lamela didn't miss a second-half penalty but Pochettino was still delighted with his team's big victory.
Pochettino says that "the performance was nearly perfect" which against a "great team like Manchester City, you need to do" as they have been superb so far. For doing so well in the game, Pochettino said that he was "very proud" of his player's work as they "collectively, worked very hard" which was most pleasing for the Argentinean.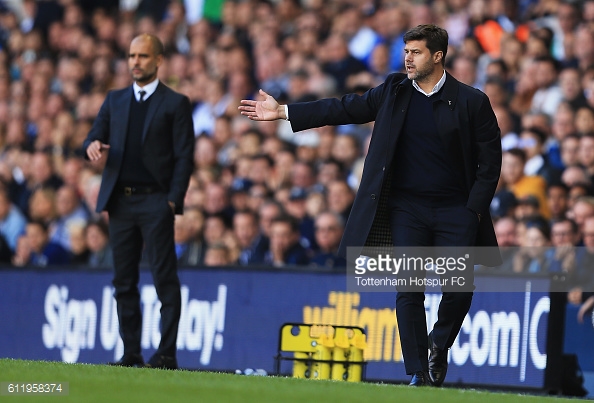 Pochettino felt that the game was "real exciting" as "both teams played in an exciting way" which makes it a lot more enjoyable for everyone playing in it. The Argentinean went on to say that he "enjoyed it a lot, the fans enjoyed it a lot" which is what they deserve for giving their support to the team every single week.
The win against City was Spurs fifth consecutive win in a row in all competitions but due to the international break the team don't play again for two weeks, but Pochettino is happy for the break so that he can get a few of his injured players back.
Pochettino hoping to everyone fit after the international break
On the international break, Pochettino said that "we're happy we have time to recover players like Dembele and Kane" who the team need in a large amount of games in a key part of the season.
The boss continued on to say that "we need all of our players fit to compete" as the team "have a lot of games ahead" in all competitions so it is important for everyone in the team "to rest" and come back ready to start from where they left off in a good frame of mind.