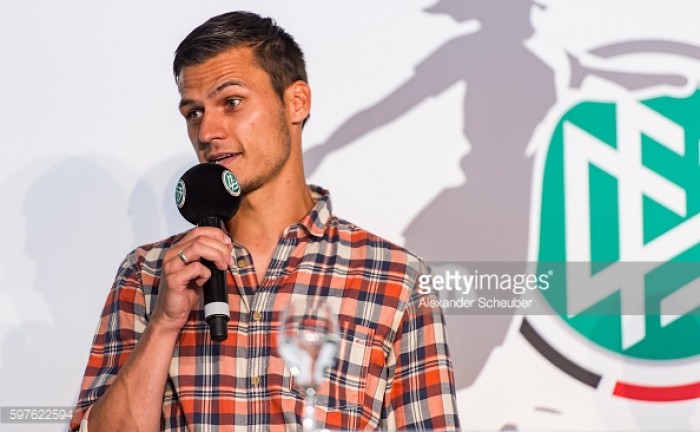 Hibernian Ladies make their return to the UEFA Women's Champions League as they welcome FC Bayern München to Easter Road. With the club reporting ticket sales of over 1,000 and expecting more people to be paying at the gate, it looks like it will be a fantastic occasion for the club. This is the first time Hibernian have played in the Round of 32, with the last time they appeared in 2006-07.
Of course, this is the first time ever that Scotland has two sides in the Champions League with SWPL champions Glasgow City currently in Sweden for their first leg against Eskilstuna United. It is partly down to City's remarkable improvement in Europe where they famously reached the Quarter-Finals against PSG in the 2014-15 tournament that Scotland now has two places – something Hibs' Head Coach Chris Roberts fully acknowledged.
Bayern impacted by Olympics
But, Bayern has not had the greatest start to this season. There are obvious reasons for that: when you play in a competitive league with sides like Wolfsburg who have reached the past two Champions League Finals, Frankfurt who won in 2014-15 and Turbine Potsdam to name a few – you only have to drop your level a small percentage and suddenly you're dropping points.
On the Bayern's recent Bundesliga success, the Bayern München Head Coach Thomas Wörle felt it was fantastic especially given where the club was finishing before those successes. He pointed out that whilst "success can be positive, it can also be negative because people expect a lot of us, and a lot of teams are watching exactly how we are playing." He also talked about the extra motivation sides had in playing them, and their only defeat had come against Wolfsburg who he called "the best team in Germany." Going into this game, Bayern München had beaten Leverkusen 1-0.
He felt that Bayern is developing game by game and also mentioned their pre-season preparations were impacted by the Olympics where they had several players at the tournament – including five who won the Gold Medal with Germany – which meant they had eight days with the full squad before the season.
Easter Road
Wörle said that the game at Easter Road will be a special occasion for both sides as it marks both clubs' first games in the Champions League this season. Also, he talked about the fact that it was Hibs' first game in Europe for a while, something he appreciated with Bayern playing in the competition for the first time in six years.
Bayern includes Lisa Evans in their squad, a Scottish international star who recently helped Scotland qualify for the Euros and played for Glasgow City – but when Wörle asked about whether that would help, he said that whilst "Lisa had told him things about Scottish football" he pointed out that she had "been away from the Scottish leagues for more than four years." However, as Wörle went on to say, Evans has several Hibs' team-mates in the Scottish squad.
This will be Lisa Evans' first ever game at Easter Road – either as a player or a fan. When asked to compare the Bundesliga with Scottish Football, she felt that the Bundesliga was the most competitive league in Europe but she felt that the Scottish league had made great strides forward. This included improvements in training, but perhaps Glasgow City and Hibernian were still lacking the competitive games each week.
Last season, Bayern were eliminated in the Round of 32 by Dutch side Twente on away goals. Whilst saying that they had wanted to win the tie, Wörle felt Twente "they were more used to" playing in the Champions League. "They knew exactly how to handle that at an international level." He also felt they were unlucky, but hoped that "they were ready to learn from the occasion"
Chris Roberts, the Hibernian Head Coach, commented that their training had gone very well and mentioned that the pitch there was close to the dimensions of Easter Road. Compared to their usual pitch at Albyn Park, Easter Road is grass (and not 4G) and six yards wider and 10 yards longer. He didn't think the aspect of playing on a grass pitch would be a factor as nearly all the squad had represented Scotland, either at senior or youth levels, so were used to playing on grass. Roberts praised the playing surface and both him and captain Joelle Murray suggested that the bigger size would benefit their style of play.
Hibernian change in style
When asked about team selection, he mentioned that there had been no injuries and that they would try and keep the starting eleven as similar to the one that normally plays.
In their past two matches against Stirling University and Forfar Farmington (both games they won scoring five), Hibs have played a different style, "being more compact, playing more defensive and looking for counter-attack options". In their win against Stirling, Hibs also had the chance to play at Easter Road.
Roberts is aware of the challenges that Bayern face and he said the aim was to be competitive in the game and gain experience as a club from playing in Champions League. As he says, the players will "get the chance to play against full-time professionals, some of the best players, Olympic Champions, World Champions, European champions."
Murray talked about adapting to be big pitch and that they had to make sure they were compact and that they defended as a unit.
There will be over 1,000 supporters at Easter Road, and the club is expecting more to pay at the gate on Wednesday. With the game being televised on BBC Alba, it is highly impressive that the club is getting crowds around the level the Scottish National Team gets.
Hibernian looking to enjoy the game
Scottish Women's Football is on the rise with two Champions League sides and Scotland qualifying for the UEFA Women's Euro 2017 and Murray was appreciative of the experience of playing a huge game in terms of Scotland playing in Europe. Whilst Hibernian's squad is young, they have a huge amount of experience. An example Roberts gave was Lucy Graham who despite being 19 is in her fifth year of senior football. But they are lacking as a club in the experience of playing European football.
Unlike Bayern who are just beginning their season, Hibernian are approaching the end of the season. The Bayern game begins a very hectic schedule, playing Bayern on Wednesday, Celtic on Sunday in the league, travelling to Bayern next week and then facing a Scottish Cup Semi-Final the next Sunday. Murray stated that with the schedule, preparation was vital in terms of what the players ate, recovered and rested. But despite the intensity, she said that players "want to be in these games. You want to be in the Champions League, you want to be in the Scottish Cup" so it wasn't bothering the players. Roberts added that it was more of a problem for him and that he felt that he would most likely have to use all his squad over this time.
Hibernian's SWPL 1 rivals Glasgow City has had more experience and Roberts commented that the Scottish Women's football family is really close. He talked about the progress City had made from their painful 17-0 defeat to Turbine Potsdam – and how they had changed from a side that pressed high up the pitch to a more compact side.
Before the Hibs players leave the dressing room, Roberts final words will be "the work they put in every single day to be as close to a full-time professional athlete as possible and that's the hard work that's already been done. It's about going to enjoy the occasion, believe themselves, back themselves and make sure they work as a unit."
If the Hibs' players can control the aspects of the game that they can control, then as Roberts says, the players can be proud of themselves, regardless of the result.