Manchester United and England captain Wayne Rooney, has said that he understands why and admitted he deserved to be dropped by United manager Jose Mourinho.
Complete understanding
United fans haven't the best form of their skipper for some time, and Rooney's poor run of form has seemingly carried over into the new campaign. That seemingly came to a head a few weeks ago with United's 3-1 defeat to Watford where the 30-year-old put in a less than flattering performance.
Rooney was then dropped for the win over Leicester City and Sunday's 1-1 draw with Stoke City. Rooney has joined up with the England squad for the upcoming 2018 World Cup qualifiers, with calls coming in for interim manager Gareth Southgate to drop Rooney, and in his pre-match press conference the skipper admitted that he deserved to be dropped.
He said: "Listen, I had a bad game at Watford. I played bad, I know that and I understand that,
"I think if he [Mourinho] was picking the next team on the back of that, I understand not playing. The team have done well, certainly in the Leicester game since that."
Rooney continue: "I understand I have to work hard and try and get back and try and get my chance and take it."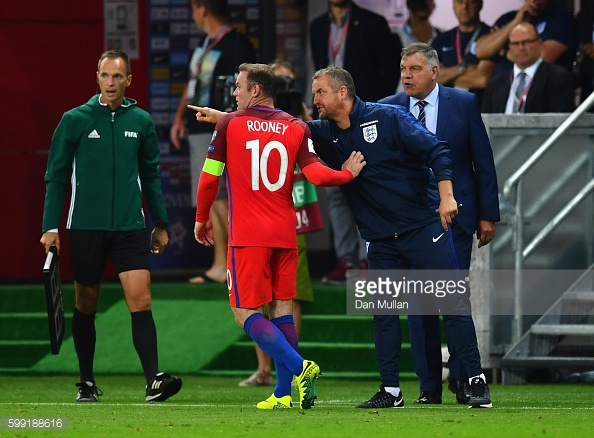 Further from the truth
It has been a whirlwind few weeks for the England national side, with the promotion of Southgate from the under-21's after the exit of Sam Allardyce. Rooney came under fire from fans and Allardyce after his only game in charge in the 1-0 win over Slovakia, with Allardyce claiming Rooney played "wherever he wanted" which Rooney claimed he apologised for.
"Sam came out and said I play where I want but it couldn't be further from the truth, I play to instructions," Rooney said. "I got battered in many different ways for my performance, which I felt was actually a decent performance."
He continued: "He knew he had made a mistake. He said that to me on the plane home. That's part of being involved at this level."
Rooney concluded: "He understood that quite early and unfortunately he doesn't have the chance to rectify that now."
Manchester United will take on Liverpool at Anfield on Monday, October 17 with kick-off at 8pm BST.