This season Liverpool's displays seem to have gotten better game by game.
It started at Arsenal and has improved since. Now, the Reds have won four consecutive league games in superb fashion and shown just how effective they are while on the opposition's backs but also when they themselves have the ball in their possession.
'Klopp Football' has been the buzz-word used about Liverpool's style-of-play, but their game is about so much more than just their intensity off of the ball.
In recent games, we have seen a slicker, more efficient Liverpool and it looks as though Jürgen Klopp has finally found the right formula for the Reds to click this season.
There is still the question of how far the Reds can go this season, with a title challenge even a suggestion. It will nevertheless be all the more interesting to see where they end up in the table, given that they have no European distractions to worry about this season.
There is method in Liverpool's attacking
When Klopp started out as Liverpool, the approach was more about attacking all the time and not necessarily controlling a game.
But this season, we have certainly seen a method to Liverpool's attacks, the way they break down opposition with constant movement and accurate passing, and that results in some brilliant goals being scored.
Klopp's style is now more visible as Liverpool press their opponents and also dictate the game while they're at it, as can be seen in their possession numbers, which are improving with each passing game.
The team likes to play out from the back and as centre-backs, Dejan Lovren and Joel Matip play a pivotal role in beginning the build-up from the back, with Matip the one who likes to stride into midfield whenever he sees an opportunity to do so.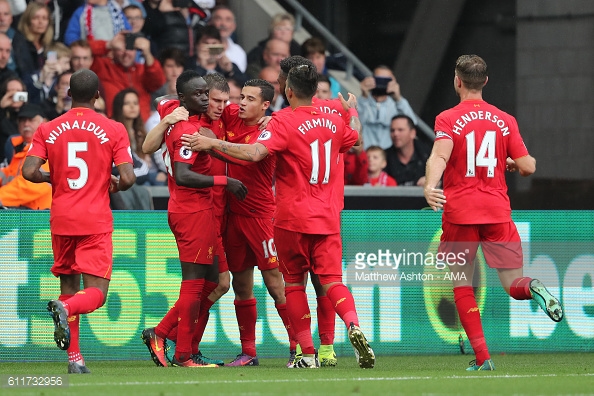 What's all the more impressive about Liverpool's attack is that their goals can come from all over the pitch. With intelligent movements and fluid football, the three forwards and three midfielders interchange all the time and this creates a great deal of confusion amongst the opposition defences as to who to mark and who not to.
Jordan Henderson, Georginio Wijnaldum and Adam Lallana have been the preferred three in midfield for Klopp and those three are perfectly suited to bringing the kind of football that the German intends to play with.
Henderson has become better at both ends of the pitch and now is just as good while attacking as he is at defending and helping out Lovren and Matip. There were several questions raised about Emre Can's fitness levels and there was doubt initially that Henderson could play the holding midfield role in his absence.
To his credit, the Liverpool captain has done exceedingly well so far and just like his team, he gets better with each game that he plays in that role. The 26-year-old is still getting used to the responsibilites and the demands that he will need to fulfil in his new position, but his progress and improvement is evident.
As impressive as James Milner has been since replacing Alberto Moreno, and also the ever-committed Nathaniel Clyne, the front three of Sadio Mane, Phillippe Coutinho and Roberto Firmino play a vital role in the final third of the pitch as they dazzle opposition defenders with their clever link-up play and sublime individual skills.
While we haven't seen a lot of Daniel Sturridge, Divock Origi and Danny Ings in the season so far, Sturridge will be confident after scoring during the international break and Origi looks determined to get into the team after playing a bit-part role of sorts lately. Meanwhile, Ings is still getting back to full match fitness so we probably won't see much of him any time soon.
Liverpool's domination not just on the scoreline
Whenever one talks about Liverpool, they're likely to immediately think of their goalscoring abilities but this team's domination is not just on the scoreline. The numbers speak in favour of Liverpool in varying aspects.
Klopp spoke earlier in the season how Liverpool want to avoid "running like crazy" and pressing for the sake of it outside of possession, and they seem to be getting there - in that they are seeing much more of the ball than their opponents and therefore are not needing to press and harry as often.
There is a calmness in possession we haven't seen in a long time in a Liverpool team, with lesser passes wasted and more purposeful passes played. That has consequently led to bigger numbers in possession and higher pass completion rates as well.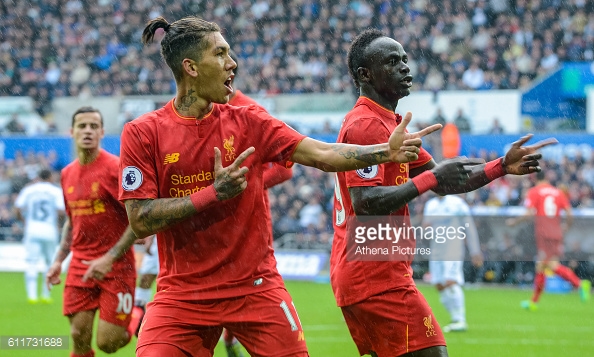 To be more specific, Liverpool have averaged a total of 56 per-cent possession in their games so far and a pass accuracy of 85 per-cent. These are certainly very impressive numbers that the Reds have managed to achieve and they will hope to not only keep this going, but improve them further, as the season goes on.
Also another impressive statistic is the number of goals they have scored from set pieces, with seven in total so far. Coutinho will undoubtedly look to threaten David De Gea with his free kicks when the Red Devils travel to Anfield in a highly anticipated clash next Monday.
That game could tell us a lot about Liverpool's progress so far this season and just how far they can manage to go this season, with Jose Mourinho's men well capable of thwarting them.
And so, there is certainly a 'perfect combination' developing in the way Liverpool have been playing this season. It remains to be seen if the Reds can keep it going, beginning at Anfield against Manchester United. What better way to start.