All the latest news and views from the Toppserien, as it begins to wind to a close.
Avaldsnes gain ground on LSK
With LSK having played their matchday 19 game back in August, a 6-0 win against Røa, this gave Avaldsnes an opportunity to work on that seven-point deficit they had up to LSK before this round. Avaldsnes took the first step when their captain Maren Mjelde continued her strong season by getting on the scoresheet to make it 1-0.
Before this Avaldsnes struggled to break down a hard working Vålerenga side, and it wasn't until nine minutes before the final whistle that Avaldsnes got their second goal. This time it came via an own goal from Josefine Ervik.
Three minutes later Vålerenga managed to add some much needed excitement into the game when Finnish international Maija Saari, who moved to Vålerenga midway through the season, made it 2-1. However, Avaldsnes secured all three points when Maryll Abrahamsen got her first goal of the season.
This means Avaldsnes are now four points behind LSK with three games left to play; Vålerenga remain in 10th place.
Stabæk jubilant as three points see them overtake Kolbotn
Kolbotn went into the round knowing they were two points ahead of Stabæk in the fight to finish third, but for the second game in a row they failed to get on the scoresheet. In their last game that earned them one point, whereas after this game they had to see Sandviken take all three points.
At Sofiemyr Stadion 112 spectators saw the away team score the only goal of the game in the 33rd minute when Stine Andreassen scored for the second game in a row. This win means Sandviken are sixth in the league, just three points behind Røa in fifth.
Stabæk played a day later than Kolbotn, and knew that their main rivals had lost a step. Stabæk, however, were stunned in the first half against Klepp when the former Liverpool player Line Smørsgård continued her fine form and scored the first goal after five minutes.
Klepp managed to hold onto the 1-0 lead until the 53 minute when Ingvild Isaksen put the ball in the net. Just trhree minutes later Celina Granli made it 1-2 to the visitors and Gunnhildur Jonsdottir finished six minutes of total Stabæk dominance by scoring to make it 1-3 after 60 minutes. Ida Elise Enget finished the rout when she made it 4-1 in the 73rd minute.
These results mean Stabæk overtake Kolbotn and they are third in the league with a point advantage on Kolbotn. Kleep is 9th with two points up to Arna-Bjørnar and two points down to Vålerenga.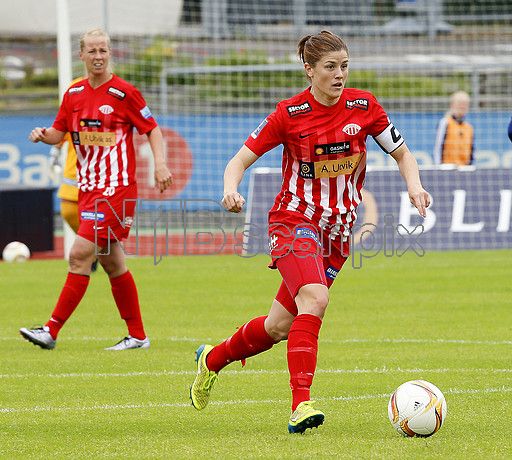 Medkila take a step towards safety
Trondheims-Ørn and Urædd certainly gave the 180 spectators at Rannheim Arena a show for their money. Within the first five minutes the score was 1-1. Guro Reiten, who will move to LSK next season, got Trondheims-Ørn off to a flyer when she netted in the fourth minute. Urædd didn't let this get to them, and it only took them a minute to strike back, when Melissa Wiik made it 1-1.
Trondheims-Ørn scored once more in the first half, when Lisa-Marie Utland put the ball into the net after 26 minutes, which saw them take a 2-1 lead into the break. Wiik was once again the Urædd player to make the difference, when she scored her second of the day to make it 2-2 in the 56th minute. However, Urædd couldn't hold onto this and Rakel Engesvik scored to make it 3-2. Trondheims-Ørn ensured their 4-2 victory when Utland popped up again and got her brace.
Before this round Medkila were a solitary point above Urædd, and when they went into the game they knew about Urædd's result. Their match against Arna-Bjørnar won't go down as the most entertaining tussle of the season, and neither team managed to get a goal. Medkila will be pleased to have earned a point, which see them double the difference down to Urædd.
Trondheim-Ørns' victory sees them overtake Arna-Bjørnar in the standing so that they are now 7th, while Arna-Bjørnar continue their rather unfortunate streak of not winning, which now spans six games; four losses and two draws.