As the Manchester United and England captain sat in front of his detractors following the announcement that he had been dropped from the national team starting 11, you couldn't help but feel sorry for him.
Images of the young Wayne Rooney, the warrior who warmed his way into the hearts of England and Manchester United fans alike with some great performances that saw him tipped for greatness seem all too distant and even unreal today.
At 31, Wayne Rooney looks a shadow of the player who burst onto the scene with that great goal against Arsenal whilst still playing for his boyhood club, Everton.
The power is gone; the pace is gone, even the bark is gone. But most worrying of all is the fight. The fight seems to be gone. Wayne Rooney the street footballer doesn't seem to exist anymore.
Is the fight gone?
On becoming Manchester United manager, David Moyes is said to have told Rooney that he had become soft. In the first half of that season, before again succumbing to injury, a bulked up Rooney looked back to his angry best. It was street football again to the extent that even while Manchester United were being torn apart by Manchester City at the Etihad he still managed to score the best goal of the game with a thunderous strike.
But by and large, that anger and fire that made him the player that he was has largely disappeared. And the England fans and media have made their feelings known
It is not the first time Manchester United have had a player bear the wrath of the English fans and media, it is not the first time Wayne Rooney has. Usually, the club and fans would take up the siege mentality that Sir Alex Ferguson created to perfection. They would protect their player, cheer him, love and idolise him until he was nursed back into top condition and bullish confidence.
Many times Alex Ferguson would back his players to the end. Delivering his speciality of 'manufactured anger'. At one point the United boss sent journalists equipment flying off the table as he vehemently defended his wonder kid.
If Wayne Rooney is to find another spark, if a fire is to be reignited again, he needs the same love, protection, and defiant support.
This is usually the kind of support the United faithful would give but Wayne Rooney and his supporters have made decisions that have denied him the unconditional love of the Manchester United faithful.
Poor decisions
The decision to court a move to Manchester City is one he has not been able to live down. The moment his desire to move to the suddenly cash-rich neighbours became known and he accused the club of not matching his ambitions he alienated fans who began to tolerate him rather than love him. There was an appreciation for the talent but not the man and the chances were that once the talent was gone; most fans would be left with a player to whom they felt little affection.
The decision by Louis van Gaal to publicly declare that 'his captain must play' also did the United number 10 no favours as fans watched with frustration as players got dropped and sold for under performance while a place was always found for Rooney within the United side irrespective of form.
The Rooney squad that operate in the media have not helped matters either. With former colleagues and friends insisting that the Manchester United team be built around Rooney irrespective of form and despite the fact that the United captain would not get into any top team's starting 11. One member of the Rooney brigade even went as far as suggesting that Rooney be allowed to play in front of the back four.
The desperation of Rooney's friends in the media to defend him and describe every average performance as world class, as they did during a game last season against Chelsea at Old Trafford where Rooney was probably the worst United player on the pitch, only further alienated the Manchester United fans he needed to seek refuge from.
Wayne Rooney also doesn't help himself by certain information fed to the media that gives the impression of a man that thinks he is bigger than any team or establishment. That may not be the message he intends to send but sometimes it comes across that way.
However, maybe the time has come where sins have to be forgiven.
Time for a change of heart?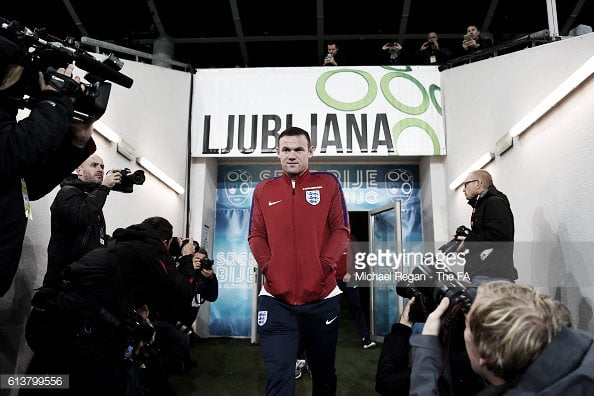 United fans historically never side with the English press neither do they show much affection to the England team who they believe more often than not treat their most treasured players badly (see David Beckham, Cristiano Ronaldo, and, once upon a time, Wayne Rooney).
Now they find themselves in an unfamiliar position. For most of the season, United fans have called for Wayne Rooney to be dropped from their first team. There has been a lot of frustration and resentment in the direction of their captain. But faced with the prospect of singing from the same sheet as the media and opposition fans, maybe it's time United rode to Rooney's rescue.
Wayne Rooney is without a doubt Manchester United's prodigal son and maybe it's time United acknowledge that he is just that, their prodigal son, one of their own.
Irrespective of his flirtations with Manchester City and later with Chelsea, irrespective of managers who have bowed to his every whim since Sir Alex retired, irrespective of his bumbling and biased friends in the media; Wayne Rooney belongs to Manchester United and Manchester United protect their own.
In Jose Mourinho, he has a manager with the panache to defend him with great defiance, in the same way he defended the indefensible actions of Diego Costa while he was Chelsea boss. Rooney needs his club manager to show him that kind of unwavering support in the face of consistent criticism.
But what Rooney needs most of all is redemption. The roar of the Old Trafford crowd carrying him and cheering him back to a performance of some sort.
For too long Rooney has looked like a fighter who has no fight left in him. He is like a boxer on the floor, looking to his corner asking whether he should keep fighting or throw in the towel. He needs his corner just as for many years his corner needed him.
It's time to forgive, it's time to embrace the prodigal son and then maybe just maybe we may get another look at that street footballer that we all fell in love with.
Francesco Totti is still thrilling fans at 40, maybe Wayne Rooney isn't finished just yet.