An international break in recent times has been one met with frustration and displeasure, especially amongst fans of the Premier League when the English team has been as unconvincing as it has in recent times. Arsenal however, came into this international break off the back of a brilliant run in the league, with a whole host of players in form. Were those players able to continue that over the international break though?
European qualifying section
Theo Walcott came into this international break off the back of some excellent performances for Arsenal but he wasn't quite able to show those performances for England, as Gareth Southgate's men struggled to impress against Malta and were far from convincing in a 0-0 draw with Slovenia. Walcott showed glimpses of what he's been doing for club against Malta, but never really got in the game against Slovenia despite showing a few nice turns.
Meanwhile Alex Oxlade-Chamberlain was an unused substitute in both games, whilst Kieran Gibbs received a late call-up but didn't feature after Ryan Bertrand's injury against Malta at the weekend.
Mesut Ozil was ever impressive for Germany, as he claimed an assist for a Thomas Muller goal as the German's beat Czech Republic 3-0 before Ozil also played the first half of Germany's 2-0 win over Northern Ireland on Tuesday night. Shkodran Mustafi didn't feature against the Czech's but was a 70th minute sub against Northern Ireland in Hannover as he replaced Jerome Boateng.
As for Mustafi's centre-half partner, Laurent Koscielny, he played the full 90 minutes in both of France's games over the break. The French beat Bulgaria 4-1 on Friday night, despite going a goal behind, but Koscielny was exceptional against the Netherlands on Monday as he starred alongside Raphael Varane in defence as France won 1-0.
Granit Xhaka meanwhile missed Switzerland's first game of the break through suspension after being shown a red card in the Swiss' last game. He did however captain his national side for the very first time on Monday night as Switzerland found life more difficult than they should have in a 2-1 win over Andorra.
Nacho Monreal was another one of Arsenal's players in action, receiving a rare call-up to the Spanish team after replacing the injured Jordi Alba in the squad. Monreal played the whole 90 minutes in a 2-0 win over Albania for Spain, his first appearance for his country since 2013, as he also set up a goal for Nolito.
Joy for Iwobi
As for Arsenal's African players that were on international duty, Alex Iwobi enjoyed a particularly good break with Nigeria. The attacker has only managed seven caps for his country to date, but scored his first international goal in a 2-1 win for the Nigerian's over Zambia as he fired home a calm and composed volley in the first half. Staying with Africa, Mohammed Elneny also played 90 minutes over the break, as he helped Egypt to a 2-1 win over the Congo on Sunday.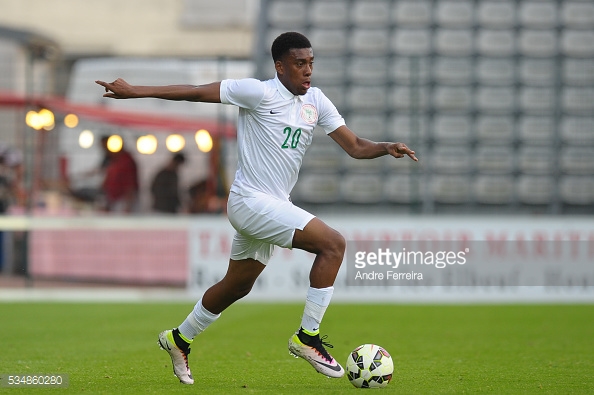 The Americas
Alexis Sanchez played the full 90 minutes of both of Chile's encounters over the international break as they beat Peru 2-1 thanks to two goals from Arturo Vidal on Wednesday. Sanchez's country however suffered a surprise 3-0 defeat to Ecuador last Thursday.
As for goalkeeper David Ospina, he became Colombia's joint most capped keeper of all time, as he earned his 73rd appearance for his country in a 2-2 draw with Uruguay on Tuesday. Ospina meanwhile kept a clean-sheet and captained his country on Friday as Colombia beat Paraguay 1-0 in what was a successful break for Arsenal's second choice keeper.
Youth action
Hector Bellerin suffered an injury scare for Spain U21s last Wednesday, as his country beat San Marino U21s 3-0. Bellerin recovered in time though and put fitness doubts behind him as he played 90 minutes again in Spain U21s 5-0 win over Estonia on Monday.
Calum Chambers, currently on loan at Middlesbrough, and Rob Holding were also both in youth action, playing for England U21s in Kazakhstan last Thursday, as they played 90 minutes each and kept a clean-sheet as a centre-back pairing in a 1-0 win. Holding wasn't involved in the U21s 5-0 win over Bosnia-Herzegovina however, but Chambers played the second half of their impressive win.
Arsenal will now be looking to maintain the good run of form they built up before the break commenced, as they look to build momentum ahead of the rest of the season.