There has been a lot of praise given to Arsenal's young Nigerian forward, Alex Iwobi since he broke into the first team during the 2015-16 campaign.
After the gunner's 3-0 victory over Chelsea earlier this season, club legend Ian Wright admired his movement and his 'ability to take people out of the game', while former England defender Rio Ferdinand praised him for performing like an 'experienced, old school veteran'.
Now, his team-mate Mesut Özil has stepped forward to heap deserved praise onto Iwobi, drawing comparisons to a fellow Nigerian who became a Premier League legend, and may also know more about this young man than anyone else involved in the game.
Speaking to the Arsenal player on arsenal.com, the German likened Iwobi to his Uncle, Jay Jay Okocha, because 'he knows exactly what he can do' and 'he isn't scared and doesn't want to hide on the pitch'.
Ozil's also applauded the 20-year-old's football style on matchdays and in training, saying that 'he just wants to have fun playing football'.
High Praise from a player of such high standards, and considering the quality Okocha showed throughout his time in English football, and his career in general, it highlights Iwobi's outstanding qualities at such a young age.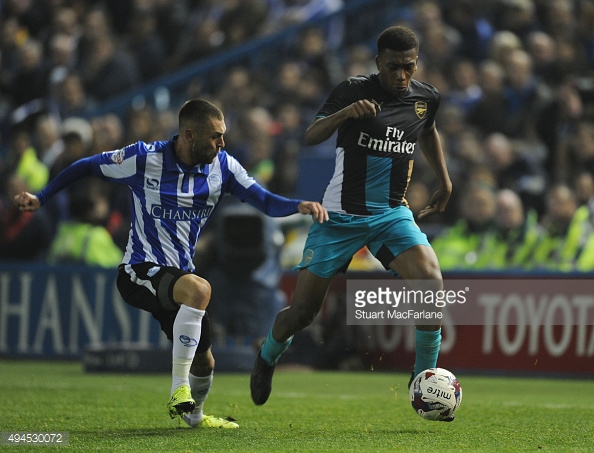 Clear similarities
Iwobi moved to England at four-years old, and joined the Arsenal youth set up in 2004, just as his Uncle was in his premier league prime at Bolton Wanderers. Okocha had already been voted the BBC's African footballer of the year in 2003, and his form during the 2003/04 season meant he retained that title.
The one attribute that made the Bolton man stand out from the rest of the league was his flair. He had the ability to take people on and get past them using skill and finesse, a rainbow flick over Arsenal legend Ray Parlour back in 2003 springs to mind, with such ease.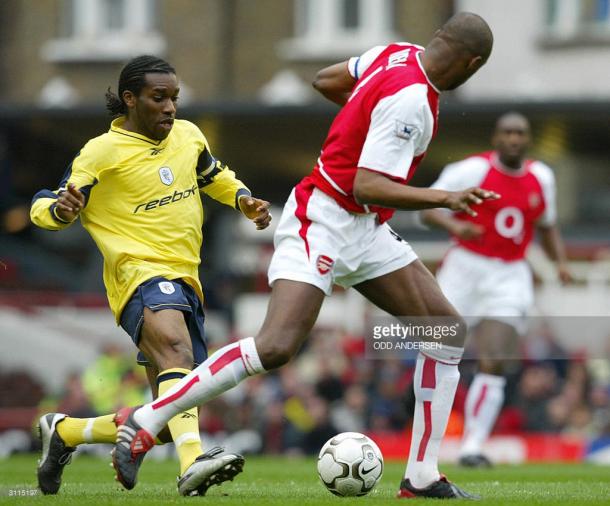 Iwobi is showing this attribute to the Arsenal fans more and more with every game he plays in, with this seasons wins over Chelsea and Hull being good examples. Especially the Chelsea game, where we saw players like Ozil and Alexis Sanchez trusting him in tight areas in the final third, giving him the chance to show his turn of pace, his touch and weight of pass. The last two of those qualities he showed brilliantly in the move that led to Theo Walcott's goal that game.
Potential like those before him
Now its not un-common for Arsenal to have a young winger at the club who shows fantastic form at young age, the likes of Walcott and Alex Oxlade-Chamberlain would fall into this category.
However, unlike those two, Iwobi seems to have claimed a position on manager Arsene Wenger's team sheet and continued to be consistent from game to game, whereas Oxlade-Chamberlain has struggled to become one of the first names on the team sheet as a winger or central midfield, and Walcott only seems to be reaching this point at the start of this season, his eleventh in Arsenal colours.
Long way to go
There will undoubtedly come a time when Iwobi's form dips, as with every player, and when that does happen it will be interesting to see how long it will last and how quickly it will take him to recover from some poor performances.
However, when you hear him speak and how people such as his manager speak about him, he seems the type of player that doesn't go over the top after a good performance, and understands he's still learning, but he could easily become an even more important player to this Arsenal side than he is already.