Ahead of Arsenal's Premier League encounter with Swansea at the weekend, Arsene Wenger spoke to the media as he praised Hector Bellerin's remarkable rise to becoming one of the best young players in world football. The Spanish full-back has been rumoured with a link away to Barcelona, but Wenger sounded hopeful that his latest prodigy would commit to a long term future in North London.
Barca hard to resist
Many Arsenal players have come through the doors at London Colney and then eventually ended up in the beautiful city of Barcelona; Marc Overmars, Thierry Henry and Cesc Fabregas to name a few, but after the latter re-joined the club before moving to Chelsea, Wenger will be hoping that the same doesn't happen with Bellerin and he's tempted away from the club.
The right-back joined the Gunners from Barcelona when he was just 16 years of age, and hasn't look back since, playing 82 times for the first team, and scoring three goals in the process. The way Bellerin plays would of course suit Barcelona's style of play massively, but if they were to come calling, it would be hard for him to resist the urge to go back to his boy-hood club. However it would also be hard for Arsenal to sell unless a significant bid was made.
Therefore it's crucial that Arsenal tie him down on a long term deal with only a couple of years left on his current contract; "He has nearly three years to go so we try to extend, certainly, his contract. For me, his long-term future is here," Wenger said in his press conference, as he offered a hands off warning to any clubs that may be enquiring about his services.
Incredible development
Bellerin has been incredible since being integrated into the first team, and he is one in a long line of young talented individuals that Wenger has brought through at Arsenal. If he were to stay, he'd likely be the club's main right back and a guarenteed starter for the next decade. It may be quite a statement, but the Spaniard is only 21 years of age and has room to grow.
Wenger had high praise for one of his team's most consistent performers saying, "He has been absolutely fantastic," before desribing, "his progress has been absolutely spectacular because he has top mental strength."
Bellerin made his Arsenal debut back in 2013 when he came on as a substitute for Mikel Arteta in a League Cup penalty shoot-out win over West Brom. He then made his first start for the club in the Champions League, as he was given a baptism of fire away against Borussia Dortmund when Arsenal lost 2-0. "Let's not forget that in his first game [against Dortmund] he had a nightmare when I played him, and the year before he was at Watford, he didn't play," Wenger said.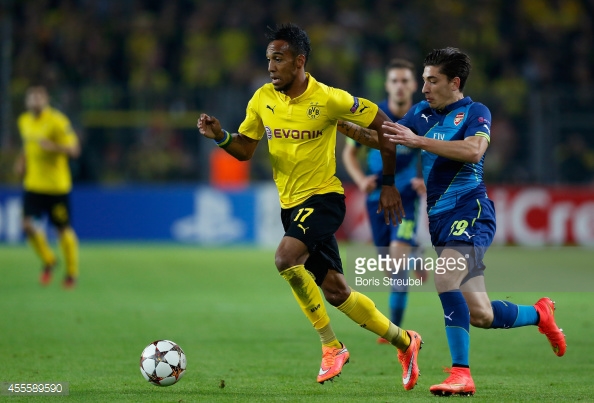 However since that game, his progression and role in the side has developed impressively, something that Wenger was quick to pick up on, "What is important is that a player meets his needs where he is and his values, and I think he integrated very well with the values of our club.
He came at a very, very young age of 16. I think he is a real Arsenal player." Wenger said. If Barcelona ever needed a warning that he was firmly a Gunners player, then that was it.
Similarly to Fabregas when he was at Arsenal, Bellerin has developed brilliant qualities both on and off the pitch, and is becoming a real influence in all areas, which Wenger noted; "I think he loves as well to be here [at Arsenal] and he has responsibilities already in the dressing room for such a young age. It's something remarkable."
Will he stay?
Players that come through the Barcelona academy, La Masia, always seem to have a special quality and a certain edge over lots of young players, and Bellerin is certainly no exception. Three years is quite a long time in football, but Wenger and the club needs to act fast if they are to tie down one of their best players.
Arsenal are no longer a selling club, after the departures of several key men over the past decade, and that will be something that should hopefully calm the nerves of Gunners fans as they hope Bellerin puts pen to paper in the not too distant future.
It's also been rumoured recently that Mesut Ozil and Alexis Sanchez are the subject of new improved deals at the Emirates too.