The new Swansea City manager Bob Bradley admitted than he had to get harder in training this weak ahead of his Premier League.
Bradley is the first American to be a coach in the English top-flight, having left Ligue 2 side Le Havre to become Francesco Guindolin's successor in South Wales.
He feels that making his voice heard on the training ground will be important as he attempts to pull Swansea away from the lower regions of the table.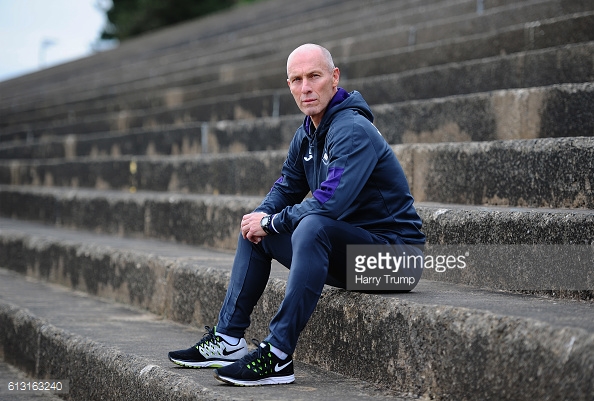 "At the beginning you don't start with an iron first with everything, not even close," Bradley begun, before adding, "but there's been some moments in training this week when I get a little bit louder and harder".
​Speaking about his management style, the American said that he tries to "figure out what works with every guy," adding that he "works with everything in tool box."
"In every situation you want the best way to get your points across," insisted Bradley, "how to connect with the guy. You try different things".
"But even when you're setting the bar high and being hard, they need to know you're doing to make them better".
"Whenever there's a change, at any club, it's a fresh star for everybody," Bradley insisted, and went on to claim that "You can see that on certain faces" that is evident among his inherited squad.
"Even at a time in a season when it's been difficult, when there's been managerial change, you see enthusiasm and a certain amount of exciment."
Bradley wants to be involved in recruitment
In contrast to Guidolin, who stressed that he was content to leave recruitment to chairman Huw Jenkins, Bradley confirmed that he has already been involved in talks about January targets.
"So far I haven't looked too far beyond Saturday but, yes, I did have some conversations with Huw Jenkins," the former USA national team coach said on the topic of recruitment.
"Now I've had a chance to speak with Dave Leadbeater and our scouts, so that's all establishing some start points. I will be a part of the process. I listen, I have suggestions, but most of the work so far has been digging my hands into the group here and getting to know them".