The international break has come and gone and all eyes now turn back to the bread and butter of league football. For Manchester United, there is the small matter of a trip to Anfield to take on their big rivals. It is the first of many big games in a month with a tricky fixture list for the Red Devils and although it is still early in the season you can't but get the feeling that this is a game they need to win for various reasons.
One of the main reasons victory is needed is Jose Mourinho. The Portuguese tactician is facing a month where if results nose dive, he will not lose his job but something almost as important, his aura. The question as to whether last season's failure with Chelsea was a blip or a sign of things to come for the highly regarded manager is one that is yet to be answered. Results in October will go some way to answering that question. Should United survive October, picking up result after result in the league and cup as well as in Europe, then Jose will be hailed as a tactical mastermind and all the doubters will be silenced.
Should results be kind, they would build momentum and could lead to a special season for supporters of red persuasion. However, should the opposite happen, it is difficult to see how the team recovers from it.
It all begins at Anfield on Monday. Jose needs a result, but how does he go about in getting it?
Get the tactics right
After the last international break, United faced a similarly huge game against Pep Guardiola's Manchester City. Following the game, Jose Mourinho admitted to getting his line up wrong. He cannot make the same mistake against Liverpool.
In the City game Jose opted for Jesse Lingard and Henrikh Mkhitaryan but both players were well short of match fitness and could not execute the game plan their manager had asked of them, the game eventually passed them by. A midfield duo of Paul Pogba and Marouane Fellaini with Wayne Rooney at number 10 was unable to deal with the crisp movement and passing of City's trio of David Silva, Fernandinho and Kevin De Bruyne who absolutely ran the show on the day.
Jose chose to go toe to toe with City, it did not work.
Against Liverpool it is important he gets his tactics right however dark or ugly it may be. While United are still finding their identity under their new manager, for games like this the 'Manchester United way' can go out the window. What will matter most to fans is 3 points at the final whistle. Eventually the team will grow into a cohesive unit capable of expressing themselves to devastating effect as they have shown in flashes this season, but for Monday's game a solid tactical game plan that is spot on is a must.
Exploit Liverpool's weakness
Anyone who has watched Liverpool play this season knows that they have one obvious weakness, they are vulnerable to any aerial threat. Whether that be a set piece or an intelligent cross whipped into the box, Liverpool are unable to defend competently when the ball is in the air.
In the game against Swansea, but for poor finishing Swansea would have been out of site before Roberto Firmino's equaliser. And the majority of the opportunities came when Swansea exploited their weakness in the air.
In Zlatan Ibrahimovic, Manchester United have a potent threat in the air and he would easily dominate the Liverpool centre backs were good crosses be played in to service him. United must also exploit their set pieces to good effect as they did against Leicester City earlier in the season. With the height and aerial prowess of the Swedish target man in addition to Pogba, Chris Smalling, Eric Bailey and whisper it, Marouane Fellaini, United have enough to cause Liverpool problems every time there's a set piece.
Go direct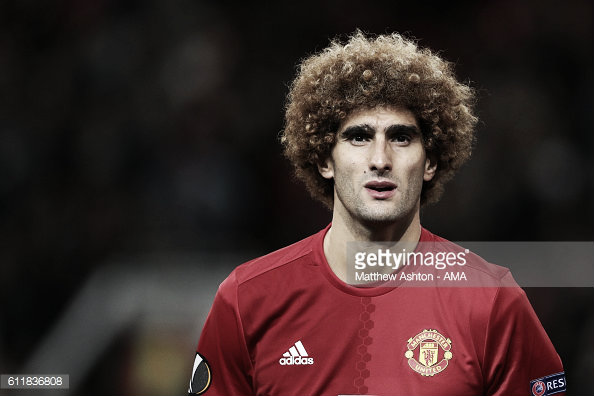 Liverpool thrive on a quick pressing game. Their energy in the middle of the park is their strength. Teams that have tried to go toe to toe with them is this area have ended up being overrun like Chelsea were on their own patch.
The key to making Jurgen Klopp's quick pressing game redundant is to bypass the midfield. United suffered at the hands of Manchester City in the first half of the derby as City ran riot through midfield. However, the introduction of Ander Herrera in the second half which pushed Fellaini further up field allowed United to play direct and bypass the midfield completely.
During this period United were clearly on top and dominant against Pep Guardiola's side and with a little bit more ruthlessness could have stolen the maximum points.
It is not simply a question of playing long balls. It's about playing the right ball forward quickly. Whether that is a quick ball out wide to the wings or a one straight into the chest or feet of Ibrahimovic, it is important United do not fall into the trap of trying to pass it through midfield as the team is sometimes suspect to doing by default.
To this end Jose Mourinho might have to go with the three midfielders that started the second half against City rather than the three that started against Leicester. However unpopular that choice may be, to play Juan Mata would mean United try and pass through midfield and with Mata and Pogba's tendency to dwell on the ball this would play into Liverpool's hands. To try and play Morgan Schneiderlin and Henrikh Mkhitaryan when they are likely to be well short of match fitness and sharpness is not a risk United can take against a Jurgen Klopp side.
A midfield trio of Herrera, Pogba and Fellaini which successfully unsettled Manchester City in the second half of the derby might be the dynamic Jose needs to put Liverpool off their game with a direct and physical game that is aimed at getting the ball quickly to the front players and playing crosses into the box.
Pick the best front three
For the game at Anfield, it is imperative that Jose Mourinho goes with his most prolific front three. While he can plan and plot in the way he shapes his defence and midfield for a game where chances may be at a premium, the manager has to pick the players who are not only in best form but also are ruthless in front of goal.
Against Swansea, Liverpool benefited from the wastefulness of Swansea's attackers. Even to the last minute, Swansea could have quite easily snatched a point from the game. United cannot afford to be similarly wasteful with the opportunities they get.
A repeat of the wastefulness against Stoke City just won't do. The best 3 players for those positions for United are probably Ibrahimovic, Anthony Martial and Marcus Rashford. Between the three of them United should have enough graft, technique and finishing to eat up any chances that come their way. Players like Henrikh Mkhitaryan for instance should not be starting this game due to a lack of match fitness that may not make him as sharp as he can be as was the case against Manchester City and in spite of his wonderful performance at Anfield in 2015 as Manchester United ran out 2-1 winners; Monday's game is probably not one that requires Mata's particular skill set. The Liverpool side of the 2016/17 season is a much different proposition to the one of the 2014/15 season.
In the end it can be argued that player for player, Manchester United's strongest 11 is a better 11 than that of Jurgen Klopp's men but these games are not won on paper but on the pitch and in the manager's plan. It's time for Jose Mourinho to deliver.