Manchester United winger Jesse Lingard revealed that the United and Liverpool contingents in the England squad discussed the big Monday evening's encounter at Anfield.
United won the last time they faced Liverpool at Anfield in the Premier League thanks to a late winner from Wayne Rooney in a game which was keenly fought between the clubs.
Lingard reveals United-Liverpool talk on international duty
Overall there were six players on duty for England, who were from the Old Trafford or Anfield club and even though they were focused on doing well with the national team it was a topic of discussion between them.
Lingard, speaking to MUTV, said "of course we spoke" about the United-Liverpool game on England duty and for everyone involved it will be an "intense game" as it always is with these two massive clubs.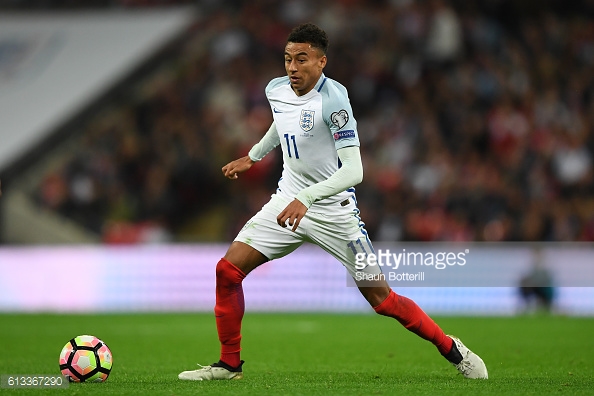 The winger added that he "played their last season" and recalled the "massive feeling to be part of the celebrations" for the winner and now he feels that he has "got the experience of playing and winning there" so if he does play on Monday he hopes to show what he "can do."
Lingard is wary of threat that Liverpool possess
The game on Monday though against Liverpool is set to be a much harder test than last season as they have been in superb form at the start of this season. Going into the game United are three points behind their rivals and Lingard knows the team will have to be at their best to win the game.
Lingard said that "Liverpool have been in good form so far" and they have also "scored a lot of goals" which Lingard says that the United players "need to be wary of."
The winger continued to say that the game will be "tough because they've got a lot of talent in their group" but he also feels that in the United team "we've also got talent" and that the team will be "pushing to win the game" as it could be huge for the confidence of the team going forward into other big games.