Jose Mourinho took a Chelsea team to Anfield in 2014 and did a job by all but ending Liverpool and Brendan Rodgers' title aspirations with a 2-0 win. He did exactly the same last night with Manchester United, the Red Devils had to settle with just a point however the Portugese boss will be satisfied with the way his squad managed the game.
The Defence
Goalkeeper - David DE GEA - 8: The Spanish international barely had anything to do throughout the whole of the first half due to United's dominance however came alive in the second half and showed the world why he is the best goalkeeper in the league. The first of two top top quality saves came when Emre Can managed to bend a low effort towards goal from close range which was stopped with a strong right hand with not much time to react at all. The other came when Coutinho did what he does best and bent a goal-bound curling effort towards the top corner to De Gea's left until the Spaniard used his right hand to get over quickly and force the ball past the post for a corner, if you haven't seen it already you need to search it on the internet now because it truly was a thing of excellence.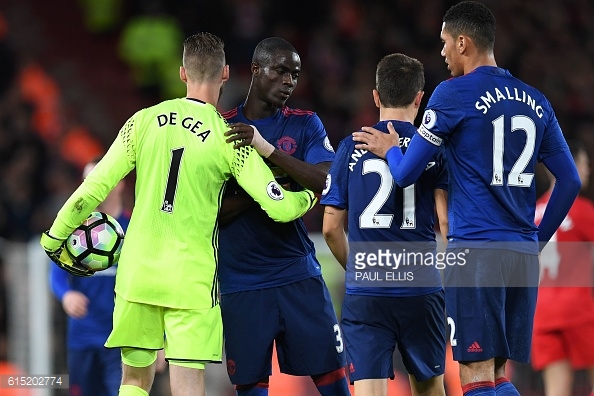 Right-Back - Antonio VALENCIA - 7: There was nothing special about Valencia's performance tonight, just a solid defensive performance with a few attacking bursts which had the potential to be dangerous. The reason he's got a more than respectable rating here, however, is for the phenomenal last-gasp challenge he made on Firmino late on in the second half after Coutinho played through his Brazilian counterpart. His determination and pace in that situation was simply stunning and completely showed why Jose Mourinho has been putting so much faith in the Ecuadorian. The only critism would be that he didn't click with Rashford on the right side so maybe it'd be better to play a natural right-midfielder in the near future in Henrikh Mkhitaryan or Jesse Lingard.
Centre-Back - Eric BAILLY - 7: Another good defensive rating, this time for Eric Bailly after another solid performance at the back at the start of his Manchester United career. The Ivorian overcame a worrying injury scare in the warm-ups before kick-off and was pretty much flawless during the course of the whole game, Sturridge was kept quiet and then taken off relatively early in the second half while he also showed a brilliant display of pressing and winning the ball further up the pitch.
Centre-Back - Chris SMALLING - 7: Another good performance by United's stand-in captain and is now showing a positive understanding with his centre-back partner Eric Bailly. Showed a few bits of cleverness instead of physicality tonight and it worked perfectly while also organising and sorting out the back line when Liverpool were constantly on the attack, you get the feeling that Reds are much more confident when he's in the starting XI and it'll be interesting to see how this partnership progresses throughout the season. Huge potential.
Left-Back - Daley BLIND - 6: Purely average performance by Daley Blind tonight, many will have rarely noticed him in the game unlike his defensive partners and was a bit careless when he slipped and let in Mane near the end of the match. Blind has been a fantastic stand-in for Luke Shaw but after the young Englishman came on in stoppage time it seems that the Dutch international will have to settle for second choice again in upcoming games.
The Midfield
Centre-Midfielder - Ander HERRERA - 8: Ander Herrera has been astonishing in the holding midfielder role this season and his efforts earned him a call-up for the Spanish team during the international break. The 26-year-old was by far the most passionate player on the pitch tonight and showed incredible signs of leadership, so much so that he looks like a perfect candidate to replace Rooney as captain when the English forward leaves. Reds will be hoping that he can continue to perform at the level he is because not only will it improve his own reputation but it will start to take effect on players around him as well.
Centre-Midfielder - Marouane FELLAINI - 7: Questions were raised when the team sheets were announced and Fellaini was brought back into the team by Jose Mourinho however the big Belgian put on a pleasing display in front of a crowd that was always going to put pressure on him. Returning to the aforementioned, that Herrera's inclusion can affect others, this was a perfect example. She Spanish midfielders dedication to hold the position meant that Fellaini could control his aggression and stay un-isolated, he's definitely turned over a new leaf under Jose.
The Attack
Right-Midfielder - Marcus RASHFORD - 6: Rashford shouldn't be starting on the right flank, his crossing ability is a work in progress and he isn't as comfortable on his left foot which prevents him from cutting inside. He was frustrated and contained by James Milner all game and his decision making was odd at times. H seemed a bit lost in his first Anfield appearance. He'll hopefully use this experience as a learning curve, though, and will be back scoring goals in no time.
Left-Midfielder - Ashley YOUNG - 7: Young had a huge point to prove tonight after he was called into the starting XI due to an injury to Anthony Martial in a training session on Saturday. The decision did not please a lot of the United faithful however he's more than capable. Played well with Blind on the left and worked extremely had as per usual for the team and not himself, he's definitely given Mourinho something to think about in terms of team selection.
Centre-Attacking Midfielder - Paul POGBA - 6: The Frenchman started the game in a much more advanced position than he's used to and never really got into the game. He made a few good runs and linked with Ibrahimovic on a few occasions however overall it wasn't really a good enough performance and didn't affect the game like people expected him to. He's obviously still blending into the squad and it's clear that he'll come good eventually.
Striker - Zlatan IBRAHIMOVIC - 4: The Swedish striker probably had his worst game in a United shirt tonight. You could lose count of the amount of times he got caught offside for being simply static up front and then went on the miss the target with a free header from five yards out which even Fellaini could've put away when playing as a striker last season. That's four league games without a goal now so he'll be hoping to get back on the scoresheet as soon as possible.