Midfielder Ander Herrera says that he was proud of his Manchester United team-mates for their display in their 0-0 Premier League draw with Liverpool at Anfield on Monday night.
United won the previous four meetings with Jürgen Klopp's side going into the match but knew this was going to be a whole different challenge given how well their hosts were playing, and Jose Mourinho got his tactics spot on during the game.
Herrera 'proud' of his team-mates for their performance
Even though United were restricted to 35 per cent of the possession and had only one shot on target, Herrera believes that the whole team can take plenty of encouragement from the game but insists that they did not intend to settle for a draw.
Herrera, speaking to Sky Sports after the game said that "we were better in the first half" but added that Liverpool "were better in the second half" so overall it was a fair point. The Spanish midfielder went on to say that "David de Gea made two good saves in the second half" but apart from that he felt the team played to their tactics throughout.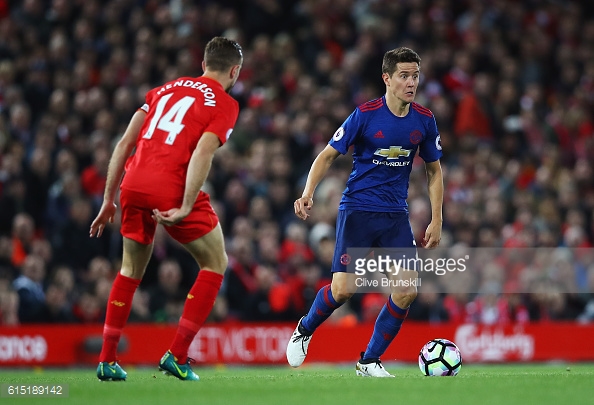 The midfielder continued, saying that "no one wanted to lose but we can take a lot from this game" as the game plan that was set out worked, but Herrera feels that the team need to "win matches" from now on if "we want to be champions" which is the ultimate aim this season.
We showed we were a big team in draw versus Liverpool, says Herrera
Many people criticised Mourinho for the way he set his team out to play during the game but it was the kind of tactics that was needed in order to get a positive result.
Herrera repeated this by explaining that the tactics showed that "we're a big team" and that "we're going to fight for everything" in order to be the best team that they can be this season. Herrera admitted he was "very proud of every team-mate" for their role in the draw.
United now move on to play Fenerbache on Thursday night in the UEFA Europa League before taking on Chelsea this Sunday at Stamford Bridge in the Premier League.