Shkodran Mustafi believes that Arsenal are expecting an "intense" match against Ludogorets when the former visit the Emirates in the Champions League on Wednesday evening.
The Gunners have enjoyed an exceptional start to their European campaign thus far after a draw away at Paris Saint-Germain and a convincing 2-0 win over Basel in North London.
Tonight's visitors, on the other hand, remain bottom of Group A following a respectable draw against third-placed Basel and defeat to PSG. Arsene Wenger's side are rightly favourites due to their outstanding form of late but central defender Shkodran Mustafi told Arsenal's official website that the team are wary of the opposition's threat.
PFC Ludogorets Razgrad have reached the group stage of the Champions League on two separate occasions in the last three years and even reached the Europa League's Round of 16 in 2014.
Mustafi expects intense outing
Mustafi told Arsenal Player that, although he "does not know a lot about them", any team that plays in UEFA's elite club competition must have a certain amount of "quality".
"We have to understand that and be prepared for a game which is going to be really intense. It's a home game so we obviously want to take the game into our own hands and keep up the good run that we've had over the last few games." Continued the German.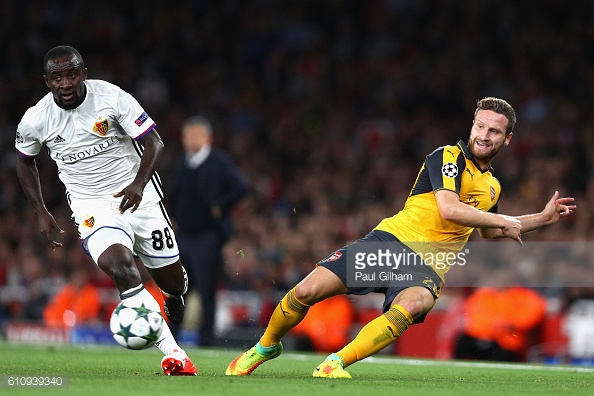 This double-header with the Bulgarian First League champions presents an opportunity to record six vital points in their bid to finish top of their group for the first time since 2011. Arsenal's main rivals for top spot, PSG, face a more dangerous Basel side twice before a potentially crucial meeting with the Premier League outfit.
Mustafi admits that to finish top Arsenal "have to concentrate from game to game and from day to day" before stating that his team-mates are "trying to improve" every day in training. He then said that it's "important to just focus on the next game" and to "get three points from every game".
German grateful for opportunities
Mustafi has made a sizeable impression since his move from Valencia this summer and has subsequently brought further stability to a back four that was previously without a permanent partner for Laurent Koscielny.
The Gunners have won six out of the seven games Mustafi has played and, when the centre-back has played with Koscielny, have conceded just five goals. The 24-year-old is grateful for the chance to represent Arsenal and insists that every game is special.
"I'm only 24 years old so every game is still a special game to me," Mustafi added. "I don't care if it's the FA Cup, League Cup, Premier League or Champions League.
"Going out there and wearing a shirt like Arsenal's, which has a lot of history behind it, makes it very special. Not everyone can play in the Champions League, so I am blessed to be able to play in the competition."