Arsene Wenger stressed the importance of confidence after Arsenal's 6-0 demolition of Ludogorets in the UEFA Champions League on Wednesday night at the Emirates.
Goals galore
The Gunners secured the win thanks to Mesut Özil's second half hat-trick, the first of his professional career, and goals from Alexis Sanchez, Theo Walcott and Alex Oxlade Chamberlain.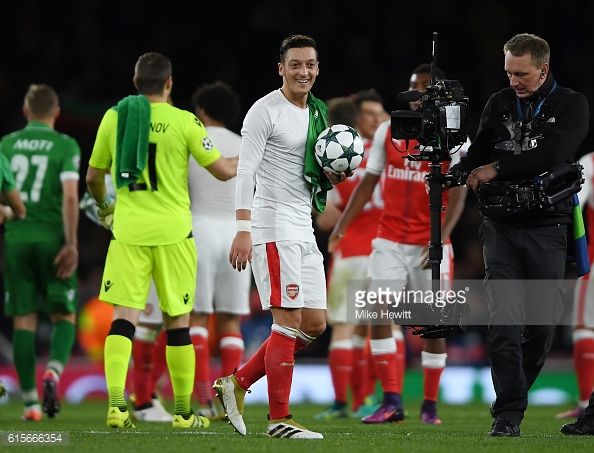 Speaking to arsenal.com after the game, Wenger said that the reasons for his side's huge goal haul in recent matches was that "the confidence is high", and that "the final ball is better". The manager also said that because his team play a risky game, it is important they take their chances.
Despite being one of the lesser known sides in the competition, Ludogorets did trouble Arsenal a couple times in the first half, hitting the post and forcing goalkeeper David Ospina to make a number of good saves, and Wenger gave credit to his 'keeper after the game for his involvement.
The Frenchman also praised the visitors for their "good technique in short spaces" and their speed on the counter attack.
Although Wenger admitted that his side "maybe eased off a bit too early", they managed to withstand any ongoing pressure that they were put under, and Wenger again linked this back to the mood within the squad at the moment. He said that because of high confidence "when we get into these dodgy periods, there's less psychological damage".
The win over the Bulgarians means that the Gunners are now seven matches unbeaten in all competitions, scoring 23 goals in the process.
Improvements still needed defensively
This victory was comfortable in the end, and it was an excellent way to respond after the 3-2 win over Swansea City on Saturday when Arsenal just managed to hold onto all three points despite being down to ten men.
Wenger admitted his team "could have paid for the chances we gave away", but that their goalscoring form saved them. He then went on to say that his side needed to "continue to score goals and get these lapses of concentration out of our game".