 Sunderland's star striker Jermain Defoe has admitted that he believes that the Black Cats have gone backwards in terms of their progression.
Not going forward
Defoe has once again been a shining beacon, in what has been another terrible start to the season on Wearside. The Black Cats currently sit rooted to the bottom of the Premier League, with the side still looking for their first league win of the season.
That search continued last Saturday, with the 2-0 defeat to Stoke City thanks to goals from Joe Allen, and Defoe admitted that he believes that the club's progress is going in the wrong direction.
"From where we were towards the end of last season, I feel like we've gone backwards a little bit," Defoe told the Daily Mail. "I don't know why, I can't put a finger on it. We've not hit the levels that we reached towards the end of last season."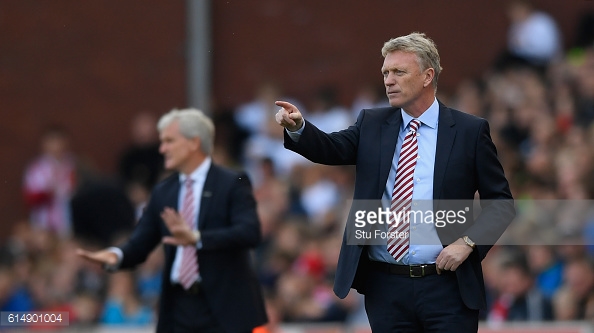 Keeping his job
The sides performances have seen the pressure on David Moyes increase, with rumours of Sam Allardyce making a possible return to the Stadium of Light, but chief executive Martin Bain said that the Scotsman's job is secured.
"David is an experienced manager and he is a character," Bain told safc.com. "I think he is in the top four most experienced managers in the Premier League in terms of games managed."
He continued: "He is a builder. He understands the need to win, first and foremost, but in parallel, he understands that the job he has come here to do, and the job I have come here to do, is to build, to rebuild really."
Bain concluded: "We can certainly change the future. From both our perspectives it's about rebuilding, let's do the basics right. That's the biggest message I want to get across, we want to get back to basics."

Sunderland AFC will take on West Ham United at the London Stadium on Saturday, October 22 with kick-off at 3pm BST.