Speaking after overseeing his side's 0-0 draw against Bayer Leverkusen in the UEFA Champions League, Mauricio Pochettino heaped loads of praise on Hugo Lloris for his wonder save to deny Javier Hernandez from scoring the winning goal.
Tottenham Hotspur went into the game with three points from two games and knew they had to get some kind of positive result to keep their Champions League hopes alive and they did just that.
Lloris is one of world's best, insists Pochettino
The result though owed a lot to Lloris, who earned his side a point and Pochettino believes that the goalkeeper is one of the best keepers in the world.
Pochettino said that Lloris' save was "brilliant, just brilliant" by the way he managed to keep it out of the goal from nowhere and he added that "to talk about Hugo, he's one of the best" in the world and for him "it's great to have him in goal" as he is so important to the team.
The Spurs boss went on to explain that Lloris' stop "was fantastic and it was very important to the team" as it keeps them in the hunt to qualify from the group at the halfway stage in Group E.
In the first half of the game though Spurs could have scored a couple of goals themselves but in the end, Pochettino was happy his side dug deep to come away with a point.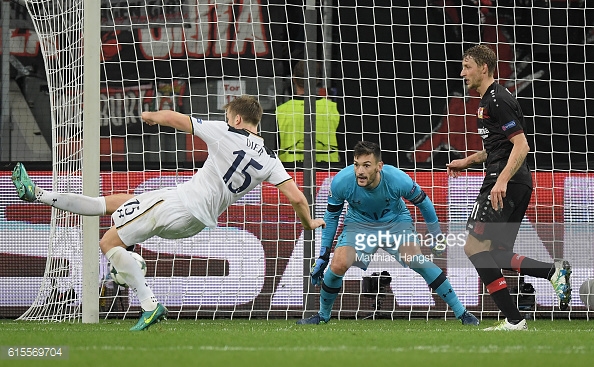 Pochettino happy with his side's desire to manage to come away with a point
Pochettino said the game was as "we expected" as Leverkusen are a very good team and they made it a "very tough game, difficult for both sides" as they managed to cancel each other out and Pochettino added that, "In the end, I'm pleased with the point."
The Argentinean continued, admitting that he was "pleased with the effort" of the team as Leverkusen are a team that "plays well, plays aggressive" so to go to their place away from home and get a point is a good result.
Pochettino feels that his team are "still fighting in the group" and with the "draw between CSKA and Monaco" in the other game it keeps the group wide open for all of the teams.