Andreas Pereira, enjoying life on loan at Granada CF in La Liga, says Wayne Rooney can never leave Manchester United, thanking him for his help last season.
Pereira, now 20, revealed in an intriguing interview with the Daily Mail that he had a frank conversation with new manager Jose Mourinho, as the Portuguese boss admitted he liked Pereira and his style of play, but wanted him to leave on loan for the season.
Pereira thankful for honesty of Mourinho
Mourinho "said he really liked me and the way I play," Pereira revealed, but "he wanted to give me a chance to go on loan," in order to get 'important' experience. Pereira said that he "really liked," Mourinho's honesty, immediately after the former-Chelsea manager had arrived at the club.
The Brazilian attacking midfielder, currently deployed on the left-wing at Granada, insisted that playing in La Liga, a route which he chose himself, would help many players in the Premier League, particularly defensive players, those who "want to learn something about playing more footballer."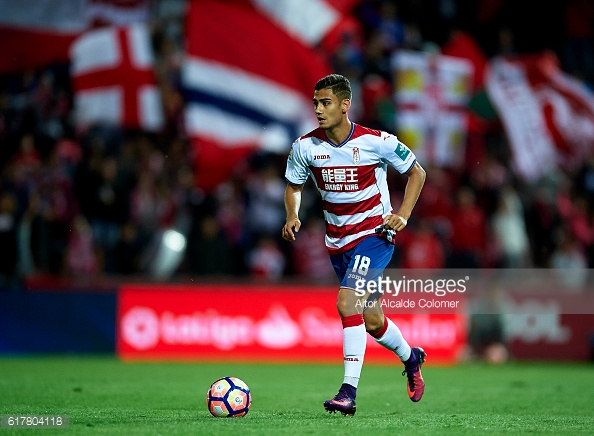 However, that wouldn't work for Rooney. The England and United captain is "the club's icon," according to Pereira and "you can't take him away from Manchester United."
"It will not be the same Manchester United without Wayne Rooney. He has to stay there until he dies," Pereira said.
Pereira hails Rooney for help and guidance
The 20-year-old, eligible for both Brazil and Belgium but who has picked the former, has already made eight appearances for Granada this season, although the Spanish side are struggling. Under Louis van Gaal, his talent and potential was wasted extraordinarily as first he was rarely played before the possibility of a loan move was shut down by the Dutchman.
One chance he did get, most spectators would say he took as he netted against Ipswich Town in the League Cup, a free-kick. Pereira told the Mail that Rooney had spent time after training the day before teaching how to properly swing free-kicks, before Pereira went on to score one with such a technique. "Rooney came up to me afterwards and said it was his assist," Pereira joked.
While Rooney is struggling for game time at Manchester United and England, Pereira is flourishing in La Liga, often being the best player on the pitch for his struggling Granada side. The prospects of a future at United are very different, but this spell will certainly help him.