It was like showing up to a party where you knew your ex would be. With the hope that you would get her to see what she was missing and have her pine for you with murmurs of deep regret, only to end up making a complete fool of yourself while she absolutely glowed in the arms of a younger, finer, tanned Italian who once managed Juventus. Well, you get the gist.
Jose Mourinho's return to Stamford Bridge was probably the kind of event that inspired Halloween in the first place.
Second home coming
Six years ago, the self-proclaimed special one returned to Chelsea as manager of Inter Milan to knock them out of the Champions League and pile pressure on Italian boss Carlo Ancelotti. This time around another Italian boss in the form of Antonio Conte was jumping around the Chelsea dug out celebrating a victory over his most famous predecessor.
Six years ago, Mourinho returned to face a team filled with players who still admired him and felt a strong sense of loyalty towards him. Today he returned to a team full of players desperate to put egg on his face.
Mourinho would have wanted to show his past employers that they were wrong to sack him, that they were wrong to side with the players who had stopped playing for him, that he was still the genius that had made Chelsea a very formidable team capable of winning silverware. But just as the Chelsea players let him down last season, his Manchester United team did the same today.
Another Betrayal?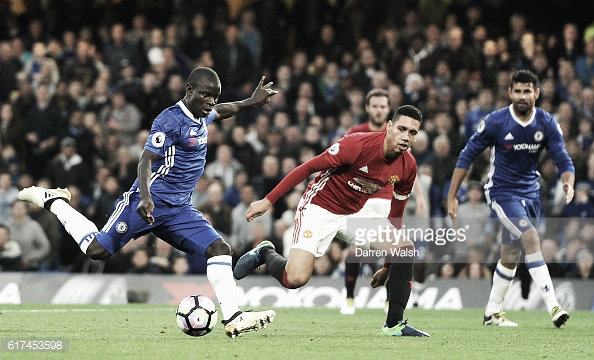 Following his final game as manager of Chelsea last season in the defeat to Leicester City, Mourinho used words like 'betrayal' to express his frustration with his team. It would not have been out of place today. While Mourinho stormed off after reprimanding Conte for his histrionics on the touchline, the Manchester United players stayed behind to give their Chelsea counterparts smiles, kisses and cuddles.
To be honest, it was kisses and cuddles for the whole 90 minutes plus added-time as the United defence led by Chris Smalling showed a lot of love and affection to the Chelsea attackers allowing them to run rampant from the first minute. The United midfield led by record signing Paul Pogba refused to do more than a light jog (probably with the exception of Ander Herrera who was the only one who looked like he came to play a game of football) and the United attack might have as well stayed at home.
It was a performance that underlined the sentiment that it is players that make tactics work and not the other way round. At Anfield the United players were switched on and disciplined leading to a credible performance against their big rivals. At Stamford Bridge, they might have as well been in their pyjamas.
For Mourinho, this was one defeat he did not want, probably second only to losing against Arsene Wenger's Arsenal. For all the pride and vindication he felt six years ago, today he walked away with his tail between his legs. Humiliatingly beaten at a ground where previously he hardly ever lost.
For Chelsea players like Diego Costa and Eden Hazard, today would have brought closure. Inflicting a defeat on Mourinho would have felt particularly sweet on the back of last season and Michael Emenalo and Roman Abramovich will be the ones feeling vindicated this time around.
To make matters worse for Jose, he is now also likely to be without the one summer signing that has performed well this season in Eric Bailly, who is likely to be missing for a significant period after suffering an injury to his knee ligaments. After watching the performance of Smalling and Daley Blind today, that is a big cause for concern.
Silver Lining
Looking at the bigger picture however, Mourinho will know his team are just 6 points off the top team. With one point separating the teams from first to fifth. It could have been a lot worse.
Today's defeat against Chelsea and the reaction of his players to it may turn out to be a blessing in disguise for the Portuguese tactician. No player, not even a certain Zlatan Ibrahimovic, could complain if they are dropped after today's debacle. In many ways the manager has been given a clean slate to start again and do so ruthlessly.
As the game at Anfield showed, there is still life in the old dog yet and the United squad still have a good selection of players to make a fight of things. Jose needs to dig deep but the situation is not beyond repair.
Currently, there is not one outstanding team in the top-flight. The league table says as much and while some teams may have peaked too early, Jose has the comfort of knowing his team has not reached anywhere near their peak. But he needs to get it right and he needs to get it right soon.
The big come back has been a bust but compared to his previous Stamford Bridge homecoming, this result is somewhat less significant and could yet be proved redundant. Leicester City were beaten twice by Arsenal last season but still emerged title winners, United beat Manchester City at the Etihad but still finished outside the top for. The league season is still in October and Jose can take comfort in knowing that there is a long way to go.
His thoughts must now turn to making sure that today is just a blow to is pride and nothing more and that come May he will be the one feeling vindicated.