Jose Mourinho was left to rue terrible defensive mistakes from his Manchester United team during the 4-0 thrashing to his old club Chelsea at Stamford Bridge on Sunday afternoon.
A multitude of poor defensive mistakes allowed Pedro to score within 30 seconds of the game kicking off. From there it got worse as Gary Cahill doubled the hosts lead before Eden Hazard and N'Golo Kante netted in the second half.
Mourinho unhappy with his side's defensive mistakes
Mourinho, therefore, after the game, wasn't too happy as he felt the first goal changed the course of the game as the gameplan that he had set up was thrown out the window.
Speaking to Sky Sports after the game, Mourinho said that "in the first minute" to concede such a goal United "made incredible defensive mistakes" and against good players "you pay for that."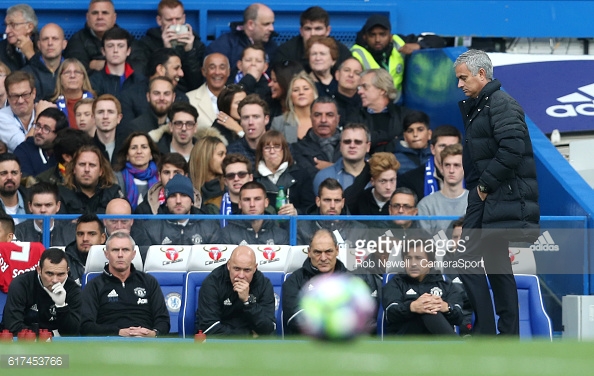 The United boss added that "after a few seconds you are losing 1-0," the team went down the other end and should have scored when Zlatan Ibrahimovic put his header over the bar but then at the other end "another defensive mistake and it's 2-0."
Mourinho felt then that his team were "close to 2-1," but in one instance Chelsea "counter for 3-0" which really took the game away from United. Chelsea did the same for the fourth goal and Mourinho feels that if "you come with a strategy" in a big game "you cannot concede a goal" the way the team did in the "first minute" as that "changed the game."
Mourinho keen for his side to return to winning ways
The defeat meant that United's winless run in the Premier League stretched to three matches after draws against Liverpool and Stoke City. Mourinho, therefore, is keen that his side return to winning ways against Manchester City on Wednesday evening in the EFL Cup.
The United boss says that from now on "we need to win our matches" as on paper the team have a couple of easier games than what they had recently as Mourinho said "we play Burnley, Swansea and West Ham" and to close the gap at the top "we need to win these matches."