Manchester United manager Jose Mourinho has reportedly condemned the behaviour of Chelsea manager Antonio Conte during his side's 4-0 defeat at Stamford Bridge.
Not the best behaviour
It was far from a happy return to his old stomping ground for Mourinho, with goals from Pedro, Gary Cahill, Eden Hazard and N'Golo Kante giving the Blues are more than convincing victory over the Red Devils.
Conte is well known for his passion on the sideline, but it seemed to rub Mourinho up the wrong way on Sunday, with the Portuguese coach seeming to exchange heated words at the final whistle. Media outlets reported that he told Conte: '"ou don't celebrate like that at 4-0, you can do it at 1-0, otherwise it's humiliating for us."
However, when asked about the conversation after the match, Mourinho refused to acknowledge what was said, with Mourinho saying: "I am not the kind of guy to share with you things between me and Antonio. It stays between me and him, unless he wants to share it,"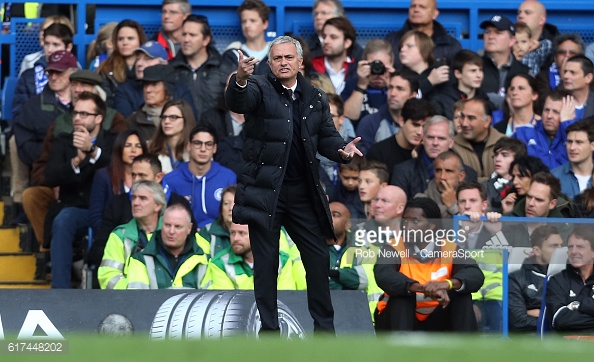 Closing the gap
It has been the most challenging week in Mourinho's United career so far, with matches against Liverpool, Fenerbahce and then Chelsea. One giant clash remains with the League Cup clash with Manchester City, and Mourinho reiterated the importance of winning the upcoming matches.
"We had a week where we have played two (title) candidates in Liverpool and Chelsea and now the other teams from the top five have to play among themselves," he said. "They have to draw and lose the points each."
Mourinho concluded: "We need to win our matches now, which is not easy but we play Burnley, we play Swansea and West Ham and we need to win matches to close the gap."
Manchester United will take on Manchester City in the League Cup at Old Trafford on Wednesday, October 26 with kick-off at 8pm BST.