Burnley manager Sean Dyche refused to rule out the possibility of a return to the club for Joey Barton, with the Clarets boss effusive with praise for his former midfield star.
The 34-year-old Rangers man has endured a torrid start to life in Scotland, and is currently serving a suspension imposed by the Scottish FA after the midfielder was found guilty of breaching strict betting laws on football matches.
Dyche was asked about a potential return to Turf Moor for his former player, who was named in the Championship Team of the Year for his part in the Clarets' title success last season, while appearing on BBC Radio 5 live on Monday night.
"Top class and very demanding"
Dyche jested that he'd been asked the question "a million times" but once again refused to answer the media. Dyche went on to say "I've got no reason to answer you about that," before continuing by saying the conversation was for "another day".
On Barton's difficult spell north of the border, Dyche said he can "only judge on what I found", before labelling Barton "top class". The Scot went on to say that Barton "was very demanding".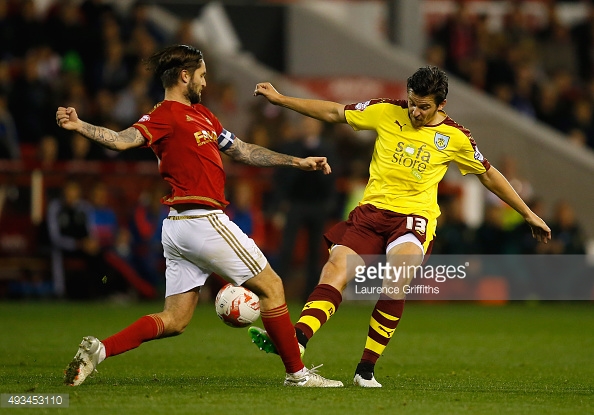 An influential figure
The arrival of Barton in the summer of 2015 split opinion amongst Burnley supporters, with some pointing to the one-time England international's chequered past as unnecessary, unwanted baggage at the club.
But the 34-year-old won over the Clarets faithful with a series of superb and, more surprisingly given his previously volatile nature, calm and assured performances in the middle of the park – something which his previous manager was keen to recognise.
Dyche praised the way that despite "getting smashed all over the place by players attempting to wind him up", Barton remained "absolutely steadfast to the cause for the club," Dyche explained. "That helped players around him, and that brought other players to life at times, too."