Burnley, buoyed by last weekend's win over Everton, head to Old Trafford this weekend to face an inconsistent Manchester United.
Dean Marney's flexibility will be crucial
The central defensive pairing of Michael Keane and Ben Mee have been superb for Burnley this season, and while their performances have deservedly garnered wide acclaim, the willingness of midfielder Dean Marney to drop back and act as an auxiliary centre-half has been crucial.
The 32-year-old cares not for glamour and fame, but for keeping his opponents at bay and protecting his defence. That desire to contribute to the cause defensively will be invaluable on Saturday, when a United side at full thrust will be hurtling towards Burnley's backline.
With Paul Pogba likely to be playing off Zlatan Ibrahimovic for Jose Mourinho's side, Marney's tenacity will be called upon whenever the Frenchman is on the ball: the Clarets stand a much better chance of keeping a clean sheet with United's midfield powerhouse shackled by his midfield counterpart.
Keane and Mee have also demonstrated they are capable of nullifying some of the most dangerous attacks in the division, and Ibrahimovic's current lack of form will not have gone unnoticed in East Lancashire. If the pair can keep the former Swedish international quiet, suddenly, United's best chance of scoring comes from set-plays – all three of their goals against Burnley two seasons ago came from dead-ball scenarios.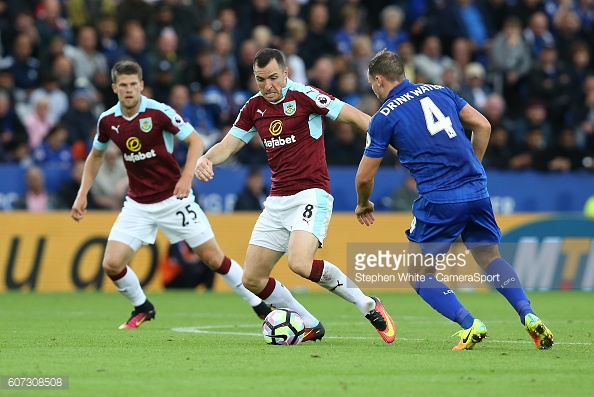 If it ain't broke, Dyche shouldn't fix it
The return of Andre Gray will offer the Clarets a goalscoring boost – but an immediate return to the starting line-up is not guaranteed for last season's Championship Player of the Year.
Gray has served a four-match ban imposed by the FA in relation to the homophobic tweets posted by the striker, dating back to 2012, and will undoubtedly by champing at the bit to be unleashed from the off this weekend.
However, in their new formation, Burnley have accrued six points from their previous four league games – more than United themselves – and, in their third spell in the Premier League, seem to be more comfortable than ever at the top level.
Currently settled in a variation of a 4-2-3-1 formation, the Clarets seem to have struck a balance which has helped them see off Watford and Everton at Turf Moor, run Arsenal agonisingly close and produce a spirited showing against Southampton.
Manager Sean Dyche has admitted he is still unsure as to whether Gray would start, but the most likely option – and perhaps the best one – to benefit both player and team is for the 25-year-old to start from the bench: the striker's mobility and pace could stretch a leggy United defence in the closing stages if called upon.