Arsenal may have enjoyed a brilliant start to the season but their performance against Middlesbrough, where they failed to score, was evidence of their failings in the Premier League in recent seasons, demonstrating why they will probably come up short in terms of winning the most lucrative league in the world again this season.
Their home form so far, barring a 4-3 defeat to Liverpool on the opening day, has been superb but games this season like Middlesbrough and a last gasp 1-0 win over Burnley, suggests that Arsenal are a team that simply struggle to break down teams willing to sit back against them.
It's been no secret that that's how you stop the Gunners, but if Arsene Wenger is to win another title in what could be his final year in charge, they will have to come up with a plan B or they will be staring down the barrel of another unsuccessful Premier League campaign.
Finding the right mentality
Players such as Mesut Ozil and Alexis Sanchez, crucial to Wenger's side, have had excellent starts to the campaign, but if they are to win the Premier League they will need more than that. Their current deals in North London are up relatively soon, so it will be a necessity that the club pin their futures down as soon as possible.
Names such as the ones mentioned above make you wonder how Arsenal could ever draw a game 0-0, such is the creativity in the side, but despite beating Chelsea 3-0 this season already, questions can still be asked about the Gunners mentality and whether they have what it takes to go all the way.
Getting over the mental block that's seemingly been there for years would be a huge step, but if they continue to struggle to break down the lesser teams in the League then they will be left thinking what if again come May.
Over the last two season's Arsenal have managed to get over the hoodoo of losing to the big teams, but now they need to combine that with more convincing displays against the likes of the newly promoted sides in order to affirm themselves.
Draws aren't the end of the world, after all the Invincibles drew 12 times the last time the club won the Premier League, but this Arsenal side still have a lot of work to do if they're to be crowned Champions, something which seems a long way off despite their good form this season.
Winning ugly
Wenger has set his side up better than ever this season, with the defence looking more resolute since the arrival of Shkodran Mustafi, and alongside Laurent Koscielny, a defender displaying credentials as one of the best centre-backs in the league, they have the best platform they've had since the club's unbeaten triumph.
The defensive side of Arsenal's game has previously been the issue but now, for all the quality in attack, that's where they need to seemingly improve. They need another plan and dimension when things aren't going according to plan, when the likes of Ozil and Sanchez aren't quite getting the bounce of the ball.
Simply, Arsenal need to find a way to win ugly. Renowned for their pretty and quick style of play, they need to change their game sometimes, and by finding a way to do that we could well talk about them as being title winners. For now however many will see them as merely just top four contenders again.
You sense there may be change in the air at the Emirates, but for all the pretty wins, they need to display the sort of performance we saw from them at Turf Moor more often, they need to find a way to grind out a win when things aren't quite going right.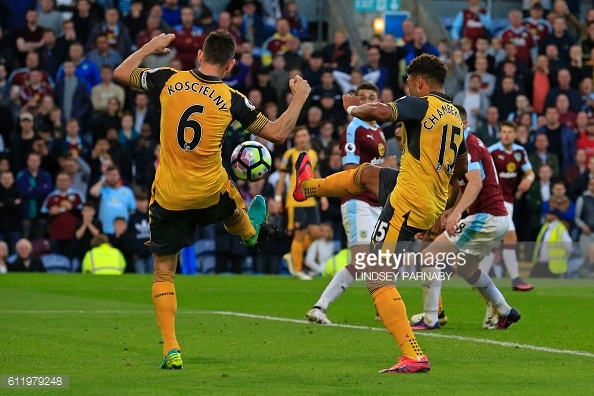 Players that have previously been passengers are stepping up this season and that will only benefit Wenger's team. Theo Walcott's resurgence this season has been quite something, and he's been someone that has been able to take the weight off Sanchez in a sense, with the Chilean not being relied upon as much this season to get Arsenal out of trouble.
It's something that suggests the Gunners are finally getting there in terms of having enough goals to win a league title, but the final piece of the jigsaw isn't there yet.
Alex Oxlade-Chamberlain has been in decent goal scoring form this season too, even if he hasn't started as much in the league. He's scored five already, the most he's ever bagged since arriving in North London as a teen-ager. Alex Iwobi's rise has also been impressive, and it's players like that, that give the club plenty of exciting options.
However all of those players are quite similar, they like to get at their man, and get in behind the defence. When up against teams like Middlesbrough last weekend though, when a team is incessant on building a defensive wall Donald Trump would be proud of, then players with pace and the ability to get in behind are severely hindered.
Is there a plan B?
Olivier Giroud will return this weekend and for all the criticism he's received from fans despite doing a very solid job for the club, he will be vital for Arsenal's chances this season.
He will offer that plan B that's been talked about, and he will offer a different presence up front. Against Burnley and Boro this season a target man is perhaps what the Gunners have been missing, and now Wenger has two men that can do the job at his disposal.
Sanchez has proved himself in that central striker role this season, and we know what Giroud can do. It's a shame that Lucas Perez will now miss the next two months of action with a ligament injury but Giroud's return will bolster the squad significantly.
The Frenchman may offer the club a plan B, but they need to start winning ugly, and against a Sunderland side, away from home this weekend, and then a tough period in November where Arsenal face Manchester United and Spurs, they will need to come up with that ugly winning formula sooner rather than later.
Nonetheless, the Gunners are level on points with leaders Manchester City, so fans shouldn't be panicking just yet.