There is a statue in the middle of Leicester city centre, where a particular seller of the Leicester Mercury sets up every morning, that commemorates the achievements of the city's football, cricket and rugby teams in 1996/97 - when all three won a piece of significant silverware. The statue depicts three similar men engaged in their respective sport and all three are, importantly, interlinked - in it together, as it were.
It seems appropriate then that 20 years later, sport would bring the people of Leicester together once again in a way that many could only dream of. Every day we hear of stories about how football helps the community in numerous ways but it is not often that a team can create such an aura around a large city.
People now seem proud to walk the streets in their Leicester City shirts - ordinarily with Vardy printed on the back. Each of the players have their own rags-to-riches story that have caught the imagination of the watching world and it is these stories that make them so relatable - particularly Jamie Vardy but also the likes of Danny Simpson, N'Golo Kante, Danny Drinkwater, Riyad Mahrez and more.
These men and their manager are now depicted on artworks plastered across the city. The three standouts are:
On the wall of Brucciani craft bakery just next to the River Soar - which depicts Claudio Ranieri as some sort of Roman God.

On the side of the Grade-II* Newarke Houses Museum building just off the campus of De Montfort University - which nods towards the club's owner and his Thai heritage.

On Kate Street, behind Mark's Electrical store to be precise, which displays Richard Wilson's work that includes Mr Ranieri and a number of Leicester players.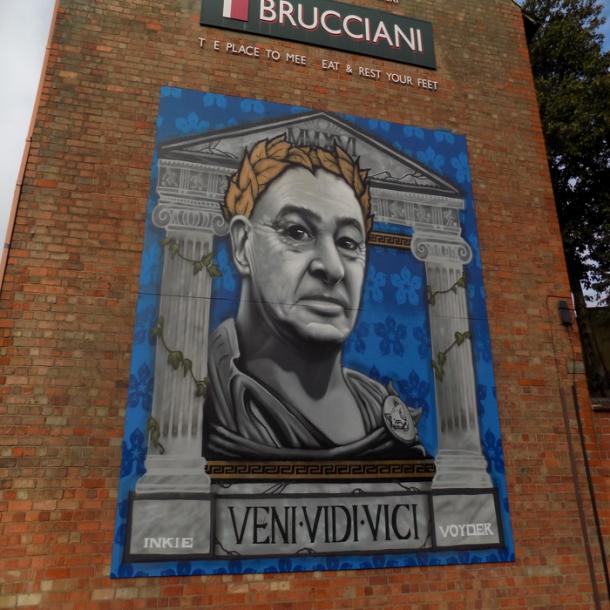 Business owner Tom Brucianni said: "We wanted to get involved because we thought this was a fun idea that would raise a smile as people go by.
"It's a nice visible site, and of course we there's the Italian connection with Ranieri, although he hasn't been in to try one of our famous lemon splits yet. Claudio must feel like he's really arrived and joined the big league now that he's on the wall of Brucciani's!"
The city have their heroes back
In an era where football gets as much bad press as it does good, an era where England managers are sacked due to corruption, where clubs are fined due to fans throwing missiles at team busses, where the international governing body is thrown into disrepute on a semi-regular basis - this city finally have their heroes back.
Whether they lifted their first ever league title is irrelevant. Although that might have been the source of the public's overwhelming pride, the mere fact that a team of 11 individuals and their manager brought a community together through something as, in retrospect, meaningless as football is the real triumph here.
Even now, the people are still engulfed in this group of players despite the fact that a poor start to the league campaign might have brought some back down to earth for the moment.
However, a Champions League campaign that has caught the imagination of the rest of Europe has given the community a sense of optimism once more. It is important to not see the nine points or the three clean sheets as a statistic because, with each win, the people associated with the city begin to dream that they might be a part of something bigger once again.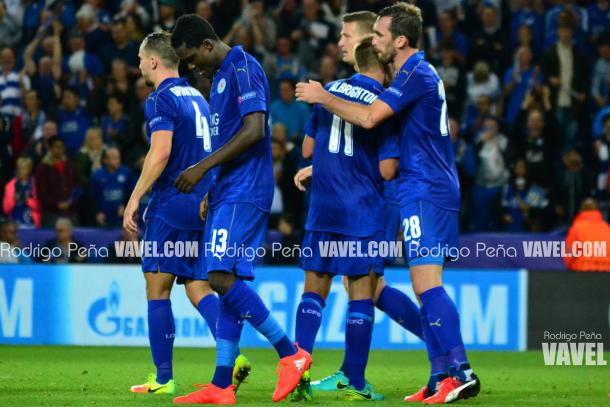 As fans walk past the Highcross shopping centre before a game or enjoy a fan park located just outside the city centre with dozens of Porto fans or enjoy a pint in the Swan and Rushes pub with a trio of Italian tourists who have travelled just to watch this cult side face Copenhagen, there is still a sense of togetherness that I have honestly been overwhelmed by.
More to come for Foxes
Even the roars at the King Power, which I can hear from my student accommodation bedroom on any given matchday, are comparable when the Premier League makes way for European football every fortnight or so.
Although the city might miss the comradery behind a Champions League home match when the squad travel to Denmark this week, all eyes will be watching as the Foxes remarkably look set to qualify from their group with two matches to spare.