Here we are, the dreaded November period. A month in Arsene Wenger's diary where he would ideally like to tear out and skip straight to December. His points per game ratio during the eleventh month of the year is his worst of any month during his spell in charge of Arsenal; 1.59, compared to 2.13 in October.
You would usually associate October with being the month of horror, such is the hype around Halloween, but that time of the year passes each season and Wenger usually finds a way to be able to spook the club's fans into thinking it won't be their year throughout November.
Arsenal have consistently struggled in this month but this year they will have to banish the ghost that takes over the team with tough games coming up thick and fast.
Wenger may have been carving pumpkins for his window sill on the 31st October, but now he now has to carve out a winning formula, with games against Tottenham in the North London derby coming up before Manchester United and PSG after the international break.
Chance to lay down a marker
Last week we spoke about Arsenal needing to find a way to win ugly, to find a plan B in order to have any chance of winning this year's Premier League title. Despite a 4-1 win over Sunderland and a 3-2 victory over Ludogorets in what was quite a positive week, finding different ways to win is arguably still the case, especially reflecting on the 0-0 draw with Middlesbrough, a result which frustrated many.
Finding that plan B is still very much at the top of the Gunners to do list this season, but they will also have to overcome this tough November period. Pundits rather typically are not tipping Arsenal this season, but if they were to get results this month when everything points to the suggestion that they won't, it will be a big statement of intent.
A team's season can't really be judged after a matter of months, and people will claim that the Gunners will bottle it come the final stretch of the season. However this run of games will present the chance to lay down a marker, and a window of opportunity to see just where this team is at.
This is the best Arsenal squad in quite a while, and this month will be a significant chance to test themselves and say that they really are ready in terms of challenging for honours this season. The Gunners are maintaining pace with the front runners so far, so it's vitally important they gain as many points as they can throughout a traditionally problematic November.
Mental stability to rise above a set-back
Arsenal haven't won a league title for nearly 12 years, there's no hiding from that, but since then one of the biggest criticisms of the Gunners has been a lack of mental stability, the ability to get things right when under pressure. However this season we're starting to see a renewed attitude about this football club and from its players. It's a stability and resilience however that will be tested greatly this month.
In Arsenal's previous two fixtures we've seen a new 'never say die' attitude, where they have come out of the other side of a sticky period in a game. Against Sunderland, Wenger's men were flying, everything looked comfortable. That was until Jermain Defoe scored from the spot to make it 1-1. Last season perhaps, and in campaigns before, this side may not have had the strength to go on to win the game.
Nonetheless they came back with a ruthless display to secure all three points, as Olivier Giroud offered a much needed plan B to score twice, before Alexis Sanchez also grabbed a second. The same sort of display was seen against Ludogorets in the Champions League. Having demolished the Bulgarian Champions 6-0 before, the Gunners went 2-0 down, a game that had a similar feeling to the defeat against Dinamo Zagreb in last season's European campaign.
Again the Gunners overcame a setback, as Granit Xhaka and Giroud ensured their side went into the break all square. Up step Mesut Ozil, who scored a brilliant individual goal minutes from time to seal the win and Arsenal's passage into the knock-out stages for a 17th straight year. A win against PSG this month at the Emirates will ensure they finish top of the group.
It was those two wins in the previous week that suggests there is a different steel to this team. They still need to completely eradicate the lingering feeling that many have that mentally they aren't quite there still, but picking up results this month will go a long way to dispelling any doubts.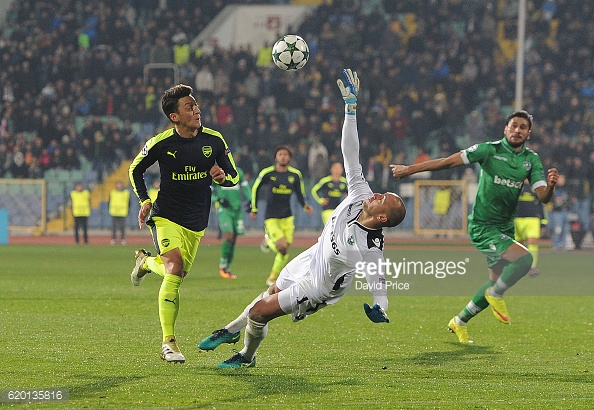 Overcoming rivalries
Previous form goes out of the window in derbies, but Arsenal will have to find a way to deal with the returning Harry Kane against Spurs in order to send their players into the international break with a morale boosting win. Meanwhile this is probably the best time to play Manchester United, as the Gunners travel to Old Trafford after the international break.
We may have been saying that ever since Sir Alex Ferguson departed as manager, but if there was ever a time for Arsenal to break their incredibly bad run against both United and Jose Mourinho, now would be the time to do it. The month of November may have other plans though.
It's clear that there is much to overcome, the ingredients of Mourinho, Man United and November would do anything to spring fear into Arsenal fans, and it will be that game in which we'll really see what Wenger's men are made of, and whether there really is a new mentality at the club.
Genius of Özil and Sanchez
If there was ever two players you wanted in this kind of situation, it would be these two. Arguably in the form of their lives, Ozil and Alexis will be players that Arsenal will hope can lead their team in their pursuit of overcoming their demons this month, hopefully building the platform for a different attitude and mentality this season.
The German and the Chilean bring confidence, they bring the belief to the rest of their colleagues that they, as a group of players have a fantastic opportunity this season. Sanchez has been sensational up front since being given the freedom centrally by Wenger. There have been times where it hasn't worked but he has the ability to produce things when it really matters, and against Spurs and United this month there is no shadow of doubt that it will matter significantly.
As for Ozil, the amount of joy he's brought fans this season is beyond anything in the previous decade at Arsenal. His vision, composure and creativity simply makes you appreciate the game more.
He's added goals to his game this season, cementing himself as one of, if not the best attacking midfielders in the game. It's been revealed that he won't be a part of the Germany squad over the international break so he'll received a deserved rest which will help massively going into the final part of 2016.
Ozil has sometimes had a tendency to be a little quiet in the big games, but with the form he's in at the moment he'll be key if his team are to get through this tough month.
Is this Arsenal's year?
It's the question playing on the minds of many, and there is much to be determined, and much to be proven before it can be answered fully. There is a different feeling this year suggesting it could well be, but finding the way to win ugly, which was mentioned further up in this article from a different piece, will be key.
Overcoming this November period, a previous month that's depicted horror for Arsenal fans, will be vital too, and it could lay down the foundations for a very promising season.
If Wenger was indeed carving his winning formula into his pumpkins over Halloween, then Arsenal may well just be seeing a different type of carving come May, as their name could potentially be one of those ingrained on the Premier League trophy once again. Let's not get ahead of ourselves too quickly though.