Jose Mourinho was frustrated by the lack of concentration his Manchester United side showed during their 2-1 defeat to Fenerbahce in the Uefa Europa League.
Mourinho 'frustrated' by lack of concentration of his players
Mourinho accused his side of making lives hard for themselves by conceding the opening goal of the game within two minutes and called on them to show more concentration from now on.
The second goal from Jeremain Lens wasn't well defended either and despite Wayne Rooney getting a goal back in the dying moments, Mourinho admitted his team did not deserve anything from the game.
Speaking to BT Sport after the game, Mourinho admitted that Fenerbahce "deserved to win" and that "football is not just about quality" but it's about many different things such as "effort, commitment, giving everything."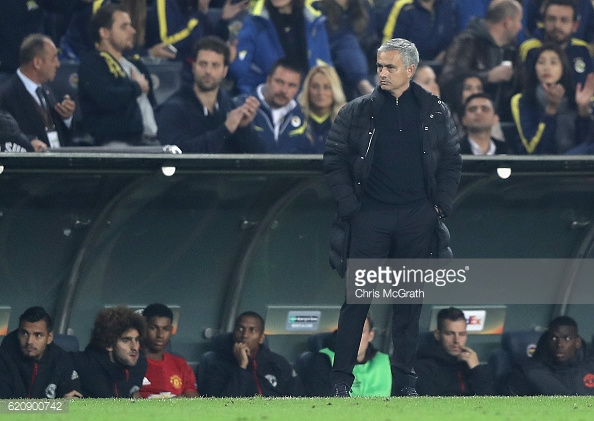 The United boss added that "a team that concedes a goal after two minutes" is one that is not "ready" which he was very unhappy to see from his side.
Mourinho continued to say that Moussa Sow's early goal was the turning point in the game saying "to concede a goal and give the advantage to an opponent" which is not where you want to be in a tough game.
Mourinho felt his team's mentality was all wrong
He went on to say that "our problems started in our attitude" to the game as they "thought they were playing in the Champions league final" while we didn't as we "thought we were playing a summer friendly" which means the mentality is not right.
One thing also that Mourinho was keen to point out after the game was the fact that he had to start Daley Blind and Marcos Rojo as centre backs, due to the fact that Eric Bailly and Chris Smalling were injured for the game and therefore, Mourinho felt that was a big reason for the struggles.
Mourinho said "it's difficult for us to play two left-backs playing centre-back" and therefore he felt that it was "not possible to really dominate" when the team doesn't have "two dominant centre-backs." He went on to say that it is "difficult to cope with physicality and mental dominance of the game" which was needed to get a positive result in Istanbul.