Sunderland AFC manager David Moyes insisted that a win in Saturday's clash with AFC Bournemouth could be a catalyst for a good run for the Black Cats ahead of the international break.
Very much needed
It has been a terrible start to the Scotsman's reign at the Stadium of Light, and have an excellent opportunity in their next two matches to capture their first three points of the season.
They will travel to the South Coast this Saturday to take on Eddie Howe's side, and hosting Hull City just after the international break, and Moyes believes that a win on Saturday could be a crucial catalyst.
"You always need a run of results whether you're a team at the top of the league or the bottom," he told safc.com. "We will try and do that but it can only start by getting one and then you can start talking about a run."
"We're all hurting and we want to win quickly," continued Moyes."It's certainly not through a lack of trying or lack of wanting to do it."
The Scotsman added: "I think the players have shown that in the games - up until 70 minutes we ran Arsenal close – so their commitment and attitude has been terrific."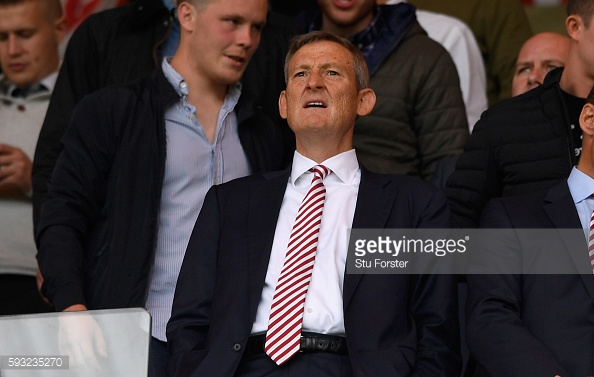 No pressure from above
Their terrible start to the campaign has obviously brought pressure on the Scotsman, but the former Everton man said that there is no pressure on him from inside the club.
"Only from myself, really," he said. "Certainly not under pressure from Ellis Short or Martin Bain or the people inside the building."
The 53-year-old added: "But when you are not winning games and you are at the bottom of the Premier League, that is the pressure from yourself."
Not dwelling on it
Sunderland's poor start to the campaign has broken records. Their two points in their opening ten games, has been the worst in Premier League history, but Moyes admitted that he hasn't even thought about the unwanted record.
"I have not even thought of it," he said. "I can only think about getting on to the next game, winning the next game and trying to be the best we can possibly be in the games."
Moyes concluded: "That is where we are. I am not dwelling on any records."

Sunderland AFC will take on AFC Bournemouth at the Vitality Stadium on Saturday, November 5 with kick-off at 3pm BST.