2-0 ahead, pegged back to 2-2 and under pressure, then you make that telling substitute that wins you the match. Sean Dyche earned his pennies on Saturday afternoon and he knew it.
"That's arguably one that goes into folklore"
The Burnley manager was pleased with his team's performance against Crystal Palace in their latest success, crediting "a really good first half, even though they had a few chances." Whilst some teams would have given up the ghost, the side from the capital hit back and piled on the pressure against Dyche's men. He noted "they got it forward and wide much quicker and came to life in the attacking third. They got us on the back foot, whereas we were on the front foot in the first half."
It was at that point Dyche turned to hero Ashley Barnes to make an impact from the substitutes bench and the striker duly delivered. Dyche claimed "to get Barnesy on and see him make his mark is good for me, him, the team and the club."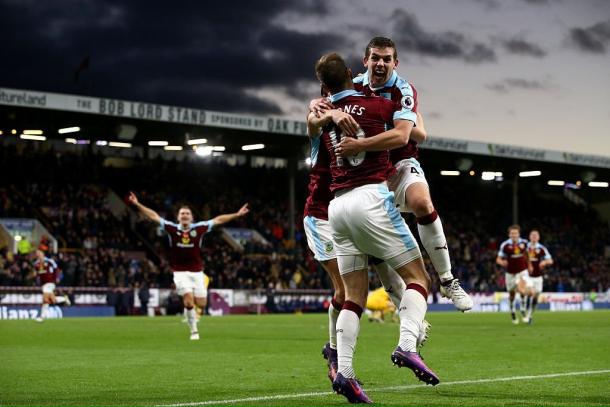 The manager added "we hung in there a little bit at times, but we know we can do that, but to bring the game back to life with a goal like that in the final stages is fantastic," before claiming "that's arguably one that goes into some of the folklore of my time here and I think people will talk about that one for a while."
"That win is a big marker for us"
However, Dyche did not attribute the three points solely to "his design." He heaped praise on his small squad admitting "that win is a big marker for us. I've spoken so many time was about that relentless attitude."
It is a quality that has shone through for Burnley in recent weeks, winning an unlikely seven points from their last three matches. Dyche suggested "you never take it [the relentless attitude] for granted. You have to nurture it, but today, against Everton and against Manchester United when you are getting peppered, the manner of the players to give every inch was first class."