 For many managers, the frequent Autumn international breaks bring nothing but trouble. Injuries, fatigue, and often a chance of maintaining good form taken away.
Jürgen Klopp and Antonio Conte were just seeing their two teams hit their stride at the top of the table, whilst for anyone further down the table, a key injury can take a team from 10th to 18th in the blink of an eye.
However, for Tottenham Hotspur boss Mauricio Pochettino, the final international break of the year couldn't have come at a better time.
No seventh heaven for Spurs
There's one telling statistic regarding Tottenham's recent form, and that's their form itself. Spurs haven't won any of their past seven games.
What started as extending an unbeaten league run, turned into a blip. Now it's a winless streak, leaving fans concerned as to where the next three points are coming from.
Ironically, it was an international break that derailed their form. Having become the first team to inflict defeat upon Manchester City this season, Pochettino had his players taken around the world, before returning to only take a point from West Brom.
The away draw against Bayer Leverkusen in the Champions League days later was a much better point, but two draws in a row became three when the Lilywhites were held at Bournemouth.
Only two of the seven winless games have been defeats, the first coming against Liverpool in the EFL Cup, in the midweek before Spurs again drew in the league, this time 1-1 at home to Leicester City.
Possibly the most concerning result of the lot was the 'home' defeat to Leverkusen at Wembley, leaving Pochettino's side six without a win, and on the verge of exiting the Champions League at the group stage.
On reflection, Sunday's draw away at Arsenal will likely be looked at as a good point come the end of the season. However, it was game number seven without a win for Tottenham, leaving much on Pochettino's mind.
Argentine has decisions to make
In fairness to Pochettino, it's not all been his fault, and the results haven't been that bad. Tottenham are still unbeaten in the Premier League, remaining the only team to be, but the gap to table-topping Liverpool has opened up to five points.
Injuries haven't helped, with Mousa Dembele, Toby Alderweireld, Danny Rose and Erik Lamela all missing parts of the seven game run. The biggest loss, however, has without doubt been Harry Kane.
If you don't count the 5-0 romp over lower-league Gillingham in the League Cup, Spurs managed just eight goals in nine games during Kane's absence, meaning his return against Arsenal - complete with a penalty equaliser - was welcomed.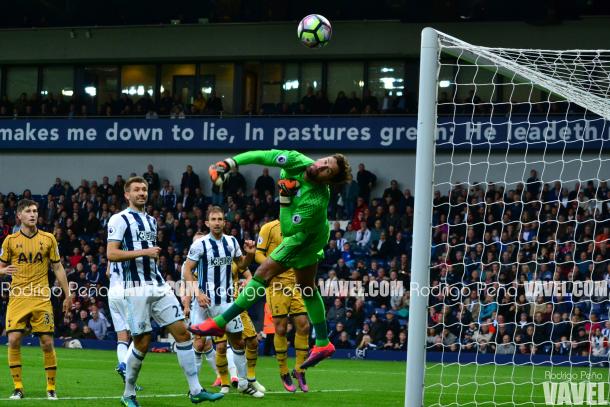 There are other issues for Pochettino though, such as the sturdiest defence in the league starting to crumble a little, and the lack of creativity coming from attacking midfield, with Dele Alli struggling for the goals that came so easily last season.
Alli is now out for a few weeks after sustaining a knee injury, another worry, but a problem that may allow Christian Eriksen's impact to largen, if he's given the opportunity to step into his preferred central-attacking midfield role.
Pochettino did comment that he may be forced to dip into the transfer market in January in aid for more goals, but after a £50million-plus outlay on Moussa Sissoko, Vincent Janssen and Georges-Kevin Nkoudou in the summer, surely that trio should be expected to step up a few gears before more cheques can be written.
Light at the end of the tunnel?
As previously mentioned, it isn't all doom and gloom for Tottenham. They're still unbeaten in the league, not out of the Champions League just yet, and still three points from fourth despite taking just for points in the league from the last 12 on offer.
Harry Kane is back, and should begin to work his way up the goalscoring charts after a frustrating period watching from the stands, whilst some pressure will now come off Heung-Min Son, who had become a bastion of hope for Spurs following his early-season form.
Put Kane, Son and Eriksen with a returning Lamela, whilst Victor Wanyama holds with Dembele alongside him, and results might begin to turn.
They need them to, and with a home derby against out of form West Ham coming up, Pochettino's men have the perfect platform. AS Monaco away, the must win European game, follows that before another tricky away day, at Chelsea.
Simpler looking home games against Swansea City, Hull City and Burnley follow in December, meaning that if Pochettino can begin to repair things over the international break, a rich and profitable winter could follow.