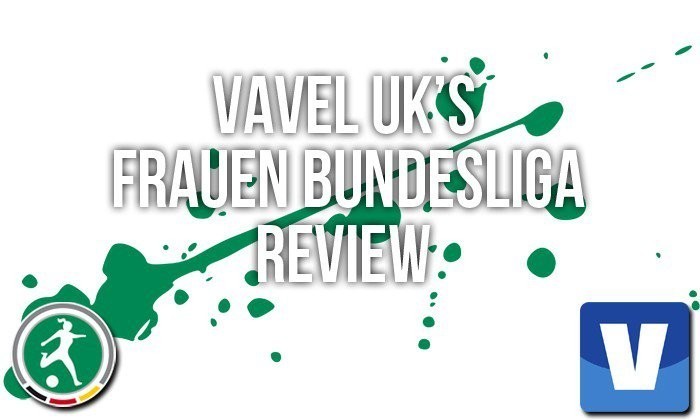 Seven rounds in and 1. FFC Turbine Potsdam continue to defy pre season predictions by staying on top of the Frauen Bundesliga against the early season favourites for the title. VfL Wolfsburg and Bayern Munich are not far behind the leaders as they also picked up three points in this matchday.
Potsdam see off a tough Jena side
Potsdam were at home against FF USV Jena and even though Jena currently find themselves in eighth, the away side are always a tough proposition for any team and that proved ot be the case once again when they traveled to Potsdam this weekend. Jena stood firm for the entire first half but a lapse in concentration two minutes into the second half allowed Svenja Huth to score the game's only goal.
Huth has had a great start to the season and is a large reason why Potsdam find themselves in first at the moment. The other reason is the change of atmosphere brought into the club by new manager, Matthias Rudolph. Potsdam fans will be hoping that the good form continues and that Rudolph brings the club back to its former glory. Jena remain in eighth and will try again this week to find winning form once again and move further up the table.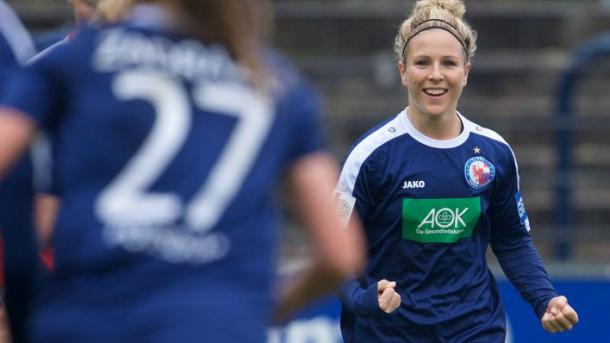 Wolfsburg struggle to overcome Gladbach
Bottom side Borussia Mönchengladbach played like a team higher up the table as they made things difficult for visitors VfL Wolfsburg and it took a late goal by Babett Peter to get all three points for Wolfsburg against a team they were expected to absolutely dominate. Things started well for the away side as Zsanett Jakabfi opened the scoring in the 26th minute but early in the second half, Madeline Gier equalised for the home side. A very disjointed performance by Wolfsburg allowed Gladbach to stay in the game and it took Peter popping up in the 80th minute to seal the points for Wolfsburg.
Wolfsburg do have injuries to key players but with the strength in depth they have, they should not have struggled so much against a side that has not managed to get a single point so far this season and have only managed three goals while conceding 24. Even with their struggles, Wolfsburg are only four points off of first and if they can get on a run, they will most likely find themselves on top of teh Frauen Bundesliga soon. Gladbach on the other hand, will take heart from their performance against such a strong side and hopefully use it to finally pick up the points their performances have deserved.
Hoffenheim fall short against Bayern
TSG 1899 Hoffenheim continue to prove to be a difficult opponent for anyone they face and they proved that once again as they pushed Bayern all the way but ultimately fell to a 1-0 loss to the current champions. Vivianne Miedema scored the lone goal in the 25th minute and the Hoffenheim defense ensured that they remained compact enough to prevent leaking any more goals for the rest of the match. Bayern could not find a way past the home side and had to settle for the one goal that keeps them in third, one away from second and five away from Potsdam at the end of this matchday.
Like Wolfsburg, Bayern are also struggling to find form so far this season but they remain in contention of the title, having played a game less than those above them, and will be determined to find the style of play that was able to win them the title last season. Hoffenheim are in ninth, level on points with Jena, but one position lower than them due to goal difference. Hoffenheim do not score a lot of goals and this will have to change if they have hopes of moving up the table and away from a relegation battle.
Sand dominant against Duisburg
Newcomers MSV Duisburg could not handle the firepower of SC Sand and could only watch as the home side put six goals past them. Although there were no goals scored in the first half, Sand had their opportunities and in the second half, they converted them. Cecilie Sandvej started things off in the 45th minute and three minutes later, Dominika Škorvánková had made it 2-0. The goal rush did not stop there as in the 51st minute Anne van Bonn got on the scoresheet while Laura Feiersinger and an own goal by Julia Debitzki furthered the lead in the 65th and 67th minutes respectively. Milena Nikolić then ended the scoring for the day in the 76th minute to cap off a fine day for the home side. Sand now sit in seventh and are only three points away from fourth while Duisburg sit second from the bottom in eleventh.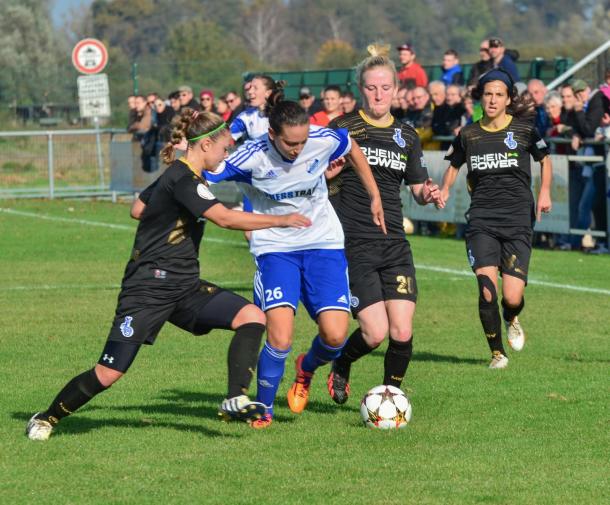 Frankfurt continue to regain some form
After stumbling in the last few weeks, 1. FFC Frankfurt picked up a vital three points against Bayer 04 Leverkusen to keep their Champions League hopes alive. It was a thrilling encounter which ended ina 4-2 win for the home side, Frankfurt. The visitors got things started in the 16th minute through Francesca Weber and shocked Frankfurt into a reaction which they duly obliged with goals by Mandy Islacker and Yuki Nagasato to end the first half with a 2-1 lead. Leverkusen's Merle Barth then earned a straight red card in the 59th minute after stopping a goal scoring opportunity and with a man down, Leverkusen's resistance crumbled. Islacker was on hand in the 60th minute to take advantage of the spaces now open to Frankfurt and even though Leverkusen pushed right until the end with a 90th minute goal by Henrietta Csiszár, Frankfurt answered straight away with a goal by Nadine Anstatt to pick up a big home win.
This win puts Frankfurt within four points of third as they push for a European place but they have three very capable teams ahead of them right now which makes their goal somewhat harder to reach at the moment. Leverkusen are in tenth and three points away from the bottom two places. They cannot rest on their laurels right now and will look to try and pick up points wherever they can so they can remain in the Frauen Bundesliga for another season.
Essen inch closer to fourth after win against Freiburg
In the battle for fourth, a 1-0 win for SGS Essen over SC Freiburg allowed the home side to be level on points with their opponents and only remaining in fifth due to goal difference. A Jana Feldkamp goal in the 37th minute was all it took for Essen to pick up the three points as the two teams battled all match long to get the three points. Freiburg had their chances to draw level but Essen stood firm and ground out a big three points at this stage in the season. Freiburg will be disappointed to not have gotten at least a point against Essen after their good start to the season but they will be happy with only being two points off of a Champions League place and will hope to keep apace with the top three teams for as long as they can.