Following Manchester United's victory over Swansea at the Liberty Stadium, their first victory in the Premier League since the win over Leicester City back in September, Jose Mourinho appeared to challenge the commitment of some of his players.
''There is a difference between the brave who want to be there at any cost,'' he told Sky Sports following the game; ''and the ones for who a little pain can make a difference.''
The manager seemed to suggest that some of his players were not pulling their weight but were opting out of games where they could quite possibly have played in if they were 'courageous' enough.
He went on to add that; ''We have players on the pitch with problems. In every sport, how many times do you play and you're not 100%?''
Prior to the game Jose had called out two of his defenders in Chris Smalling and Luke Shaw, suggesting they had pulled out of the game because they were not '100%'
Mourinho's comments have provoked a wide range of reaction across the football world. In typical Mourinho style he has managed to attract a big divide of opinion with some backing the verdict of the Portuguese tactician and others finding it absurd.
If an objective view of the United manager's comments is taken, however, they are at best misleading.
The case for Chris Smalling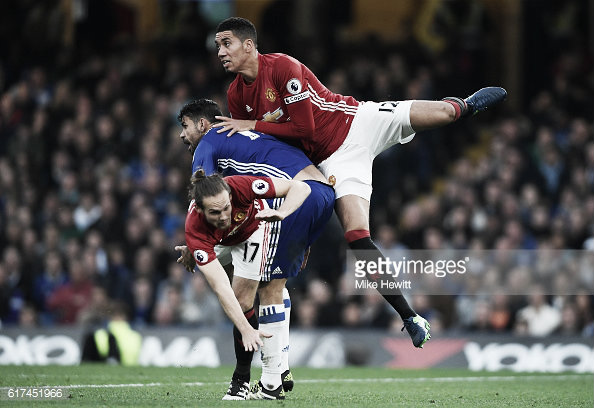 For starters, in the case of Chris Smalling, last season's Champions League game away to Wolfsburg counters Mourinho's claim of the players' suspect mentality. In that game, the England centre-back stayed on the pitch for the full duration of the game despite being seriously injured to the point of not being able to play anymore. He did this, doing more damage to his body as a result, because United had already made their three substitutions and were chasing a win that would help them progress in the Champions League.
This does not sound like someone unwilling to put the team first. Smalling also played through the Chelsea defeat last month in spite of struggling with an injury and came under severe criticism from fans and pundits alike who were unaware he was playing through the pain barrier. It seems logical that if a player who has been willing to play through the pain barrier before lets you know that he doesn't feel right, that the player is afforded the benefit of doubt rather than crucified in public.
The case for Luke Shaw
The same applies to Luke Shaw, returning from a horrible double leg break suffered playing for the club last season. It is common knowledge that such players have to be nurtured back to full fitness and undue risks should not be taken in the short term which would have long term repercussions. It is also well known that Shaw has worked extremely hard to get to the level of fitness he is at today and has constantly played through pain this season. Therefore, Jose Mourinho's criticism seems very strange.
Jose suggested that the players and those around them needed to change their mentality in order to be successful. One of the examples he put forward of players with the right mentality was Phil Jones. His manager enthused about how though he was not physically ready to play, his mental toughness meant he got through a full game at Swansea. However, you wonder how long it will be before Jones is on the receiving end of Jose's withering criticism. The England defender is very injury prone and it will be no surprise to anyone if he broke down again and was unable to play. Given Jose's treatment of Smalling, Phil Jones might fear that his manager might conveniently forget what he did at Swansea and instead label him mentally weak.
The wrong deflection tactic
While the message of improving mind set and putting the team first may be the kind of rousing message the United fans wanted to hear following a month where results have been poor, it was not the right message neither is it the reason why United have been poor.
The message felt more like a manager trying to deflect blame from himself. Like he was saying; 'Look I'm doing my best but these players just don't want to put the effort in.' Such a claim would be fine were they the root cause of the problems United face this season. Yet poor performances by the players and some questionable choices by the manager rather than a lack of commitment are more likely explanations for the team's dour performances this season. The reality is that prior to the game at Swansea, with the manager forced to field a very rag tag line up and in desperate need of a win, he was getting his excuses out early and pointing the blame for a defeat he feared on particular players. With United turning Swansea over impressively, Jose tried to back pedal but given the strength of his comments earlier on he had little wriggle room.
At Real Madrid and during his two spells at Chelsea, Jose Mourinho turned on his players, the consequences of which were detrimental for the clubs each time. Maybe the mentality that needs to change is not that of the Manchester United players but their manager.