Stoke City's Joe Allen claimed his second brace of the year last night after he was presented with two honours at the Welsh FA's annual awards ceremony.
Allen, who has been one of the few bright sparks during Stoke's poor start to the campaign and a pivotal cog in the machine during an impressive Euro 2016 for Wales, claimed 'Players' Player' and 'Fans Player of the Season' awards.
Top performances have earned Allen high praise
The performances the Welsh international mustered for his country during the summer in France warranted his inclusion in the 'Team of the Tournament'.
Allen outshone fellow central midfielders Paul Pogba, David Silva and Andres Iniesta to earn his spot in UEFA's elected eleven.
The 26-year-old was hailed by international boss Chris Coleman, who said the following with regards to Allen receiving these two honours.
Coleman stated that Both awards are "fully deserved for Joe", saying that the former Liverpool midfielder is an "outstanding team player" and "he had a great tournament" during the summer.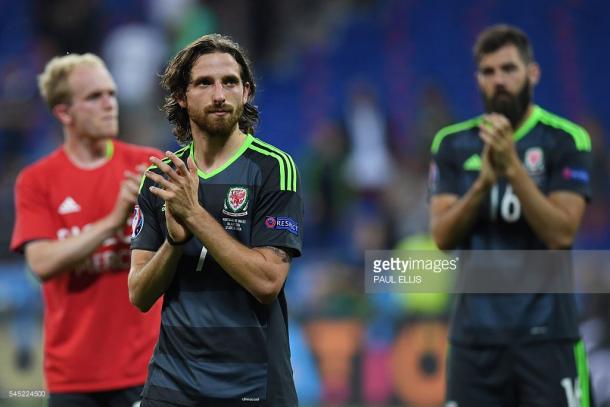 He continued by saying that Allen has "had a great start to the season with Stoke" and that he "has all the qualities and attributes that you'd expect from a top-class player" before Wales' clash with Serbia on Saturday.

He continued: "Those of us who have followed Joe's career closely over the years won't be surprised by what a good player he's been, but it's great that he is now getting the recognition that he deserves."
Move to Stoke paying off
Since bowing out in the Semi-finals to Portugal, Allen has succeeded in maintaining his high level of performance and ensuring Wales continue to progress in stature.
Allen's transfer to Stoke was a very intelligent piece of business by fellow countryman and manager Mark Hughes.
The ex-Swansea man found himself nominated for the Premier League's Player of the Month award for October following a run of brilliant performances as the Potters continue to climb the league table.
Allen has scored on six occasions for both club and country this season, already more than his tally of three last term. Allen has seemingly benefitted from more playing time and a more advanced role, where he has been allowed to showcase his attacking ability.
Plenty of awards on offer
Real Madrid's Gareth Bale unsurprisingly won the main prize of the night, Wales' Player of the Year award, due to his performances for the Dragons and the Spanish giants.
Exeter's Ethan Ampadu won Young Player of the Year while Arsenal's Aaron Ramsey was named Wales' best performer at the European Championships.
Wales now face group leaders Serbia at home in World Cup Qualifying at the weekend. The Welsh remain unbeaten in Group D but remain third after draws to Austria and Georgia.